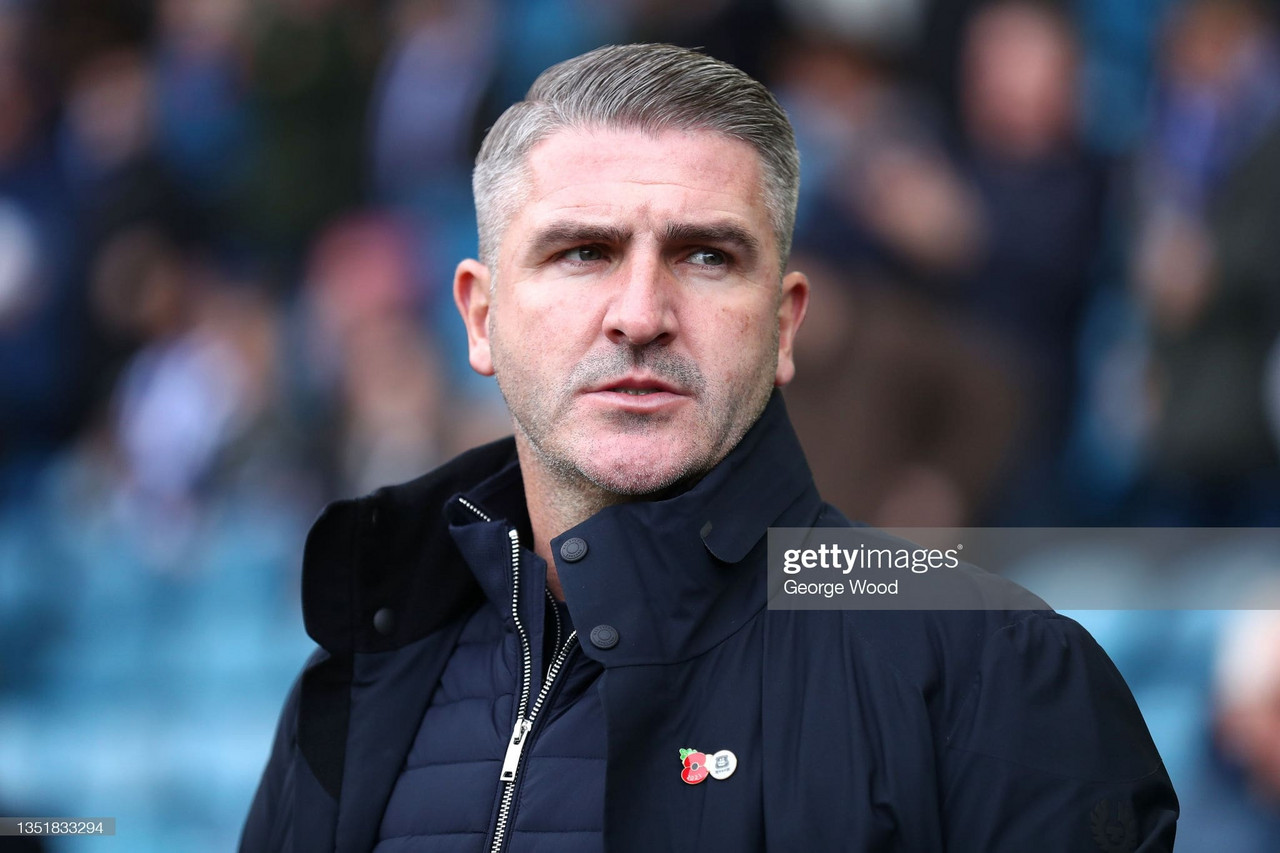 Ryan Lowe was disappointed with his side's work in the final third as Plymouth Argyle drew 0-0 with Sheffield Wednesday in the FA Cup First Round at Hillsborough Stadium.
The Pilgrims enjoyed an energetic first-half display but tired in the second period as the home side edged the possession and the chances. That said, neither side was able to conjure up anything clear-cut, as the game faded out for a replay.
"Our work in the final third wasn't as good as it has been," said Lowe. "But I said to the group in there that this is not always going to be the case where we're ruthless, sometimes it will just fizzle out; that's what it did in the first half.
"Second half was the same. I thought they came into it second half; they used all five subs and they put on lads with energy, and they got in our faces and caused us one or two problems, but we stepped up to it and dealt with it.
"Disappointed that we didn't go in at half-time at least one-nil up and we had a good chance at the end with Jordon Garrick, who looked like he slipped when looking back at it.
"Pleased with the clean sheet; we were resolute, but I wasn't pleased with the performance at the top end of the pitch, and we need to do better in taking more risks and creating a lot more chances for the lads.
"Overall, they weren't clinical; we weren't clinical, and nil-nil was probably a deserved result I think."
Lowe on Plymouth's defensive resilience
A positive for Argyle was that this was their second clean sheet kept against the Owls this season, with the first coming in September's 3-0 victory.
Lowe praised the backline for their efforts in a second period that they were under the cosh.
"They were solid with Mike [Cooper] and Joe [Edwards] in there; they were brilliant," he added.
"I said to the group in there, the resilience shown to keep a clean sheet when – let's have it right – Sheffield Wednesday threw the kitchen sink at us towards the end and made five subs – we only made three – to get the game won.
"They had the final touch in the second half, and we had that touch in the second half. We had one or two half-chances, but we were clinical enough and the chances we created weren't really good chances, so nil-nil was probably deserved and we're in the hat for the next round."
Lowe on the replay
After a period where the Pilgrims have had eight games in a month, they now have another fixture added to their calendar with the replay at Home Park in 10 days.
However, this didn't begrudge Lowe, who stated: "If we're still in the FA Cup, then I would bite your hand off for it.
"We're going back to Home Park and people may say it's another game, but it is another exciting game to get the place bouncing.
"We will know what we need to do; we have played Sheffield Wednesday at home before and now we have played them away. They know what we're about and we know what they're about and may we meet again and lock horns and see what happens."
Lowe on the "flat" atmosphere
Hillsborough is up there with one of the best atmospheres in English Football when it is full and lively. Lowe experienced this in the 2011/12 season, where he scored nine goals in 41 appearances for Wednesday as they were promoted back into the Championship.
However, with a crowd of just 7,261, Lowe expressed his disappointment with the atmosphere.
Lowe continued: "I was a bit disappointed in the crowd, to be honest. I know it is the FA Cup, but this football club carries 35,000 fans and I was excepting 20,000 at least.
"Our fans have come in numbers – six-to-seven hundred – and it was flat. I didn't think it [the kick-off time] would change but both teams probably were flat because of it but that's football and you have to make your own atmosphere.
"I thought our fans sung as much as they probably could, but they probably had an early start with a lot of people.
"The game wasn't an FA Cup thriller, it was a stalemate, so it is what it is."