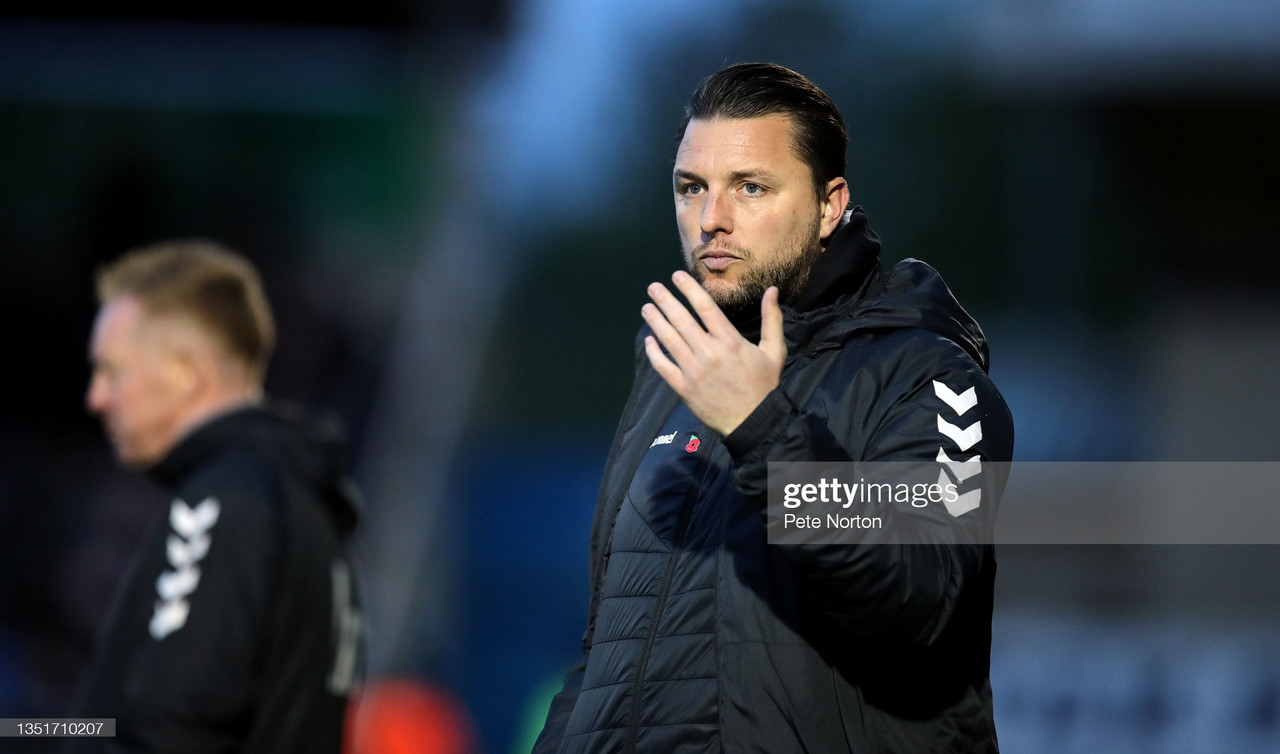 Cambridge United boss Mark Bonner didn't make any excuses but wasn't feeling too worried after a tough 4-1 defeat at MK Dons.
A pair of braces from Scott Twine and Max Watters took the game away from The U's, with the game all but over at half-time with the Dons cruising at 3-0.
'Our fight is different to theirs'
"In some respects it was a lesson to be at it today, but let's not make a mistake – our fight is different to theirs," Bonner said.
"The quality of their attacking players, the athleticism they have got, the way in which they move the ball, you always know you are going to be in for a tough game here.
"Their creation was very good, their finishing of their attacks was better than ours throughout the game and they caused us so many problems.
"Scott Twine is a brilliant player, Max Watters is a brilliant player – a player who went for £1 million last year."
Twine was afforded too much space between the midfield and defence, scoring the first and third whilst also assisting the second in a dazzling first half display and Bonner recognised that his system didn't work in the first half.
"We tried something different in the first half to try and contain and it didn't work," Bonner said.
"And we needed to do it better than we did, because the first goal particularly is too easy-a-goal for us to concede.
"The game ran away from us in the first half.
"So yeah frustration because we could have made that a game where we were in it for longer."
Second half better, but Bonner does not want to get carried away
The second half did see a much better performance from United who were on the front foot for large parts of the second period.
"I don't want to happy clap a 4-1 defeat but it was much better in the second half, but it was much easier to be better because the context of the game has changed massively.
"The first half hour of the second half we were excellent, and if we score in that moment then who knows? Football is a strange game."
It was Watters who scored in that time, leaving Sam Smith's sixth goal of the season nothing more than a consolation rather than a comeback starter.
Bonner made a change at the break, moving Jack Iredale to centre back and bringing on Harrison Dunk for Conor Masterson, to add a bit of experience at the back.
"We had to make a change to make us stronger as a back four I think," Bonner added.
"We have two really promising young players, and I think when you have to go game to game at the challenging level like we are at the moment, it is tough for both of them.
"We cleared the ball better [in the second half], we defended in the middle of the pitch better, we changed how we tried to do that in midfield and that helped us get a bit more pressure higher up the pitch.
"We shouldn't kid ourselves too much with that, because we know the game changes with the context of it in the second half.
Gulf in class apparent today believes Bonner
The U's boss was fully aware of the difference in quality between the two sides today, claiming MK will be right amongst the chasing pack at the business end of the season.
"They have a real strength in themselves and we have to try and close that gap between them and us," he said.
"Our fight is a different one to them, and if you look at our last three opponents, you will see a significant difference between those and this one."
Bonner does believe that his charges earned themselves a bit of pride following the late goal from Smith and built a bit of confidence with the second half performance.
"The game could have unravelled but we have some characters among us that didn't want it to," he said.
"We wanted to win the second half and I was gutted for the lads when they scored their fourth goal.
"It came at a time when we were in control, but we dug and got something out of the game in respect to a bit of pride," Bonner finished.
Next up for Cambridge United is the FA Cup replay with Northampton Town at The Abbey on Tuesday before another tricky away trip in Sky Bet League One to Rotherham United.