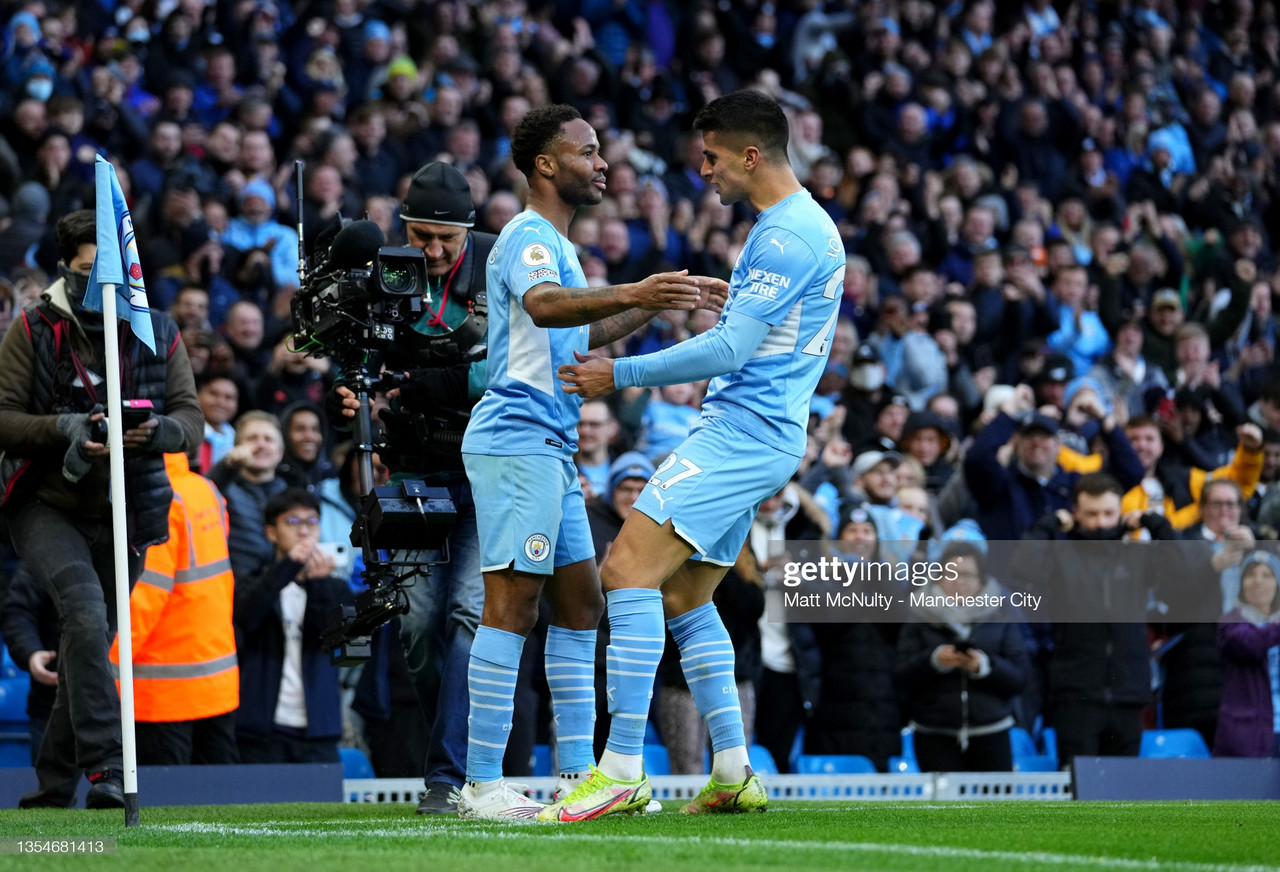 Joao Cancelo's recent form has been nothing short of stupendous, as highlighted by his stunning assist in the Citizens victory over Everton on Sunday afternoon.
But whilst the Portuguese has drawn his plaudits - and rightfully so - it is the versatility of his fellow 'right-back' Kyle Walker that has allowed the in-form man the freedom to roam.
They are chalk and cheese in the way in which they play the fullback role, but despite their obvious differences, the two compliment each other in a way that has seen them establish themselves as one of Europe's best fullback partnerships.
Competition For Places
When Joao Cancelo arrived in the summer of 2019, many thought it could spell the start of the end for Kyle Walker at Manchester City.
The Englishman - then 29 years of age - had dipped in and out of form in the months preceding Cancelo's arrival and, with the Portuguese international much more technical than his counterpart, Walker's prospects of a starting berth looked bleak.
But it was Walker who was handed the starting right-back role for the opening weekend of the 2019/20 season and he hasn't looked back since. The competition for places proved to be the perfect tonic for the Englishman, who limited Cancelo to just 17 appearances across the course of the campaign.
Now 31-years-old, Kyle Walker is in the twilight of his career, but if recent form is anything to go by, he won't be slowing down anytime soon.
Adaptation Is Key
Kyle Walker's upturn in form left Cancelo with three options: play second fiddle, seek a move away from the Etihad or target the left-back spot.
It was the latter that Cancelo opted for, and Guardiola will be counting his blessings that he did, as a role which was once considered a huge weakness in this City side has since become one of the easiest selections on the team sheet.
Cancelo's technical flair - a direct contrast of the physical, powerful presence of Kyle Walker - provides the perfect yin and yang situation for Guardiola, who has everything that you could wish for in a pair of fullbacks.
Legendary Links
The Manchester City manager recently likened Cancelo to Philipp Lahm in the way in which he has transformed the full-back role into a holding midfield position:
"Joao has the quality to do that. His natural position is on the right but he can play both sides, no problem. He can play perfectly with either foot.
Like now he plays like Philip [Lahm] did in Bayern when we were together."
Philipp Lahm is the best player I've ever seen in my entire life at being a full-back moving inside."
Guardiola has made no secret of his demand for versatility from his squad, and it is that exact quality which has transformed Cancelo from a rank outsider to a key member of this starting eleven.
International Importance
Kyle Walker's ability to slot into a back three has allowed Cancelo the freedom to roam into the midfield, a trait which Guardiola must thank another of Kyle's managers for.
Gareth Southgate has deployed Walker in the right hand side of a back three for a vast proportion of his five years in charge of the national side.
The decision to play Walker in the role raised eyebrows - and drew some questionable performances - in the early stages of his England tenure - especially given Walker's known vulnerability when defending 1v1.
But it was a decision that paid its dividends in the long run, with Walker starring in a rock solid England defence during their recent run to the Euro 2020 final.
The time spent with his national side perfecting that role has proved crucial in Guardiola's new system across the last 12 months, with Walker's assured defensive skills allowing Cancelo the freedom to roam.
Guardiola Praise
Guardiola discussed the form of the pairing in his post-Everton press conference, stating the importance of the duo to the sides success:
"I think right now Kyle and Joao are in incredible top form," he said.
"Joao, it is not the first time he has done something special. He has the quality to do it. At the same time, I have some words for Kyle.
"It is the best Kyle I have seen in our five years together. Defensively and attacking. Both have been so important for us."
Whilst Walker may not provide the same numbers in terms of his goal contributions, his importance in Cancelo's stupendous form cannot be understated.
It could well be this partnership that delivers Manchester City that long awaited UEFA Champions League crown.