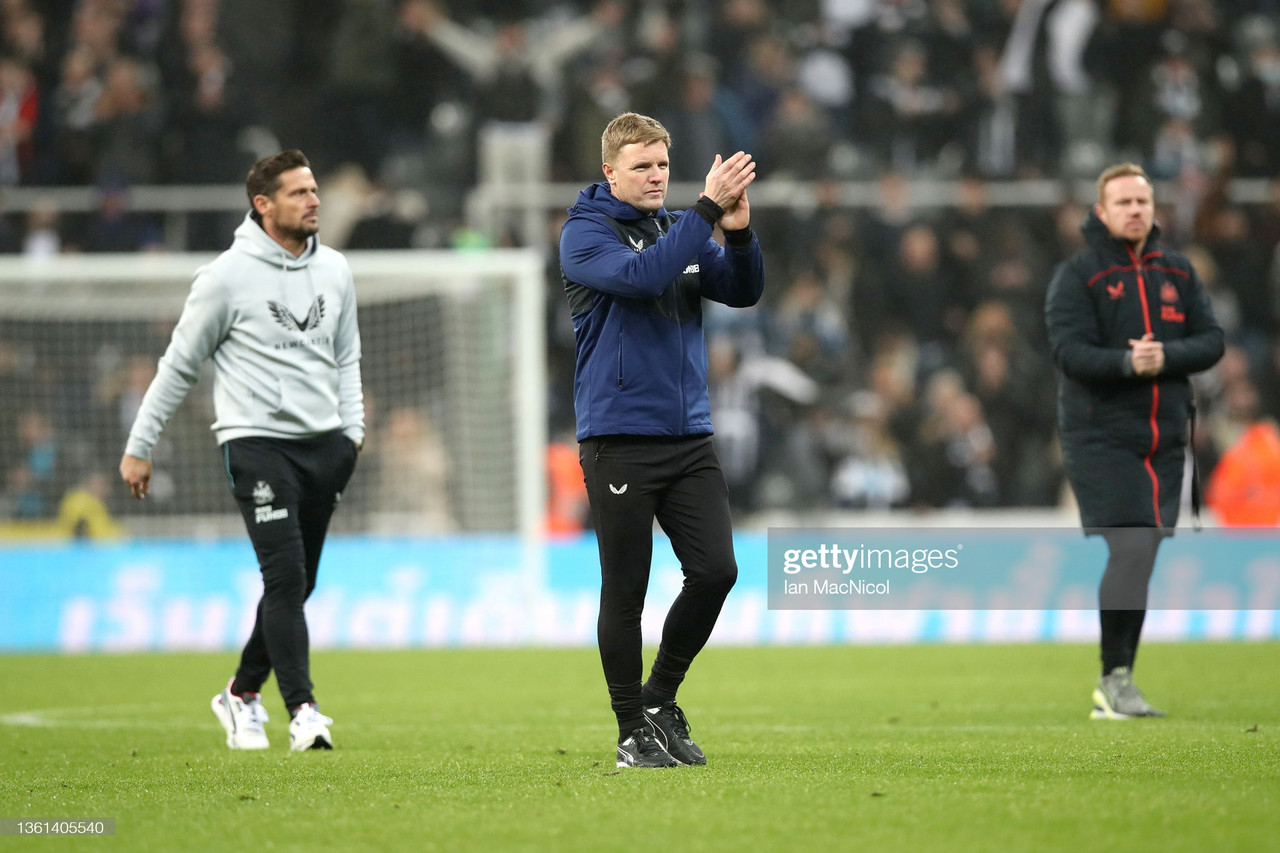 Newcastle United boss Eddie Howe believes his side 'deserved to win' against Manchester United this evening.
An equalising goal 20 minutes from time by Edinson Cavani cancelled out Allan Saint-Maximin's early first half strike.
A draw on paper is a good result for Newcastle, but it will feel like two points dropped considering how many chances they had to claim all three points, added with how poor Ralf Rangnick's men were.
"We deserved to win," said Howe.
"The lads executed the game plan brilliantly.
"We had to be very good defensively in midfield. I thought we were very good and didn't deserve to concede."
The Red Devils had David De Gea to thank for them leaving St James' Park with a point, when he made a world-class stop to deny Miguel Almiron's effort that looked destined for the top-corner of the net.
Howe said on the Spanish number one: "How David De Gea saved from Miguel Almiron at the end I don't know. I thought it was in.
"Hopefully we've seen the beginning of a new team and how we want to play.
"At the moment we have to take small steps to build to be the team we want to be.
"We really hurt Man Utd on transitions today, but for a bit more luck we could have won the game."
On Saint-Maximin and Wilson's injuries
Newcastle suffered a double injury-blow last night, with star players Saint-Maximin and Callum Wilson both going off injured.
Howe said on the Frenchman's injury: "I don't know how bad that is so we'll wait and see over the next few days but there's certainly an injury there.
"That's the big disappointment from tonight."
The belief is that Wilson's injury is more serious that Saint-Maximin's. Wilson went down holding his calf, and if he has torn that muscle, it would rule him out for a number of months.
Howe does fear the worst for his top scorer: "It doesn't look good.
"I don't know what the extent of it is but the way he went down it looked bad.
"He thought he'd been kicked which is why he thought he got up and felt he could run it off but obviously that wasn't to be."
On Joelinton's man-of-the-match performance
Once again, Joelinton was mightily impressive for The Magpies in his new holding midfield role.
The Brazilian ran the show in the middle of the park, and did not give Manchester United an inch all night.
Howe heaped the praise on the former Hoffenheim man to the media, something which he seems to do after ever every game.
"He's given me everything," said The Toon boss
"He's really bought into what we're trying to do.
"He's worked incredibly hard for his team, his performances have been very consistent and he's been outstanding.
"Defensively, the job we asked him to do was very, very good."
On the Everton game
Newcastle were only able to name eight substitutes on the bench last night – two of whom were goalkeepers – with news breaking before the game that there is a Covid outbreak currently at the club.
Howe did all but confirm that the match against Everton on Thursday is in doubt.
"We will try and get the game on," said Howe
"We will see what the situation is with the injured players we have and the Covid we have in the camp.
"Then it'll be a simple process of counting the players."