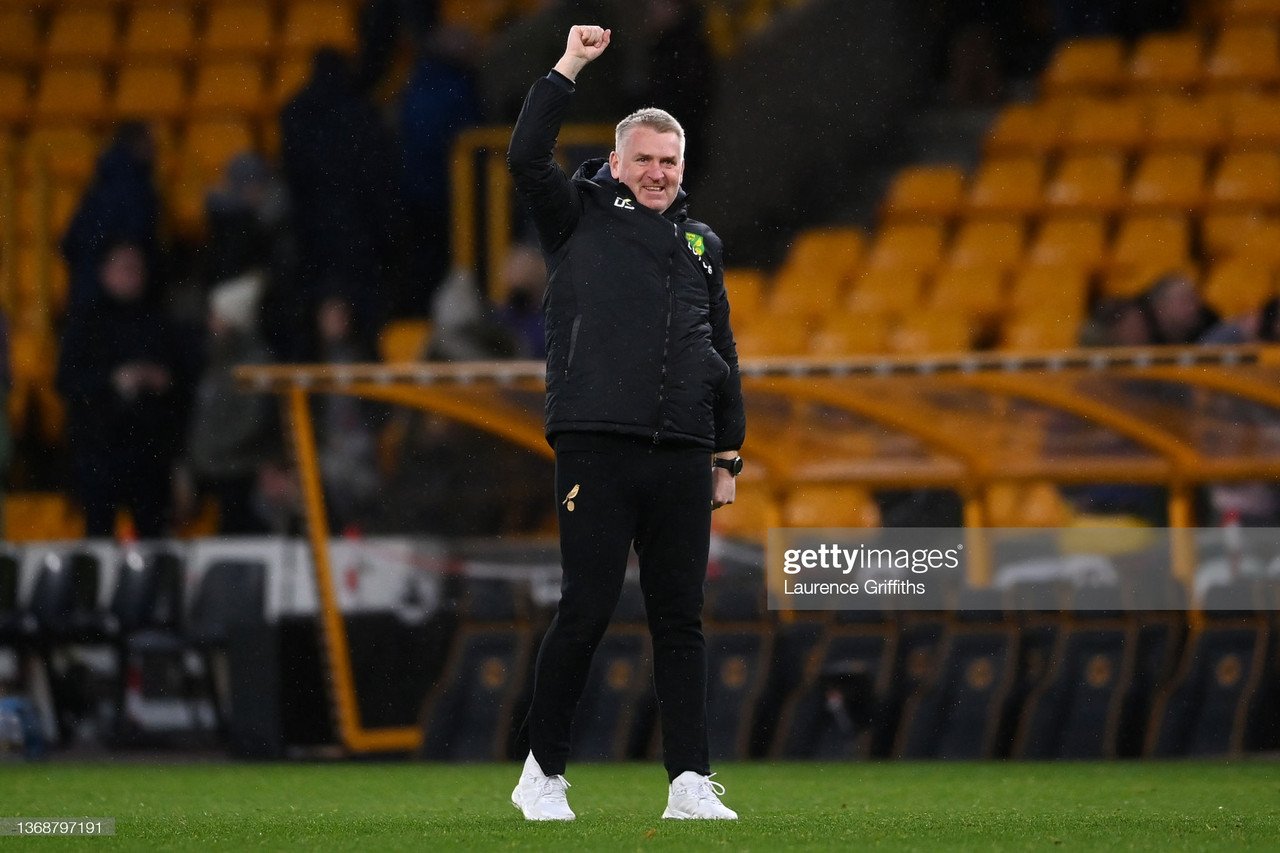 Since losing 3-0 to Crystal Palace at Selhurst Park in December, Norwich City have produced some impressive performances, winning four of their five matches in all competitions since the turn of the year.
The Canaries' recent run of positive results has reinstated them as serious contenders to survive in the Premier League and getting revenge on Palace could serve as a huge step towards avoiding the drop.
Ahead of Wednesday's match, Dean Smith discussed a number of key topics in his press conference.
City's recent resurgence
Norwich's form in 2022 has been excellent, and Smith believes the reason why their fortunes have improved is because they have been playing with a positive mentality.
He said: "We believed that we had a decent squad of players and could be competitive, but I think winning breeds confidence. Having won four of the last five games and keeping clean sheets in three of them, we've got players pushing each other now in training. The squad looks a lot healthier now.
"Unfortunately, as a club, we've struggled in the Premier League with the last time we were here and the start we had this year, and then during the winter period where we lost six games on the spin.
"We've had to work on that mindset and the players have been really knowledgeable in terms of what they want to get from the game and what they want to look like in terms of our identity. That mindset's been growing all the time."
The reverse fixture
City's defeat at the hands of the Eagles at the tail end of last year was a painful one for Smith, but he thinks his side are more than capable of securing a better result this time around.
"It was a game that was hit by COVID from both teams and injuries from ourselves. Patrick [Vieira] wasn't even on the sidelines that day for Palace, so it will be nice to acquaint myself with him tomorrow night, but an awful lot has changed from our point of view and we're looking forward to playing them with renewed confidence.
"They're a good team, have got good players and good energy with a really good structure. Patrick's got his own identity in his side that he wants to play, which is different to last season, so we have to be really careful and plan for a good team."
Another important match
Difficult-looking fixtures against Manchester City and Liverpool await Norwich after they have faced Palace, so the Canaries head coach is fully aware of this match's significance.
"Palace is big, but every game we play is big. Before we went into the Everton game, I told the players how big that game was for us, the same before the Watford game, and now exactly the same before the Palace game.
"That message has to be clear and gives them clarity about what we want to get from the game. The players know that and they'll know the significance of the match.
"We don't need to look ahead to the other games until we get there."
Placheta to fill in for Sargent?
Smith revealed that forward Josh Sargent is likely to miss Wednesday's game through illness and hinted that Przemyslaw Placheta could start in the American's place after impressing at the weekend against Wolverhampton Wanderers.
"Sometimes it goes unnoticed the runs that people make, that enable others to have chances. The reason Adam Idah got the one-v-one with John Ruddy was because of the run that Przemy had made to make sure that he was onside.
"Przemy's influence on the game for us was good, he never got as many goal-scoring opportunities as he probably would have liked and we would have liked.
"He had the one in the last four or five minutes but that was about it. But there was some unselfish running from him that I was really pleased with."
Reaction to FA Cup draw
Norwich's reward for beating Wolves at Molineux was a place in the fifth round of the Emirates FA Cup, where they will face the difficult task of defeating Jurgen Klopp's Liverpool at Anfield.
When asked to provide his thoughts on the draw, which took place on Sunday, Smith stated: "It wasn't the ideal draw but if we have to do it the hard way, then we will.
"Yes, we would have liked a home draw and, yes, we probably would've liked it against lesser opposition, but the draw is what it is.
"It's a tough game against one of the top teams in the world but one that we should be excited about because we've got a competitive squad at the moment, and a healthy squad. We can go with renewed confidence."