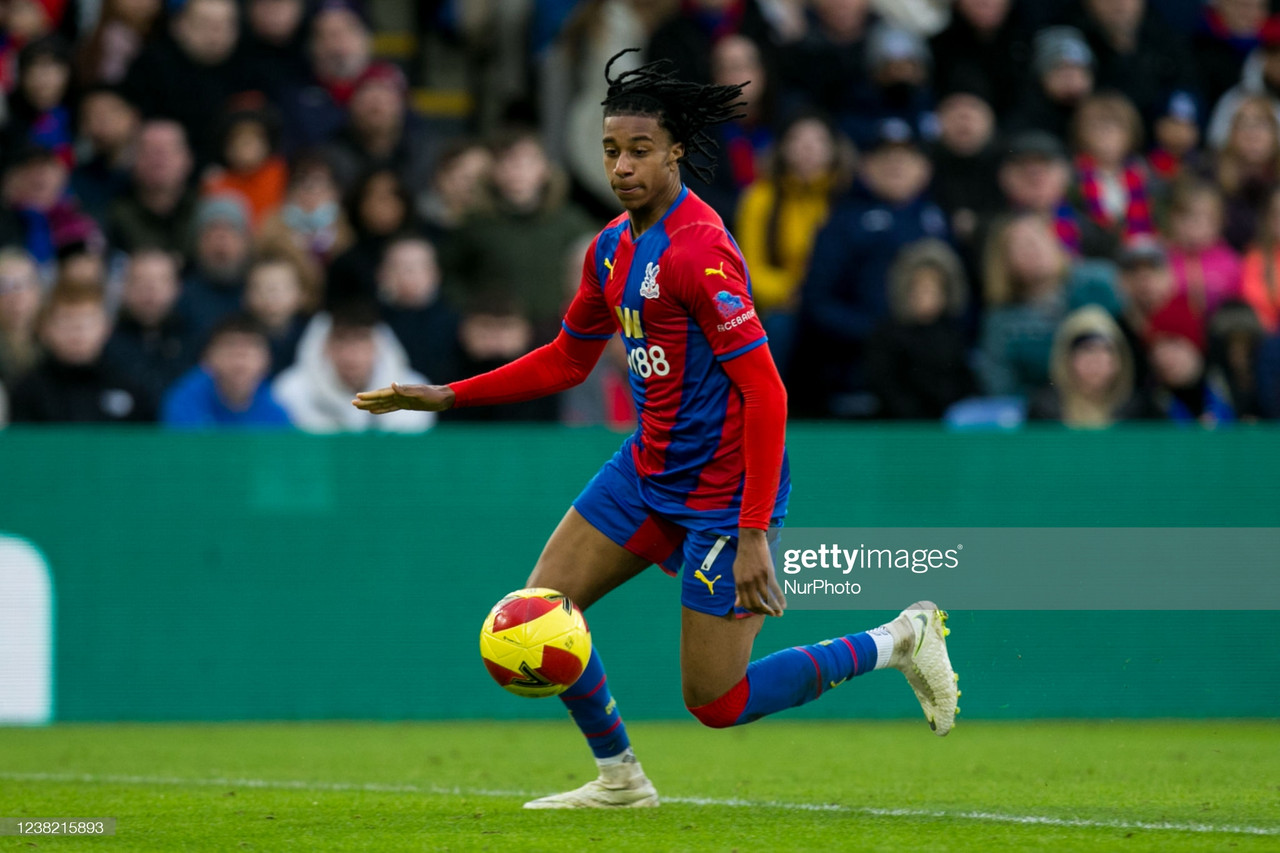 Despite joining Crystal Palace in the summer of 2021 with a broadened horizon, having won Championship Young Player of the Year the season before, there was still a moment of hesitation among the Palace fans over how quickly Michael Olise would adapt to Premier League standards.
After all, there was no real need for a weight of expectation to burden the then 19-year-old.
Eberechi Eze was Crystal Palace's star boy, and his impending return, along with the signings of Odsonne Edouard and Conor Gallagher, meant that the Reading academy graduate could be eased into the fold gradually.
But now that six months have flown by in Michael Olise's Crystal Palace chapter, the intoxicating demeanour of the Frenchman has caught the attention of the top-flight on countless occasions, and he has crushed the notion that Premier League adaptability would be an arduous assignment.
Turning defences inside out, conjuring a pantheon of tantalising crosses into the box, and getting Selhurst Park off their seats - Michael Olise is the real deal, and he has proven to be the fulcrum of Patrick Vieira's youthful revolution.
Already for Olise, there is a lot to look back on.
The embryo in Patrick Vieira's new-look Palace
Michael Olise's £8million arrival to South London from Reading in July 2021 was Patrick Vieira's first acquisition since being appointed head coach, and it kickstarted a dramatic shift in the club's transfer policy.
Under the previous reign, heralded by Roy Hodgson, signings up until the deal that brought Eberechi Eze to the club had been pragmatic. Often, signings in the Hodgson tenure were players with a quickly approaching date of expiry who were usually shallow in creative desire.
The signing of an attacking midfielder, who contributed to 19 goals in the Championship in the season before, set the ball rolling for a summer transfer window that prioritised reducing the overall squad age.
Following closely behind Olise was the promising talents of Marc Guehi, Joachim Andersen, Conor Gallagher, and Odsonne Edouard - all of which are starkly younger than their predecessors.
To a great extent, it was the arrival of Michael Olise that became the catalyst to the rebirth of Crystal Palace's hive for upcoming superstars.
Now, the South London club thrives as a hotbed for the future. Also boasting the riches of a category 1 academy, Patrick Vieira's youthful revolution is a refreshing sight for Selhurst Park regulars.
The 2021/22 season is shaping up to be one to remember for The Eagles, and while a plethora of young talents are already stamping their authority on the biggest of stages, it is Olise who has won the hearts of the Palace faithful the most in recent weeks.
Taking his chances by the scruff of the neck
In retrospect, Olise's invaluable creativity on the right flank for Palace could have been embedded much sooner than he would have expected.
But a back injury at the start of his Premier League tenure turned what could have been an explosive start into a slow drip-feed into top-flight life.
Starting the season on the backfoot could have hindered the youngster's opportunity to get first-team football, but the injury he suffered seemed to do nothing but add further determination to the maquillage of Olise.
Olise showed straight away that he was comfortable in the presence of giants. First, the exciting talent tormented the Tottenham Hotspur defence and played a role in Palace's third goal.
He then showed that he had the verve and talent to seal a regular first-team spot by giving James Milner a run for his money at Anfield, underpinning his boundless potential to play a pivotal role in this season.
And to cement the notion that Olise was Premier League ready, he crowned a trio of excellent performances with a goal against Leicester City at the start of October.
He became the first teenager to score a Premier League goal for Palace since Clinton Morrison in May 1998.
Olise's value in versatility, stringed together by the thread of promising performances and high-octane running, paved the way for revelry in the Crystal Palace crowd over an increase to his playing time.
It wasn't long before Olise became a mainstay in the Crystal Palace lineup, despite the aforementioned hesitance that top-flight pliability would be a long process.
Following his strike against Leicester City, Olise went on to assist in a crucial goal at the Emirates Stadium, before playing his part in securing a famous victory over Manchester City a couple weeks later with another creative masterclass.
One of Crystal Palace's dilemmas last season, and in the seasons before for that matter, was an over-reliance on Wilfried Zaha - their Ivorian talisman.
While Eberechi Eze showed signs of rectifying Palace's Zaha dependence, the void that the Ivorian left was still always felt.
For the first time since he made his Eagles' contract permanent, though, Palace look like a team that is ready for life after Zaha.
There is no doubt at all that Wilfried Zaha still plays a cardinal role in this Crystal Palace setup, but players around him have stepped up to the plate this season more than ever, and at the fore of some of Palace's biggest performances has been the trickery and creative intuition of Michael Olise.
A trip to a hostile Millwall in the FA Cup Third Round provided the perfect backdrop for the now 20-year-old to show his ability to work his magic and determine the outcome of games almost all by himself.
Falling to a one-goal deficit before the first half abraded didn't phase the Hammersmith-born starlet, who singlehandedly turned the Eagles' fortunes on its head with a goal and assist at the start of the second period to etch himself into Palace folklore.
It was a performance that was worthy of praise from Olise, who showcased skill in abundance and an air of confidence likened to only the most elite players in the world.
But Michael Olise's extraordinary start to life in the FA Cup hasn't stopped yet.
At the weekend, he put on yet another dazzling performance, providing a dagger to Hartlepool United's cup run. The Frenchman scored and assisted once again, condemning the visitors to a 2-0 defeat.
In just two FA Cup starts under the authority of Patrick Vieira, Michael Olise has contributed to four goals, leaving his mark on any opposition defence that crosses his path.
Certainly, after securing the club's Player of the Month in January, it's difficult to see who rivals Olise for a starting spot. There is Jordan Ayew, Eberechi Eze, along with others, but Olise has played irreplaceable football in the last month or so.
There is still so much more to come...
Although his standard and professionalism is progressing at lightning speeds, Patrick Vieira was keen to state that Olise's limitless potential to grow even more means that the attacker should keep his feet on the ground.
Vieira said: "When you look at the last round and this one, he played well. He can score goals, create chances and he is a special talent.
"He will improve and get better as a player. His work ethic every day has been terrific since he has been at the football club.
"There is still a long way to go. He still needs to improve some parts of the game but he is doing well and playing with a lot of confidence.
"His teammates trust him a lot to give him the ball and that is a good sign, so he has to keep working and keep improving himself."
But Vieira added: "There are some tactical elements in the game he needs to better understand.
"What we expect and want from him is to be decisive in the last 30 yards.
"He has shown he has the quality to do that. When we look at him here, he was really dangerous and he could score a couple more goals with better decisions, but that will come with more experience and more games."
"Overall, he is part of those young players who if we work well with them and if they are committed to having the work ethic we want in place, they will have the chance to fulfil their potential."