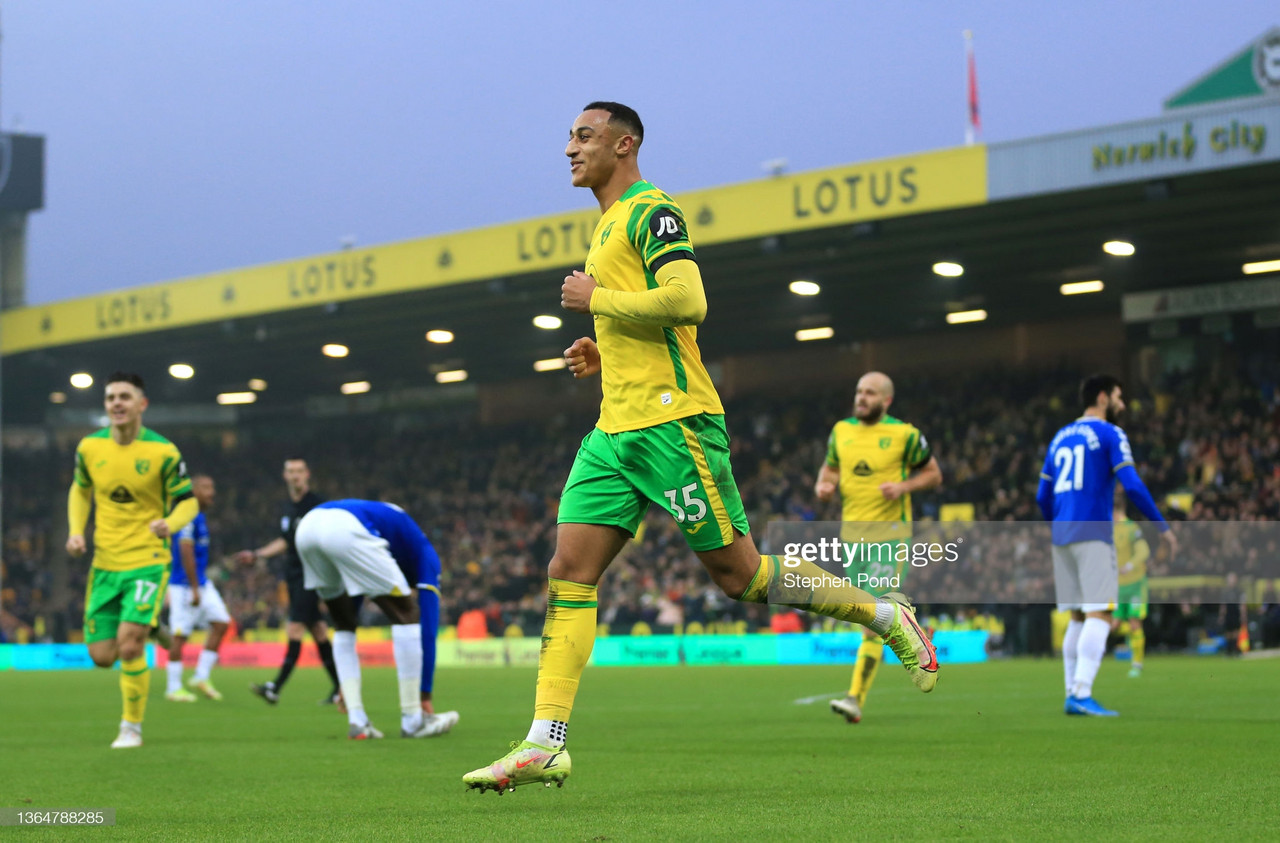 Norwich City collect much needed three points thanks to an own goal from Michael Keane and a quick second from Adam Idah. Richarlison halved deficit for Everton with superb over head kick strike but not enough for a share of spoils.
Coming into this fixture, Norwich hadn't scored since a 1-1 draw at Newcastle United in November and that was also the last game the Canaries had picked up a Premier League point. Everton, their opposition were in a similarly bad run of form- they hadn't found goal scoring a problem having scored in each of their last five games but had only won one in twelve games.
City dominated the first half and were two nil up after eighteen minutes. Josh Sargent produced a superb right wing cross into the box and to the sheer joy of the Norwich fans their side took the lead when Michael Keane stabbed the ball beyond Jordan Pickford into the back of the net.
The hosts doubled their lead just two minutes later. Full back Brandon Williams did superbly to collect the ball on the flank and drove into the space ahead of him. After getting to just outside the box, the Manchester United man found team mate Adam Idah and the Irish striker did well to bundle the ball beyond Jordan Pickford and give Norwich City a 2-0 lead after eighteen minutes.
The away side scored in the sixtieth minute to set up a tense final thirty minutes. Substitute Richarlison who had come on for Rondon, met a cross from the left with a great over head kick strike giving Tim Krul in the Norwich goal absolutely no chance.
The Canaries held firm through the thirty minutes of remaining normal time and the seven minutes of injury time to claim a priceless victory.
This was one of those games where a case could be made for any of Norwich's players to be given the man of the match award. Midfield played well, helping to start attacks and also contributed to a solid defensive effort. The Canaries back four deserve credit for restricting Everton as well. Adam Idah played particularly well upfront for Norwich too and did well to hold
Grant Hanley was a stand out performer and a real rock at the back for Dean Smith's men. The whole team's defensive shape was brilliant throughout but considering Hanley had to have injections to get through this game and how often he got his head and body behind the ball to make blocks, he just about swings it for me. I could've picked anybody though- which just shows how well the team played.
It was announced the day after their defeat at Carrow Road- Sunday 16th- that the Toffees had sacked their manager. Benitez had been in charge since June 2021 but his links to great rivals Liverpool meant that he was never the most popular manager with their fans and yesterday an away supporter got into the pitch to show his anger at the manager and the Clubs board. This defeat as well as the really poor run of form made Benitez's position at the Club untenable and he was sacked as manager.
Embed from Getty Images Rafa Benitez was sacked as manager of Everton after losing 2-1 to Norwich City. Getty images: Stephen Pond.
The fixture list sees Norwich travel to Vicarage Road on Friday the 21st for a relegation battle with Watford. Following the victory against Everton, there is only one point separating the Hornets in 17th and the Canaries in 18th. Watford have a midweek game away at Burnley on Tuesday the 18th before their attentions turn to this game.
The match will kick off at 8pm and will be broadcast live on Sky Sports.