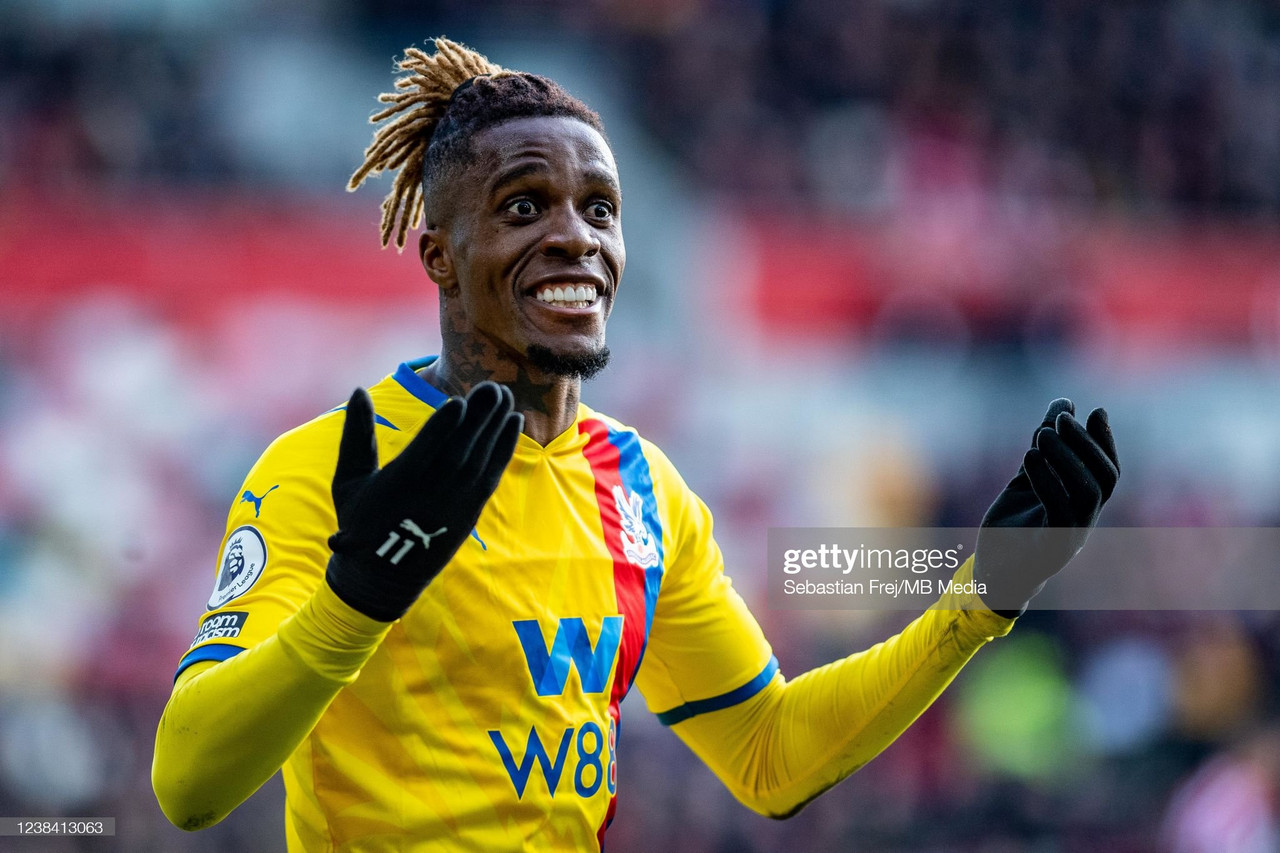 264 Premier League appearances, 53 goals, and 27 assists later, but Crystal Palace find themselves in a familiar position to previous seasons, battling to keep Wilfried Zaha at the club.
The club's totem of attack is approaching the final year of his contract, which begs the question of the Ivorian talisman's future once again.
While the Eagles are keen to tie Zaha down to another contract, the Ivorian's intentions may lie elsewhere.
Despite the attacking acquisitions that have been brought in under the supervision of Patrick Vieira since the start of the season, Zaha still remains the focal point in Palace's creative setup, being the lynchpin at Selhurst Park.
But with just 12 months to go before clubs can recoup Zaha for no transfer fee, fear is echoing louder around Crystal Palace.
The possibilities are endless for a new chapter
Wilfried Zaha's future has been a question that has lingered every season since his return from Manchester United in 2014.
While opportunities were there for him to find new challenges, he stayed in his beloved South London, where he has built a legacy at the club he catalysed his footballing career.
That doesn't, however, stop the barrage of clubs that come knocking on his door at the end of every season in the hunt for his signature.
Zaha has long been subject to heavy interest from clubs outside of south London. For instance, it almost looked as if the Ivorian conductor was on his way out in 2019 if it hadn't have been for Palace's high demands.
Both Everton and Arsenal were priced out of a move during that summer, with the latter showing persistent interest in the left-winger in recent years.
The 29-year-old has also attracted attention from clubs such as Chelsea, AC Milan, and Bayern Munich, and the feeling among clubs with a higher calibre than Palace is that Zaha remains a big fish in a little pond.
If he chooses to wind his contract down, Zaha will not be short of options. Whether he seeks pastures new in a foreign country or searches for Premier League glory with a more established team, the Ivorian remains the only person with full control over his future.
He remains cardinal to Palace's success
While Palace's attacking blueprint has made a rise in threat since the arrival of Patrick Vieira, as he looks to amend the club's overreliance on Zaha, the Ivorian remains a vital cog in the way Palace play.
Eberechi Eze, Michael Olise, and Odsonne Edouard, among others, make a good case as to why the club are prepared for life after Wilfried Zaha.
But in reality, the consequences are much more stark.
Not only would The Eagles suffer from a reduction in goals, but they would lose a crucial personality in the dressing room if they were to lose their poster boy at the end of the 2022/23 season.
When he starts, Wilfried Zaha is the engine to much of Palace's attacks, and his seven goal contributions in 19 Premier League games don't do justice to how important he is to Palace's outlook.
Now that Palace face an uphill battle as they claw themselves out of a relegation dogfight, Zaha will play a central role in stabilising Crystal Palace's Premier League status - something he has done time and time again.
Palace and Zaha are a match made in heaven, and whether they split in 12 months time or not, the Ivorian's service to the club will no doubt be praised for eternity, but the club will hope they can hang on to their talisman for just a little longer.