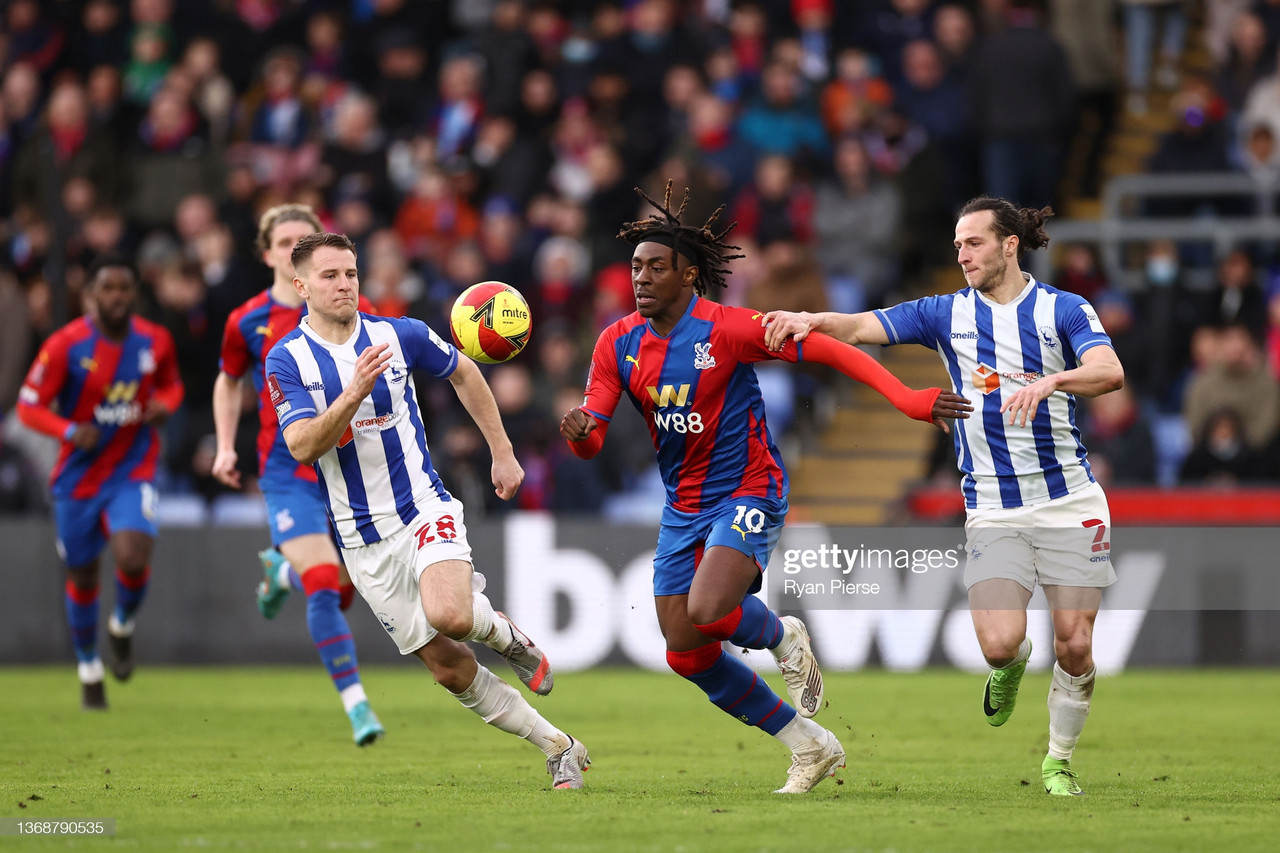 In what has so far been an enjoyable season at Selhurst Park, an elephant has suddenly decided to stroll into the room. That elephant comes with a question: what needs to be done about Eberechi Eze?

Recovering from a serious injury, Eze is now back amongst the first team, but a visibly frustrated Eze, when substituted against Hartlepool United in the FA Cup victory on Saturday, suggests the player is getting frustrated at a lack of chances to impose his style in Crystal Palace's new system under manager Patrick Vieira.

There is no doubting Eze's talent. Football fans saw it countless times last season as he announced his arrival in the top tier.

A special free-kick against Leeds United in a 4-1 victory at Selhurst Park showed his technical ability, whilst a memorable goal against Sheffield United, where Eze carried the ball beautifully from his own half, before cleverly slotting the ball home from the outside the box emphasised his technical ability, too.

His overall star quality ended up turning the head of England coach Gareth Southgate, who named Eze in his provisional squad to compete at the European Championships. Tragically for Eze, at the very time the text message was sent to him announcing his fully deserved call-up to The Three Lions, disaster had struck at Crystal Palace's Beckenham training ground. Suffering the harshest of cruel injury setbacks, the ex-QPR man had ruptured his Achilles and he faced a long road to recovery.

What followed from the player demonstrated that off the pitch Eze's determination, desire, character, and mental strength matched his superb natural ability with a football.
Every day Eze put a shift in at the gym, working on his core strength, desiring to come back stronger than ever. He never faltered. A popular member of the squad, Eze had the players and coaching staff behind him, offering encouragement every step of the way. As a result, the player surprised everyone by returning to full fitness a lot earlier than was previously predicted.

Now, though, the head-scratching starts amongst the Palace faithful.
Eze is without a doubt a class player who is destined to achieve great things in the game. Granted, it will always take time to pick up form when coming back from a serious injury, but problematically for Eze, he's returning to a Patrick Vieira side, not the one headed by the previous manager, Roy Hodgson.
The question on every Palace fan's lips is where does the wizardry of the sensational number 10 fit?
Under Hodgson, Eze often appeared to start out wide, with a licence to drop into the middle. He was never a conventional winger and will likely never be one. Hodgson's cautious approach meant that Eze was often required to come deep, pick up the ball and trigger attacks at opportune moments. He did this very well, deservedly gaining the numerous plaudits that came his way.

Under Vieira the system has changed significantly.
Firstly, Vieira plays with a three in midfield. One of the three holds, whilst the other two central midfielders are energy-driven box to box types. The impressive Conor Gallagher has made one of these spots his own, with a truly remarkable season, whilst the veteran James McArthur pretty much pencilled in the other position until injury curtailed his season. In recent weeks Jeffrey Schlupp has occupied that role.

Therefore, any chance Eze gets is often out wide. However, unlike with Hodgson's system, Eze is not as encouraged to find pockets of space in deeper areas in which to operate. Instead, wingers in a Vieira system need to thrive with the ball in front of them, terrorising fullbacks and posing questions all the time.
It's no surprise that youngster Michael Olise is thriving in such a system. It is also no surprise that we've yet to see Eze light up Selhurst Park in a similar role.
There is no doubting that Vieira highly rates Eze. The Palace boss also recognises that Eze is eager for game-time.
"Of course, he is finding it really difficult because he feels ready to be on the field and to play but at the same time he needs to understand that he has been out for quite a while and it will take time for him to get back to his best," Vieira admitted to The Evening Standard, suggesting Eze needs to be patient when pushing to start after recovering from a serious injury.

Likewise, the fans will be patient with Eze, too. As a south London boy, the supporters have an affinity with the number 10 and, quite frankly, it's hard not to like him. His talent on the pitch is often breath-taking, but he's also a decent young man off the field also, whose positivity lights up a room.

Before Vieira joined there were heavy rumours that former Dortmund coach Lucien Favre was about to join Palace. At that stage, it seemed as though the Swiss coach will have been an ideal manager for Eze, almost building his team around him.

Preferring a 4-2-3-1 formation, Eze would have almost certainly operated in the middle of the offensive three behind a striker, playing an old school number 10 role.
This is arguably Eze's most ideal position. He would be able to pick out pockets of space to play in; he would have far more control of the game, and he would have been the artist the Palace fans know he can be.
Eze would be the conductor guiding the orchestra.
Unfortunately, at the minute, he's merely holding the triangle, occasionally making a little noise but not getting the audience to dance along to his tune either.

For now, patience, belief, and good management from Vieira and his coaching team is the medicine Eze needs to further heal him from the first setback he has had as a Premier League player.

Until then the elephant will remain seated in the room. It's up to Eze to show it the door once the chances come his way.