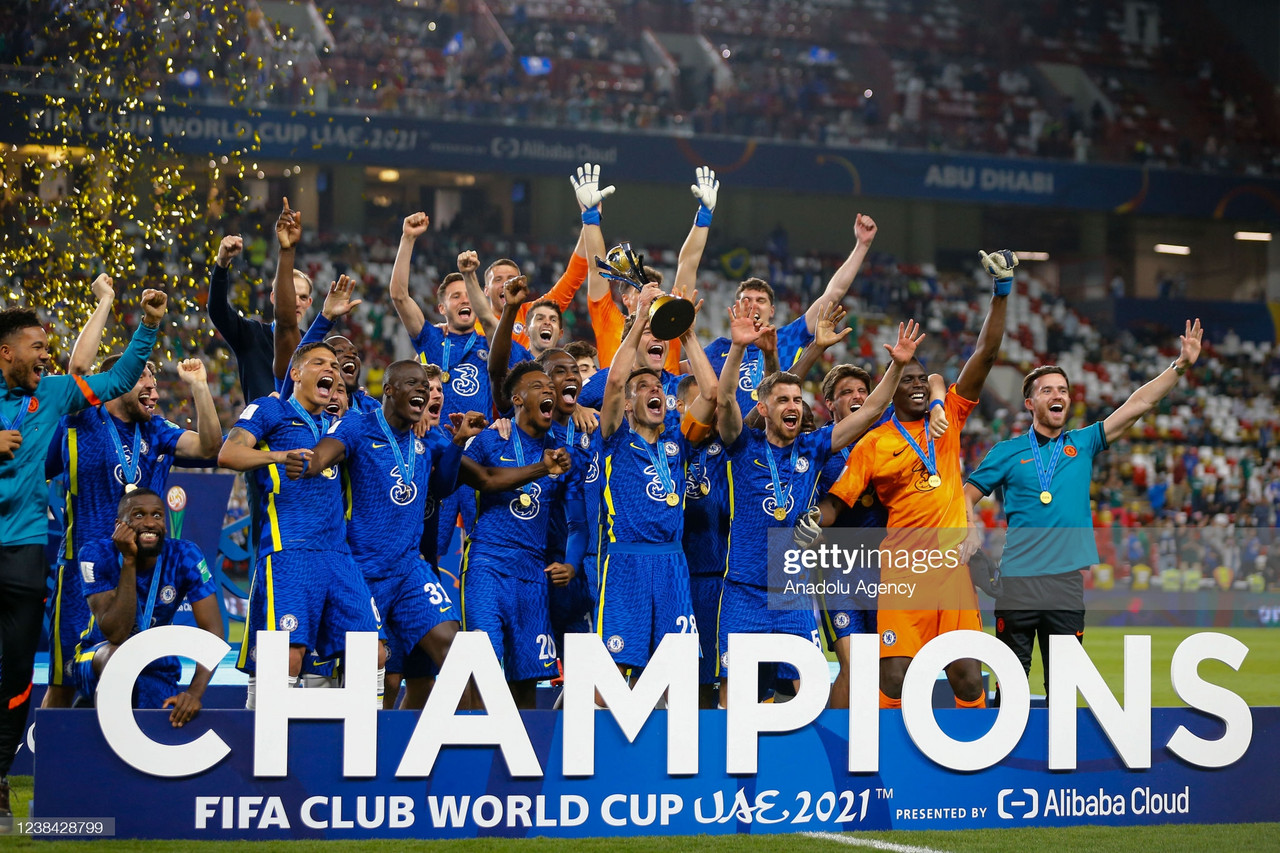 Ajax, Bayern Munich, Juventus, Manchester United and now Chelsea. These five teams are the only ones in Europe to have won every possible trophy available to them. The four names preceding the West London side are stooped in European football folklore, widely considered foremost in the histories of their respective footballing nations. With the investment of Roman Abramovich seeing Chelsea later to the party, it can no longer be argued that the Blues are not an elite, historic football club.
The Cherry on Top of the Roman Revolution
The FIFA Club World Cup, in its current guise, is a curious dichotomy. Ostensibly a reward for conquering a continent's respective best, it's format, awkward mid-season timing and hosting location, combined with a footballing sentimentality akin to snobbery, mean it is not a competition traditionally looked upon by European clubs and fans as having the prestige it probably should.
Nevertheless, for owner Roman Abramovich, it represents the final piece in the puzzle of his 19-year quest to make Chelsea a truly elite footballing institution. Under his near unparalleled tutelage, the Blues have now won every trophy on offer.
While manager Thomas Tuchel was effusive in his thoughts post-match that this was a trophy that belonged to the Russian-Israeli for the 'passion' he has shown in setting Chelsea on a path to elite European competition, the reputation the Russian has cultivated means the joy at lifting another trophy will be short-lived.
After Chelsea secured a second UEFA Champions League title in May, Abramovich embraced Tuchel and made a circular motion with his hands. He may be 19-years into his Chelsea sojourn, but the remit remains clear and ceaseless: we go again.
Cesar Azpilicueta: Mission Complete
Arriving at Chelsea for £7m nearly ten years ago as a full back who wasn't necessarily first choice, it is incredible that Cesar Azpilicueta is the first player in Chelsea history to win every trophy on offer. And yet, if the layers are peeled back, it is very fitting.
Like the team he so ably leads, Azpilicueta is never the most fancied, especially in recent times. Yet, his capacity to deliver consistently, to be dependable, to perform to a world class level and stand to be counted is incomparable.
His leadership is far more unassuming than someone like John Terry, but it is no less effective. In accepting the responsibility of fielding the mind games from the Palmeiras players before Kai Havertz's winning penalty, he has been the shield, the warrior, and the servant that Chelsea have so needed for the last decade.
With his contract running out in the summer, if he is to leave, he does so in a dignified manner firmly in the knowledge his legendary status, legacy and mission at his club are complete.
Kai Havertz: A Serial Winner
Two finals, two winners, two standout performances and two trophies. The story of Kai Havertz's time at Chelsea has been far from perfect. Yet, when the moment calls on him, his delivery is emphatic.
Havertz has dealt with injury interruptions, multiple positional changes, and a struggle for consistency. While there is room for improvement for the young German, his delivery in key moments points to an innate tough mentality that can serve as a foundation on which to build his Chelsea career.
The former Bayer Leverkusen man has the star quality around which Chelsea can construct a team for the next several seasons. What is imperative now is to develop a perpetual run of form, positional stability and fitness that allow for his talents to be maximized on a weekly basis.
Romelu's Redemption
Romelu Lukaku presently cuts a divisive figure in Chelsea fan circles. Since his now infamous interview, he registered just one strike against Chesterfield in the FA Cup. Life on the pitch has been far from ideal since a record £100m switch from Inter Milan.
Yet, were it not for Lukaku's big game temperament and clinical finishing in two key moments, Chelsea would not be world champions. For all the contention of his off the field antics, Lukaku is a firm part of the West London side's future.
Goals in big games like this will go a long way to repairing the relationship with his club's fans. Like Havertz, Lukaku benefits from being played in the right system with players around him who look to get the best out of him.
A pedigreed, world class performer throughout his career, the Belgian's road to redemption has begun. Should he score many more big goals in big finals for Chelsea in emulation of a certain Ivorian he idolizes, the adoration will return.
Thiago Silva: Old But Gold
Thiago Silva, at the ripe old age of 37, continues to confound father time. The winner of the Golden Ball for the best player at the Club World Cup, the Brazilian's time in London has delivered more than just trophies. It has reminded the footballing world of the colossus that Silva is.
Like Azpilicueta, this is a player who leads by example, whose standard of performance is consistent and incomparable. Given the manner in which he implored the meaning of this trophy to teams in his native Brazil, it is fitting that he should collect the trophy for best player.
A just reward not only for a standard of performance that rarely knows an equal, but also for someone whose dedication to his craft is similarly peerless.
Rarely has someone arrived at an elite European club for no fee and had such a profoundly positive impact, but O Monstro as he is affectionately known, has been nothing short of just that: monstrously good.
Thomas Tuchel: Tactician for Titles
Few could have predicted the kind of positive impact Thomas Tuchel has had on Chelsea in just twelve months in the job. In a year, the German has three trophies from a possible five and could very well add to that haul before the season is out.
In as much as predecessor Frank Lampard did a tremendous job providing the club with the personnel to be successful, the wand of tactical innovation and sheer genius Tuchel has waved has turned Chelsea from contenders to champions. This is a team that has performed unlike any other in Europe over the last year, whose ability to manage a one-off tie has garnered unprecedented renown.
And yet, Tuchel will know that 'one-off' is where the improvement lies. The bread and butter cultivated under Jose Mourinho saw Chelsea not just as serial Premier League contenders but as regular winners.
After a humbling 7-1 aggregate defeat to Bayern Munich in the Champions League in August 2020, few could predict Chelsea would, just 18 months later, have won every possible trophy available to them as Die Roten have.
There is a way still to go, but it is clear the journey so far has been incredible.