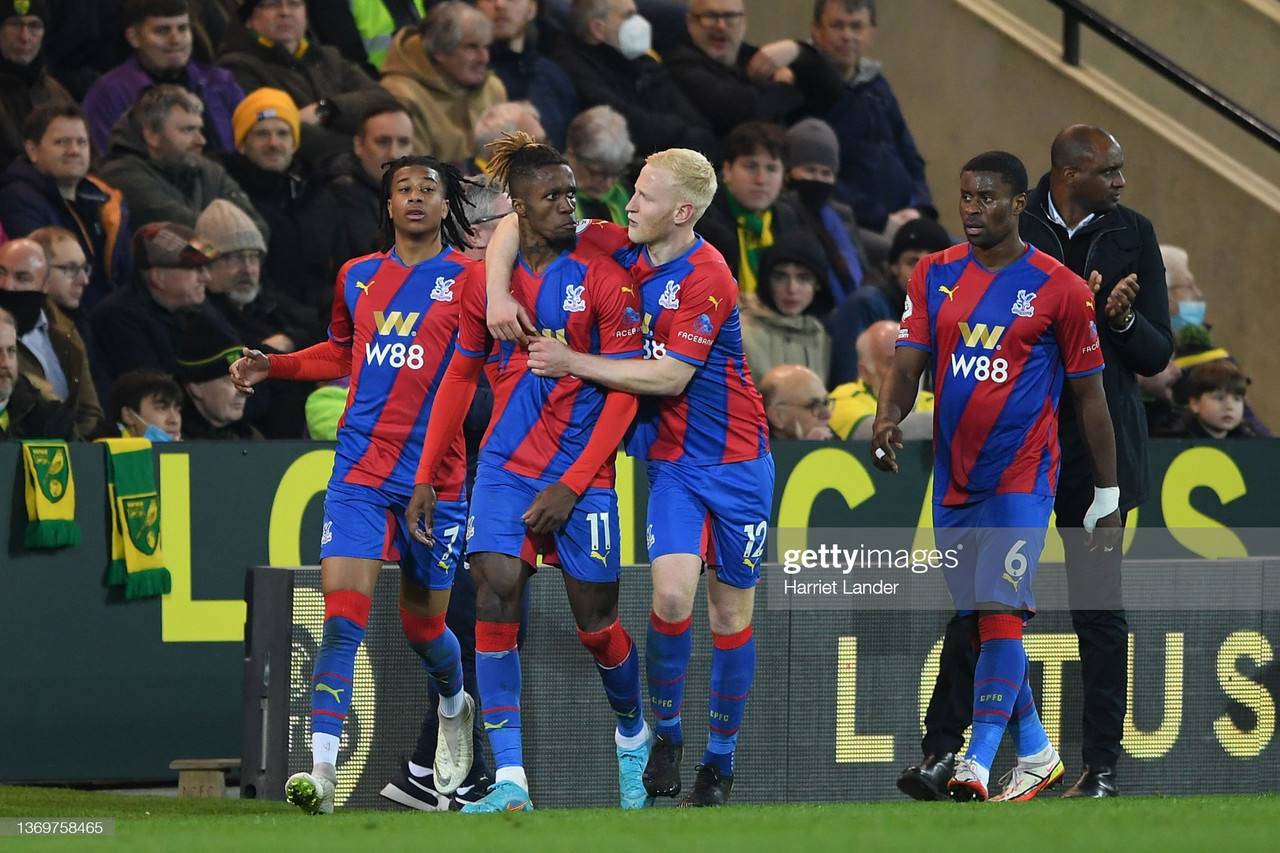 Once again Wilfried Zaha dug his Crystal Palace teammates out of a humongous hole on Wednesday night away at Norwich City.

Having conceded after just 40 seconds to a Teemu Pukki goal, Palace kept knocking on the door to no avail.

Suffering a frustrating night up until the 60th minute, Zaha found himself out on the left-wing. Assessing his options, the Ivorian cut in onto his right foot, opened his body position up and unleashed an outrageous shot from the edge of the 18-yard box which flew beautifully into the goalkeeper's top left-hand corner.

It was a strike of beauty. An act of magic only a player of Zaha's sublime skill could conjure up.

Minutes later, an unfortunate missed penalty from the player threatened to take the gloss off his evening. However, everyone could see it was a slip that meant he skewed his penalty wide. Such was the quality of his goal, it was inconceivable to assume anyone in the media would focus on this negative.
Negative media perspective
However, this is Wilfried Zaha. If there are positive stories associated with the Palace star-man, they appear to be banished to the bin. Only negativity will satisfy many in the mainstream media when it comes to Palace number 11.
"Zaha's penalty miss costly as Palace draw at Norwich", stated BBC Sport. The headline could have easily read "Zaha's magic rescues point for Palace" but no, that did not fit the narrative.
Sky Sports Premier League tweeted that Zaha had gone from "hero to zero" describing his penalty heartache as "one of the misses of the season."
And The Telegraph dedicated a whole article with a headline declaring, "Everything Wilfried Zaha got wrong in taking the worst penalty ever."
The worst penalty ever? Zaha slipped. That is all. There was no arrogant run-up. There was no embarrassing Panenka-style penalty which ended up in spectacular failure. He just lost his footing.

Zaha understandably gets upset by this harsh criticism. And who can blame him? Is there a Premier League player out there who receives more hostility from the media than him?

Since bursting onto the scene, Zaha has been a constant delight to watch in the top tier of English football. His skill, exuberance and natural ability have literally taken the breath away of those who love the game. He gets people off their feet. He is box office. It's why Palace fans love him.

However, sections of the media seem determined to paint him as the pantomime villain. A role that Zaha didn't audition for, let alone deserve.
It is widely accepted that Zaha is one of the most fouled players in the Premier League, yet unfair pundits say, "he goes down too easily". Anyone else in a similar scenario "cleverly buys a foul", and is applauded for "buying their team time" or "winning free-kicks in dangerous positions."

When Zaha shows a "win at all costs" attitude on the pitch it is labelled as 'petulance'. Anyone other than the Ivorian, and it is described as "passion".

The negative narrative started just after Zaha signed for Manchester United and was loaned back to Crystal Palace in the season when the South Londoners won promotion. It just so happened that Crystal Palace won a lot of penalties that season. There was little evidence to suggest any of the penalties awarded to Palace were as a result of diving, however, once accusations are out there, the mud can stick.
And as the most sparkling diamond in the Palace crown, the player who gained the most negative attention was Wilfried Zaha.
This harmed Zaha on the pitch. His unfair reputation means officials are subconsciously conditioned to ignore blatant fouls on the player which naturally causes frustration. Evidence that Zaha's reputation was unfairly being used against him came at The Emirates Stadium in October 2019.
Losing 2-0 to Arsenal in a London derby, Zaha decided to take matters into his own hands as he often does in a Palace shirt. Driving into the Arsenal penalty box, Zaha executed his trademark stepovers, confusing an Arsenal defender before being crudely brought down. It was a stonewall penalty, yet the gasps from the crowd spoke volumes when the referee produced a yellow card, accusing Zaha of simulation.
Luckily for Palace and Zaha, VAR had been introduced that season with the video referee overturning the decision. Had it been a year earlier, Palace would have lost the game 2-1 rather than steal a point and Zaha would have seen more fuel thrown to the "Zaha is a diver" bonfire which burns harshly.
In addition to the suggestion that Zaha "goes down too easily" is the accusation that the player is a petulant member of the Crystal Palace playing squad, with an arrogant and disrespectful attitude towards opponents, officials and even his own teammates.

Zaha plays on the edge. He bubbles away, ready to explode, but then his manager, and those on the Palace coaching staff, would correctly ask so what? Football is a passionate game, and Zaha wants to win. Players with similar attributes are lauded for having "hunger" and "fire in their bellies". Zaha's desire to win at all costs is filed under "bad attitude".
Of course, Zaha, like every human being on the planet, makes mistakes. He cannot hide frustration: he is too easily wound up at times; there are rarely periods in a game when he breaks into a smile. This isn't because Zaha is unhappy, it is because he takes his work seriously.
Sadly for Zaha, the constant barrage of negative criticism about his character has had a devastating impact off the pitch.

Constant roars of abuse from rival fans hit Zaha in whatever stadium he plays at but having thick skin made in South London, he thrives off this and loves silencing the boo-boys.

But what is inexcusable is the racist abuse Zaha receives on social media. It is sickening and is largely a result of the negative portrayal painted of him by people who should know better.
To put it crudely, if you're young, black and talented in England, you are "fair game" to certain Neanderthals hiding behind their keyboards. The constant narrative designed to present Zaha as the "bad guy" gives foul-smelling racists the misplaced confidence to spread hate because after all, "nobody likes Zaha anyway."
Naturally, the constant barrage of criticism ends up hitting Zaha and the player himself has clearly struggled to comprehend why there is so much hostility thrown his way.
Taking to social media after losing to West Ham United last season Zaha stated, "It's a sad world we live in because people thrive off another person's misfortune," with the player suggesting he had had enough of the constant harsh criticism he seems to drown in.
There are many positive stories out there that would easily make many sit up and realise the fine contribution Zaha makes to those less fortunate than him. Not least the fact Zaha donates 10% of his monthly salary to charity.
Speaking to The Daily Mirror about his charity work, a proud Zaha said, "My passion for football has given me a platform to do something I love and to help others that, like me, didn't receive any help or handouts."
"I know what it is like to come from nothing and not have any handouts, so I hope that what I'm doing is putting a smile on some people's faces."

Even without his charity work, Zaha deserves more credit for what he has achieved in football, even if that has never amounted to him getting a move to a top European club and giving him a better chance to win trophies.
Crystal Palace FC would arguably not be a Premier League team if it wasn't for Zaha. He is the club's talisman. Born in the Ivory Coast and made in South London, Zaha has an unbreakable bond with the Palace supporters who will always champion him come rain or shine.
Arguably, the game at large needs to do the same. Rather than deliberately painting Zaha unfavourably, football needs to recognise how lucky it is to have his talent on the Premier League stage.
After all, even the pantomime villain deserves a round of applause at curtain-fall.