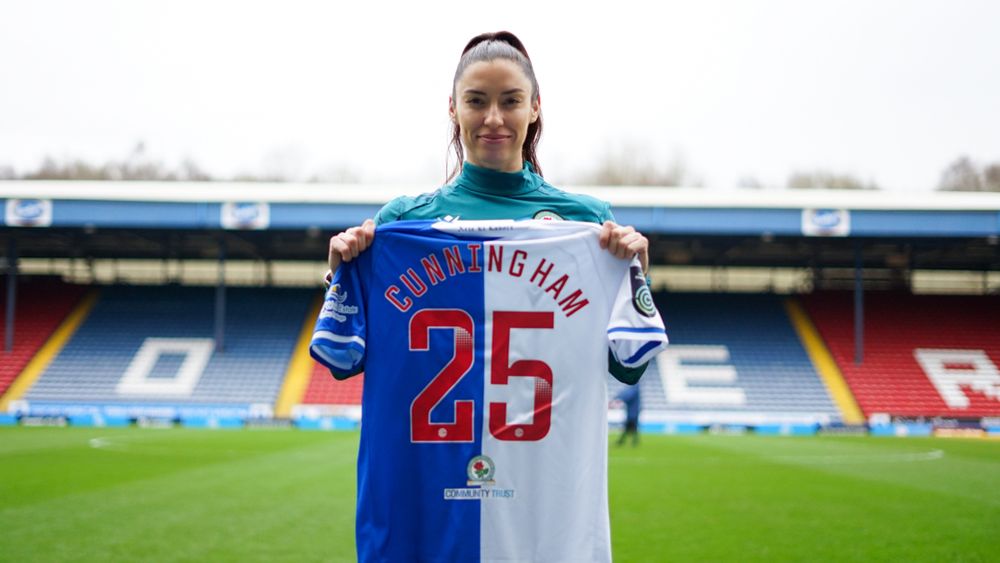 From San Francisco, California to Blackburn, Lancashire. It's been some journey to European football for Blackburn Rovers' January signing Erica Cunningham, but it hasn't always been that way for the America born full-back.
Moving to Blackburn
Cunningham became Gemma Donnelly's fourth January addition earlier in the year, after spending 2021 in Sweden with IFK Norrkoping in the Elitettan.
In an exclusive interview with VAVEL, Cunningham revealed: "It has been a long time, I feel, coming to England. I was able to finally come over once I got my Irish passport. That was back in November when I was in Sweden. I have been wanting to come over, but it has been difficult due to visa issues as an American.
"I got the opportunity to come trial for Blackburn. When I learned of the opportunity, I was more than excited. I watched how Blackburn did in the first half of the season and was impressed. It was a transition from the style of play in Sweden but I was more than ready. Thankfully it worked out."
Cunningham also spoke of how excited she is to finally get the opportunity to play in England, a country so rich in terms of footballing history.
The new Rovers' defender said: "Just looking at the competition in which we play, every game is a fight. Something that makes me excited is that competition because you cannot stay comfortable in this league. You know you are always going to get a really good game. For me I am really excited about it because I know I am going to get better with each game and every training session."
The Rovers' faithful will be hoping their new signing can make a big impact on their side, with Blackburn currently in ninth place in the FA Women's Championship.
Settling into England
In the upcoming March fixtures, Blackburn face Durham, Sunderland and Coventry, with two of the three teams aiming to catch up to the Riversiders.
Regarding the fixtures, Cunningham said: "The games are really crucial for us. It is not something we are going to freak out about, but it is something that we have to stay focussed on. We know what we have to do, everybody has to go out there and do their jobs. If everybody goes out there and does their jobs, then we are going to be more than OK.
"We have a really talented team. I think it is a matter of everybody doing their part. If that happens, we can come out with really good results."
It isn't just the pitch Blackburn's number-25 is looking forward to taking to, with Cunningham heavily interested in her surroundings too.
"I really like to look around the area and get to know a new place. That is also part of the experience of playing overseas; I get to meet people I never would meet; I get to see places I would not normally see.
"Football is a blessing in that way. It is an exciting thing for me to come to new places and get to new areas. I am happy to start doing that in the UK because I want to live here for a bit", she told VAVEL.
Cunningham also spoke of dealing with contrasting training schedules in different countries, having played in four separate nations.
"At Blackburn, there are a lot of girls that have other jobs, so we train in the evening. We do have some days where we will train in the day, but I think in my other teams there has been more training during the day due to schedules with the players. There is a bit of schedule difference, but it is just a matter of trying to make it work for everybody."
The defender is raring to go in her first stint in England.
"I want to get in as many games as possible", she said. "I feel as a player, I can contribute a lot to this league and this team. My strengths and my physical abilities are really good for this league. I know I can help a lot and I want to be able to show that in games.
"As a team, I want us to get more clean sheets and win games, that is always a defender's goal."
Career highlights
Previously, Cunningham has played for FF Lugano in Sweden, as well as FC Zurich in Switzerland and Norrkoping, as mentioned above.
Speaking on her career highlights, Cunningham revealed playing in the UEFA Women's Champions League is something she will never forget.
"For me the highlight would be making the Champions League when I was with FC Zurich and also qualifying for the competition when I played for FF Lugano, a team that had never done that before.
"To be able to be part of that was an amazing feeling and playing in the Champions League was an amazing feeling because I went from being out of the sport for three years and it really proved to me, I can really do this, and go far with it [football]."
Speaking on her break from football, Cunningham revealed: "I was super inspired to be a professional athlete when I was in my teenage years. At a certain point, maybe in college I got really burnt out and thought this is not what I wanted to do anymore. I quit playing for about three years, in my 20s, after college.
"I went out and worked, in film production for a little bit, real estate as well and then I decided that I wanted to get back into the sport and tried to do it professionally because I saw how much the [women's] game was growing. I thought I could make a living off football, because it was better than when I was younger."
Cunningham's mentality and drive comes from within, and an attitude built through signing her first professional contract as well as idolising former Manchester United and Republic of Ireland captain Roy Keane.
"The first professional contract I had, it was an amazing feeling because it felt as though all the hard work had paid off, but at the same time the work only just begins. You are really excited, but it is like now you have to fight for your position and stay on that contract. They are different stages."
Regarding Keane, Cunningham added: "Keane was a box-to-box midfielder, he worked hard, and you could see his passion. Lots of people would say Ronaldo or Messi as an inspiration but I always loved Roy Keane. It was more his attitude that I loved, and he did not care what anybody thought. His drive showed it was more than a game for him. I admire that old school grit."
International aspirations
Just as Keane once did, Cunningham will be hoping to line-up for Republic of Ireland, after recently receiving her Irish citizenship. It is a citizenship that she qualifies for through her family heritage, with her grandad originating from the second largest city in Ireland, Cork.
She reveals: "It was quite a process getting the Irish citizenship. It took nearly three years. I am really relieved to finally have that. It opens more doors for me as a player wanting to play in Europe. I am really grateful I have been able to get that and have been able to get opportunities from this as well."