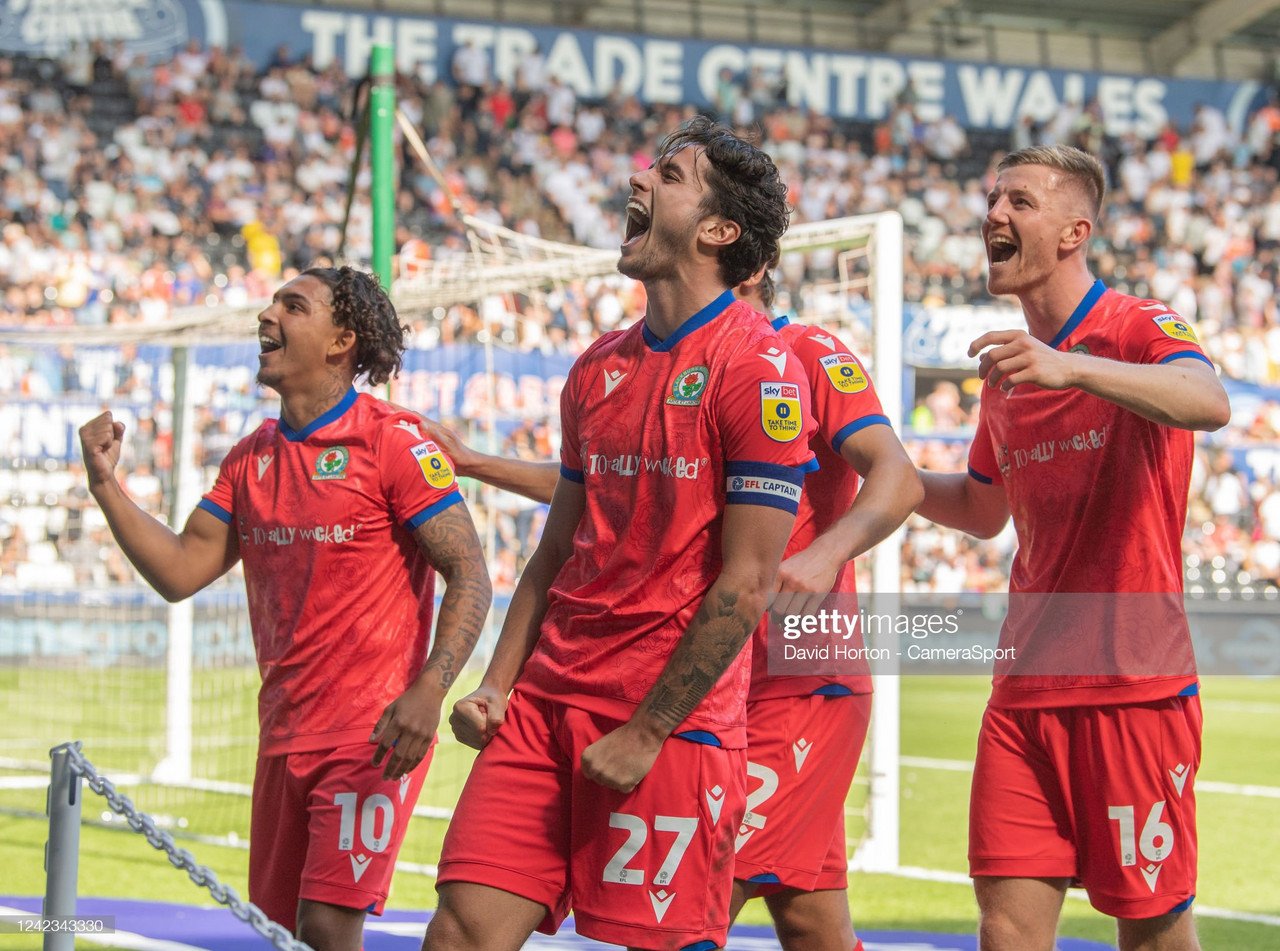 The departure of a long-term manager can often produce varying results for football teams. It can either go really well, or terribly bad and for Blackburn Rovers, it seems to be the former.
Once Tony Mowbray announced he was leaving the club, after over five years at the helm, towards the end of the last season, many questioned whether the club would take a step back in their quest to return to the Premier League. It seems with the appointment of Jon Dahl Tomasson, they have actually taken a leap forward.
The former Malmo FF manager arrived in the summer and things have gotten off to a great start. Two games in, Rovers have won both and are yet to concede a single goal. They've been almost flawless so far and it may be early days, but if they can keep it up, it may be time for fans to start dreaming once again.
They have shown an ability to adapt tactically
One major issue fans had with Rovers during Mowbray's tenure in charge, was their seeming inability to switch things up tactically when things weren't quite going to plan for them.
A reluctance to change their approach cost them numerous points over the years, but just two games into Tomasson's reign and it seems that won't be a problem going forward.
The club have picked up two great wins against to very strong sides in QPR and Swansea City, but they've done using very different approaches.
The first game of the season, at home to QPR, saw Rovers adopt an attacking approach, focusing heavily on progressive passing and conjuring up numerous chances through their offensive style of play.
It wasn't too dissimilar from the way they played under Mowbray in the past, but their meeting with Swansea saw the club completely switch things up. Russel Martin's side are known for dominating possession and enjoying large spells with the ball, so Rovers were aware they couldn't approach the game in the same manner they did against QPR a week prior.
This led to the side completely switching things up and employing a much more counter attacking style of play, with emphasis on pressing the Welsh side relentlessly and it worked tremendously.
Despite having just 29% possession, and completing almost half the amount of passes they did against QPR, Rovers looked superb and battered Swansea 3-0. In the aftermath of the contest, Tomasson and some of his players revealed that they'd been preparing that exact tactical approach to perfectly combat Martin's style of play.
It's an encouraging indication that the side will be well prepared, and tactically aware of how they need to adapt to overcome some of their opponents this year and is something the former AC Milan striker has been known to do in the past at Malmo as well. His tactical flexibility ensures teams can never properly study his sides and will have a hard time coming up with an effective game plan.
Tomasson is getting the best out of his players
With the likes of Darragh Lenihan, Ryan Nyambe and Joe Rothwell all leaving Rovers this summer, there were some concerns the side would feel their absence heading into this season.
That hasn't been the case so far, though, and Tomasson has managed to get the best out of all of his players so far. From new captain Lewis Travis playing his socks off and somehow inexplicably adding goals to his arsenal, to Ryan Hedges looking like a completely different player to the one who arrived at Ewood Park in January, the team has all stepped up and taken their game to another level.
Sammie Szmodics signed for Rovers last week and immediately hit the ground running on his debut, scoring in the first-half, and is already looking like one hell of an addition to the side. Similarly, Callum Brittain was brought in to replace Nyambe, and after two stellar performances, is looking like an upgrade on the new Wigan right-back.
While it is still very early days, Rovers are currently sat atop of the championship table and are the only side in the division to have picked up the maximum amount of points so far. There is still plenty of football to be played, but with the encouraging signs radiating out of the club right now, there's no reason to doubt this impressive form won't continue through until May.