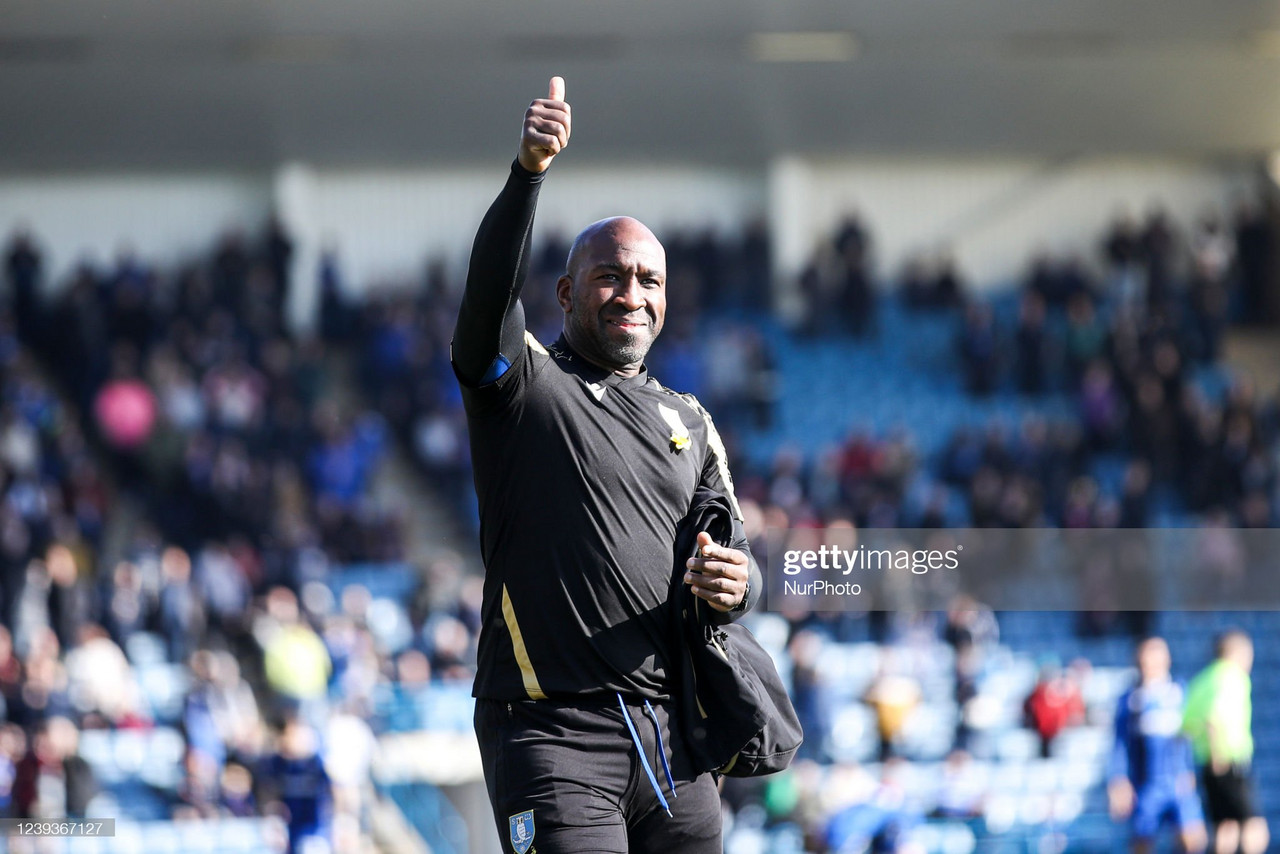 Sheffield Wednesday manager Darren Moore was delighted that his side confirmed their spot in the League One play-offs with a come-from-behind victory over Portsmouth at a packed-out Hillsborough Stadium on Saturday afternoon.
Boyhood Owl turned villain George Hirst opened the scoring after only four minutes, but Wednesday did not let their heads drop as goals from Lee Gregory, Saido Berahino, Jordan Storey and George Byers cemented a fourth-place finish for Moore's side.
Play-off place secured 🔒 pic.twitter.com/YS2cZO1886

— Sheffield Wednesday (@swfc) April 30, 2022
The Owls' boss praised the way his side battled from behind to "get the job done."
"I said to the boys today that it was all about coming here and getting the job done but we knew we had a strong opposition against us," said Moore.
"I thought after the first ten minutes – where our passes and moves were a little bit erratic which you can understand with the magnitude of the game – we settled down and got into our rhythm and played some good stuff.
"A massive credit to the players with their strength and character to go down a goal and not lose sight of the process and they kept to the game plan.
"Once we settled down, we saw clear pictures and saw the areas in which we wanted to exploit Portsmouth and we got the goals.
"I said to the players at half-time 'it is a credit to you' and the accolades go to them because it could have been difficult but every one of them to a man stuck together and they came through a difficult test.
"What I liked from it was from since the start of the season, the mindset and character from not just the players but the supporters is a transformation from what it was and it's moments like this that help you overcome it and in the end, I thought we deserved the win.
"The transformation comes as a joint effort – fans, players; it's not been a sole effort – and long may that continue.
"Portsmouth are a great team; you can see clearly what Danny [Cowley] and Nicky [Cowley] are trying to do and they cause problems and they always look a threat on the counters.
"We needed to work on getting the ball into certain areas and once we got to those areas then we finished our chances really well and we could have had a few more but the 'keeper has pulled off some wonderful saves today and credit to them because they were dangerous.
"I thought we were good going forward but off the ball we kept the back doors shut and even when they broke away, we stayed resolute and defended.
"We got into our rhythm and started pulling them apart and we got our goals, and it was pleasing to see that.
"They have been consistently getting better and been performing better over the course of the season and today was another example of that."
A full house in S6
A crowd of 33,394 amassed at Hillsborough for the league season finale and the home support created an exceptional atmosphere.
Moore hailed the fans' support at the weekend, stating that it helped keep the players fired up despite the early setback.
"It is so rewarding to see that as a manager," he added.
"You want to see the stadium full, so to see that today I was pleased and sharing today's victory with the fans was pleasing.
"Even when we went a goal down, there was still an energy in the place and it was really good, and we responded in an emphatic way in not just going for the one goal and settling back down but going for a second and then third and continuously doing that.
"It was fabulous. I was really looking forward to the afternoon and it lived up to my expectations.
"It was absolutely fantastic to see and credit to the fans – I really loved it – and now we need to go again in the play-offs and we look forward to seeing them in a few days.
"From a psychological point of view, we spoke about being physically strong today as well as emotionally and mentally and the players showed that.
"After going a goal down, the fans backed the players and the character shown from the players has to be said but thank you to the fans for giving it that energy and the belief to get them back into the game.
"For me, it is another big hurdle that they have overcome because it's something we have had to work on because of the expectation of playing for Wednesday, you want to do well for the club."
Into the play-off semi-finals
The Owls now face Sunderland over two legs in the League One play-off semi-finals.
Wednesday were beaten heavily by Sunderland back in December, but the Owls came away with a 3-0 victory in the reverse fixture.
Moore spoke about the strength of not only the Black Cats but the play-off teams as a whole.
"The first phase was to get into the top six and now we have two massive games against Sunderland and both clubs know each other really well," said Moore.
"I will wake up tomorrow morning and get planning for that first leg and work from there.
"It'll be a stern test and it wouldn't matter who you got in the play-offs; there are four teams in there that have worked incredibly hard all season and have amassed 80-odd points and it is mindboggling to think of the relentless schedule that this league season has been, so credit to all four teams in there.
"Credit to all the managers in League One as it has been an entertaining one but for us and three other clubs in the play-offs, we still have to carry on.
"They're going to be tight games and we will plan and prepare as both teams go into there full of confidence and in form.
"When we wake up tomorrow, all eyes and focus will be on the Sunderland game in looking at a training programme and schedule this week in preparation for it.
"Alex Neil has done a great job there, taking over and steadying the ship, so it is going to be two good games.
"I don't think there is owing anyone anything because at the time when we went up there [Stadium of Light] the squad were suffering from the training ground being shut down for 17 days and the squad came back and played after only three days, so we knew that we weren't where we needed to be.
"They are under new management and have a different style of play and the concept is completely different. We just have to prepare as normal and go from there."
Barry Bannan's injury concern
A rare negative from Saturday's victory was that Barry Bannan was brought off the field clutching his hamstring.
However, the Owls skipper walked off the field and partook in the end-of-the-season lap of honour.
You all played your part today 🙌

On to the play-offs!#swfc | #SHWPOR | 🎥@LENSGOvisuals pic.twitter.com/3y8jmn70MX

— Sheffield Wednesday (@swfc) April 30, 2022
Moore explained that Bannan will rest for a few days before being assessed ahead of Friday's play-off game.
He stated: "He saw the medical team, but we always like to give it 24-48 hours to let it settle down because sometimes you can make decisions too soon, so leaving it gives us a better picture of what we're going to do over the next couple of days.
"I'm not worried; what's the point in worrying because I don't know what is going to happen and I don't want to be jumping to conclusions when it might be nothing.
"In a couple of days things might have settled down but we will wait and see and hopefully I will have a better picture in a couple of days."