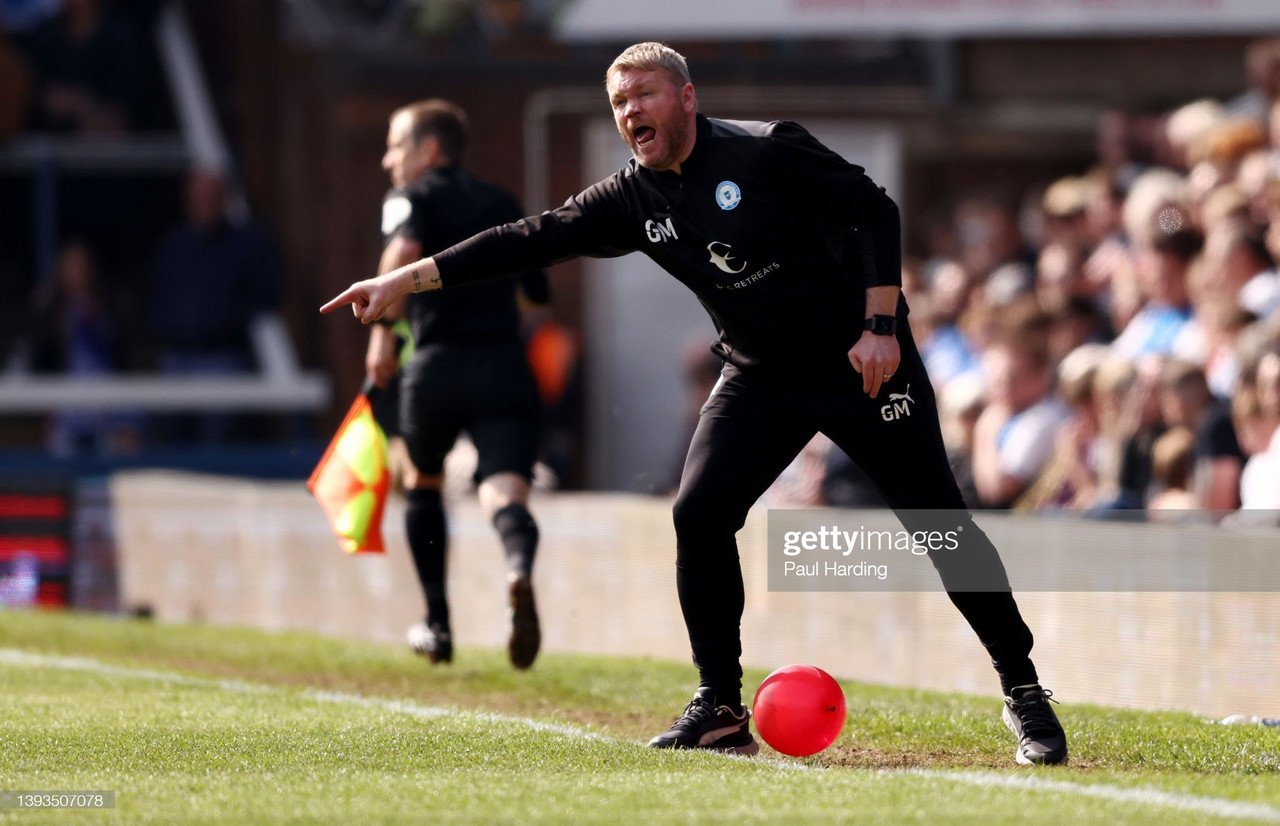 Grant McCann is excited for the future after his Peterborough United side ended the Championship season with a 5-0 victory against a lacklustre Blackpool.
Jonson Clarke-Harris, Jack Marriott, Jack Taylor and a Sam Szmodics brace gave relegated Posh the victory at the Weston Homes Stadium.
This is what the home side's manager had to say.
'Today was about sending the fans home happy'
Peterborough had the majority of the chances in the opening exchanges but couldn't find the breakthrough, which did invite Blackpool into the game.
"It took us a while to get going, I thought, in the first 15 to 20 minutes, and I felt it had the feeling of a pre-season game really," McCann said.
"After that, though, we got a grip of it and started to press a bit higher up and we got control of the game a little bit.
"Then, the second half I just said to them 'go and enjoy the game' against a very organised Blackpool team today and we have done really well. "
The second half was certainly a lot more one-sided, as four of the five goals came in the second half, after Clarke-Harris' opener after half an hour.
The home side walked around the pitch at full-time, showing their appreciation to the fans who have stuck by them through this season, which the manager admitted felt wrong to do.
"Today was about sending the fans home happy, with a little bit of positivity, and hopefully next season we can walk around the pitch with a different sort of feeling," he added.
Performance pleasing for McCann
"We were good on the ball today, we were on the front foot and we gave them very little opportunity on their goal," McCann said.
"The front four were very, very good today – Kwame and Jonno [Clarke-Harris] and then Joel Randall and Jack were very good when they came on.
"It was a very good team performance today, some really good goals and crosses from Harrison Burrows and it was a really good day at the office for us today.
"It gives us a sense of positivity going into the summer."
Jack Taylor got a special mention from the manager, after his wonderful strike capped off the performance – on a day where he won the club's goal of the season for his effort at Hull City against McCann earlier in the season.
"Jack was excellent today, especially in the second half," McCann said.
"He was playing against a good player in there today in Kevin Stewart and Jack showed his quality today and capped it off with a really good finish."
Since McCann arrived in February, Posh have looked like a different team and there is a bit of positivity in the air in Cambridgeshire heading into next season.
And the gap to safety ended up being just four points, a gap that could have been closed had some close encounters fallen their way over the season.
"We gave it a go, the players have been excellent since we joined the club," McCann said.
"The boys have given us everything and it is just unfortunate that we are where we are at this present time.
"There might still be some things going on in the background regarding Reading but we'll see, I don't really want to comment on that much more."
The focus turns to League One for Posh now – a division that is stronger now than it was when they were promoted in 2021.
"We know it will be a tough league, of course, but if we play like that next season then we should be in for a good season," McCann admitted.
"We just want to build a team that is going to do well next season.
"I said before the majority of the squad will stay and make sure we recruit around that and bring in good people to the football club, the right characters."
The result and Derby County's defeat at home to Cardiff City meant Peterborough finished 22nd in the Championship.