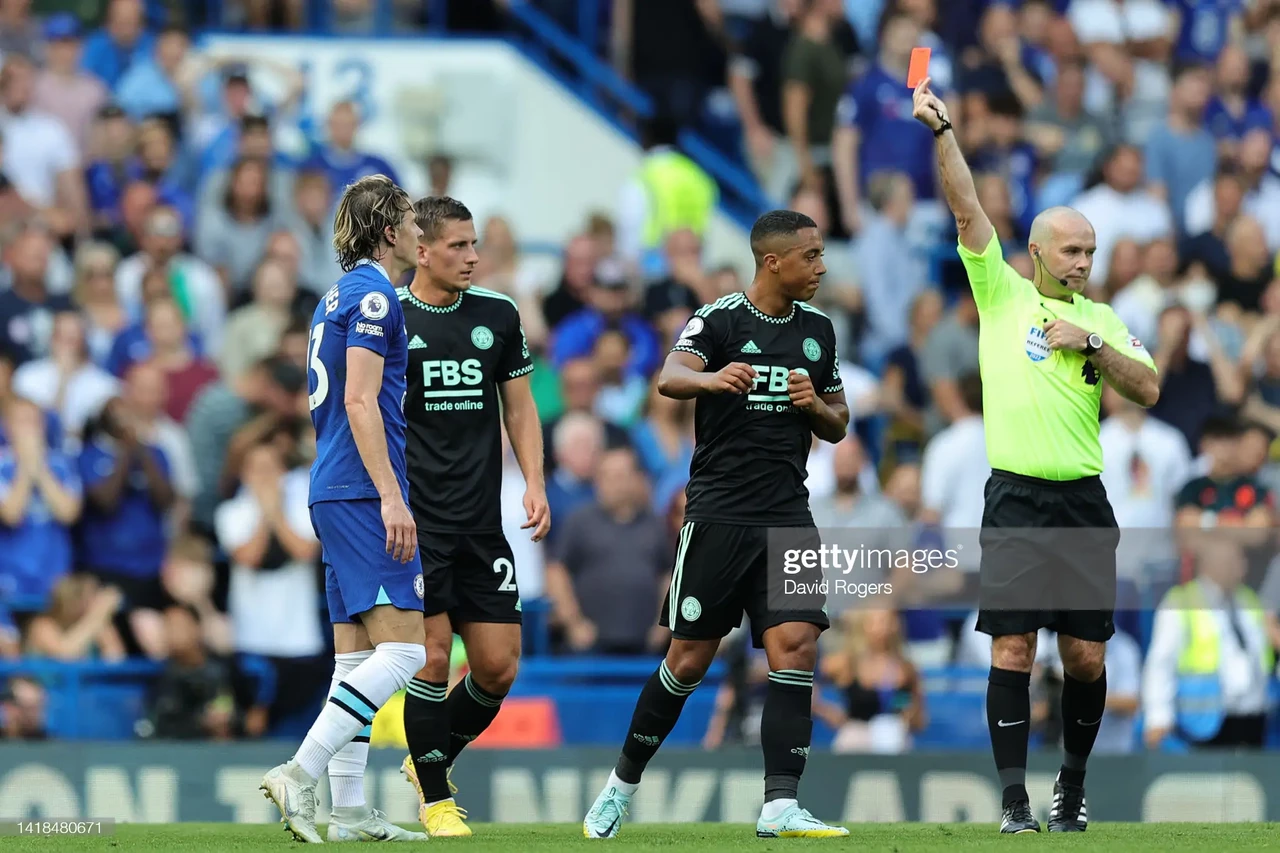 Right from the start, you could see it was a bad idea.
Conor Gallagher sees a teammate play a loose ball across the middle of the pitch, and Harvey Barnes sprinting towards it. There's a dangerous counter attack on for Leicester and Gallagher is the last man: he makes a beeline for the ball. But he's never getting there first.
Well beaten to it, he's committed to diving in and his outstretched leg scythes down Barnes. He's already on a booking and it's an easy decision for the ref, who flashes the red card without hesitation. That is the end of his afternoon, and it may be the end of his Chelsea career before it has even got going.
One could view that rash tackle by Gallagher – emotional, over-optimistic, naïve - as a metaphor for his decision to return to Chelsea this summer. After a hugely successful loan spell at Crystal Palace last season, where he won the fans' player of the season award, he has resisted the advances of Palace and several others to stay and fight for a place at his boyhood side.
Things are not going well. Gallagher did not make the starting line-up in Chelsea's opening two fixtures but has started the last two and they have been disastrous. After struggling desperately to cope with Leeds' ferocious press in a 3-0 hammering at Elland Road, he lasted just 28 minutes against Leicester before that moment of madness on Barnes.
Looking disconsolate as he trudged off the pitch, the contrast to last season's Gallagher could not be starker. That was a player who had blossomed from prospect into star, whose swashbuckling performances in midfield made him a fans' favourite at Selhurst Park. He stood arms aloft on advertising hoardings celebrating brilliantly taken goals in front of supporters singing his name, and got into the senior England side. He was, everyone agreed, destined for greatness.
So what has gone wrong?
The most obvious difference is the higher level he is playing at. Over the years, there have been countless examples of players who have looked outstanding in middling teams and then can't hack it when they make a step up. Perhaps he simply isn't good enough to play for Chelsea right now.
There are also tactical reasons for his struggles. At Palace, though he was occasionally asked to play deeper, Gallagher was primarily used as an attacking weapon with the freedom to get into the box as he pleased. As the most advanced midfielder in a 4-3-3, his relentless energy was well-utilised in Patrick Vieira's newly ambitious, high-pressing outfit.
There, he was much more of a ball receiver than a deep lying playmaker. He preferred to make forward runs off the ball, looking to get into dangerous areas around the box and get shots off or create chances for others. He was not often found sitting in front of the back four spraying silky passes around.
This is borne out in the data. According to FBref.com, last season Gallagher attempted 36.92 passes per 90, putting him in the lowest 18% amongst all midfielders in the top 5 European leagues. His progressive passes made ranked even lower; just 1.96 a game means he is in the bottom 8%. Contrast this with his 3.80 progressive passes received per 90, which ranks him in the top 20%, and a picture emerges of a player who is more of a Dele Ali than a Cesc Fabregas.
A player that is nominally a central midfielder but lacks the positional discipline one would traditionally expect from a CM is an affordable luxury in a mid-table side. Chelsea are a different animal entirely; as one of European football's elite teams, they are expected to win almost every single game and unless you are an absolutely extraordinary talent, they are not going to bend their system to suit you.
This season, Thomas Tuchel's side have been set up in a 3-4-3, which looks more like a back four when they have possession. Their attacking threat comes from either the wing-backs (usually Ruben Loftus-Cheek on the right), Mason Mount on the left, or one of the front two, Kai Havertz or Raheem Sterling. The midfielders do not get many goals: aside from penalty taker Jorginho, the highest scoring central midfielder last season was Mateo Kovacic with two.
Instead, the role of the two central midfielders in possession is primarily about beating the opponent's press before releasing the ball to the attackers. Kovacic does this with supreme dribbling, Jorginho through passing range and speed of thought, and N'Golo Kante is N'Golo Kante.
Conor Gallagher is none of these things and so far it has showed. To be fair, it's not easy to be: more established talents such as Saul Niguez and Loftus-Cheek have struggled to adapt to the requirements of playing as a number 6 at Stamford Bridge, and even Kovacic took months to get used to it after arriving from Real Madrid. On the evidence so far, Gallagher is a player who thrives when he is able to create chaos, whereas Tuchel wants order and structure.
Perhaps he may be better off trying to dislodge Mount from his inside-left forward position. Mount has had a slow start to the season, and his place could be vulnerable if his poor form drags on. In practice though, it is difficult to see one of Chelsea's standout performers of the past two years being dropped any time soon.
It is also tempting to wonder whether Gallagher would benefit from a more skilled man-manager than Tuchel. Though he is renowned for his tactical wizadry, the German's softer skills have been questioned after fallings-out with Romelu Lukaku and Timo Werner. He has also repeatedly criticised his players in public for missing chances, and famously had a tense showdown with Gallagher himself last season after a chance encounter at a restaurant.
Meanwhile over at Palace, Patrick Vieira is building a reputation as an astute and emotionally intelligent leader. The Eagles are in the second year of a new team-building strategy, with a focus on finding and nurturing up-and-coming talent, and one of the key reasons Vieira was selected as manager was his ability to work with and improve young players. Last year Gallagher himself was quick to praise Vieira's role in his rapid progress, saying that he felt Vieira 'knows how to get the best out of me".
He also enjoyed a particularly strong relationship with the fanbase at Selhurst Park. His wholehearted performances and eight goals from midfield made him a cult hero and ultimately led to that player of the season award. Scoring one of the goals of the season against arch-rivals Brighton didn't do him any harm either.
He does not currently have the same status among Blues supporters, despite being a lifelong fan. A quick Twitter search of his name brings up a raft of unkind comments about his performances so far, and though it may sound crazy to write someone off after two bad games, the reality is that at Chelsea that is two games too many.
At 22, Gallagher still has plenty of time to improve and there should be no doubt that he is destined for a career at Premier League level. He showed at Palace that he is more than capable. Whether he is adaptable enough to play for this elite Chelsea side, and whether they are willing to give him enough time to get to the required standard, remain open questions. Right now, it doesn't look promising.
After the start he has endured, he must have wondered if he would be better off moving back down a rung in order to progress. If he does decide to leave he will not be short of suitors: at the time of writing, Palace have reportedly had a £27 million bid for his services turned down, and there may be more offers to follow from the likes of Newcastle or Everton.
With just two days remaining of the transfer window, the future of Conor Gallagher is far from certain.