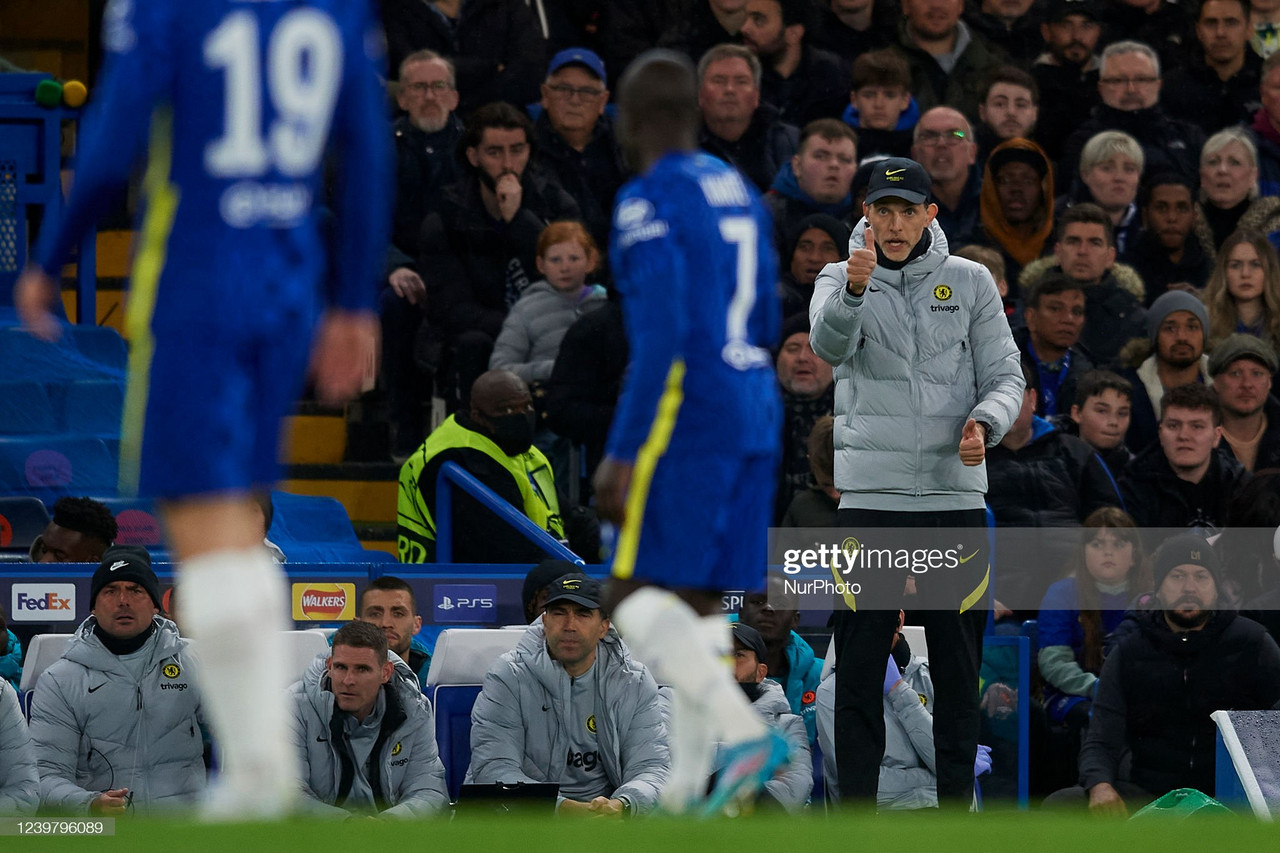 Chelsea found themselves on the wrong end of one of the most entertaining matches of the season thus far, having their porous defence to blame for their defeat to London rivals Arsenal on Tuesday.
An expectant and excitable atmosphere at Stamford Bridge — despite the reduced capacity due to sanctions imposed upon the Blues — was ramped up even further by a thrilling first-half in which the visitors twice took the lead through Eddie Nketiah and Emile Smith Rowe, the hosts pegging them back on both occasions courtesy of Timo Werner and Cesar Azpilicueta.
Truth be told, though, Chelsea were second best on the day owing mainly to the permeability of their back line, and the second-half began to reflect that as a defensive mix-up between Thiago Silva and Malang Sarr gifted Nketiah his brace before Bukayo Saka completed the scoring from the penalty spot after a lazy lunge from Azpilicueta.
Head coach Thomas Tuchel addressed the media after the match — these were his most noteworthy quotes.
On defensive errors
Arsenal's second goal came as a result of a brilliant, sweeping counter-attack, but their other three were all avoidable from Chelsea's point of view — had those been stamped out, the hosts could well have gone on to win this crucial match.
It's something which clearly frustrated Tuchel hugely, particularly considering these errors have been a near-constant occurrence in recent matches at Stamford Bridge.
"It was a wild and totally open game in the first-half. We had a good start but gave the first goal away. This is an amount of mistakes in consecutive matches here at home which is impossible [to sustain] at this level, but we are doing that at the moment and you just cannot win football games like this."
On pinpointing the problem
The defensive mistakes saw certain individuals come under scrutiny on the night, especially Andreas Christensen whose poor back-pass allowed Nketiah a free run at goal for his first, and also Azpilicueta for his needless tussle with Saka which ultimately allowed Arsenal to seal the result.
However, Tuchel was keen to stress that it's a collective rather than individual problem, and even humbled himself by admitting that a share of the blame falls on his shoulders from a tactical perspective.
"This is not about individuals, a defensive performance is a team performance and you need to have the tactics and team selection right too — it is doubtful if I got these right, but the players have to face the reality that it is simply impossible to win football matches if we do this."
On the first goal
Arsenal's opener was seen as a key moment in the match, as Chelsea had dominated possession in the early stages but soon found themselves on the back foot after a more than avoidable error from Christensen which took the wind out of their sails — the match was much more even for the remainder of the first-half.
The manager sympathised with his defender, and even offered an excuse on his behalf in the shape of the Stamford Bridge, citing that it's not the first time such a mistake has occurred on home turf.
"The pitch is very difficult here, it's not to our favour," he asserted. "The ball bounced very awkwardly in front of Andreas when he tries to play the ball. We had exactly the same mistake against Real Madrid."
On the penalty
When Nketiah poked home his second, the initiative returned to Chelsea to seek out an equaliser for the third time in the match, but their last-ditch efforts at a comeback were stopped in their tracks when Azpilicueta dragged down Saka and referee Jonathan Moss rightly pointed to the spot.
It wasn't just the Spaniard's foul that Tuchel was disappointed with, but also their looseness in possession which ultimately allowed Arsenal to counter-attack whilst the Blues were surging forward in one final push for a point.
"Look at the penalty, it's unbelievable. We have three ball losses in ten seconds and then we commit a foul when there's not even the slightest danger. There is nothing to analyse about this; it must be something, but we thought we had learned our lessons from Brentford and Real Madrid but obviously not."
On Azpilicueta's row with fans
One post-match occurrence summed up what had turned out to be a pretty miserable evening's work for Chelsea: making his way towards the tunnel, club captain Azpilicueta took issue with something he heard in the stands and confronted the relevant supporters in what looked like a heated exchange.
The manager neither condoned nor condemned Azpilicueta's actions, but did state that he appreciated and sympathised with any frustration among Blues supporters.
"I saw it," said Tuchel. "Honestly, I can understand the fan."