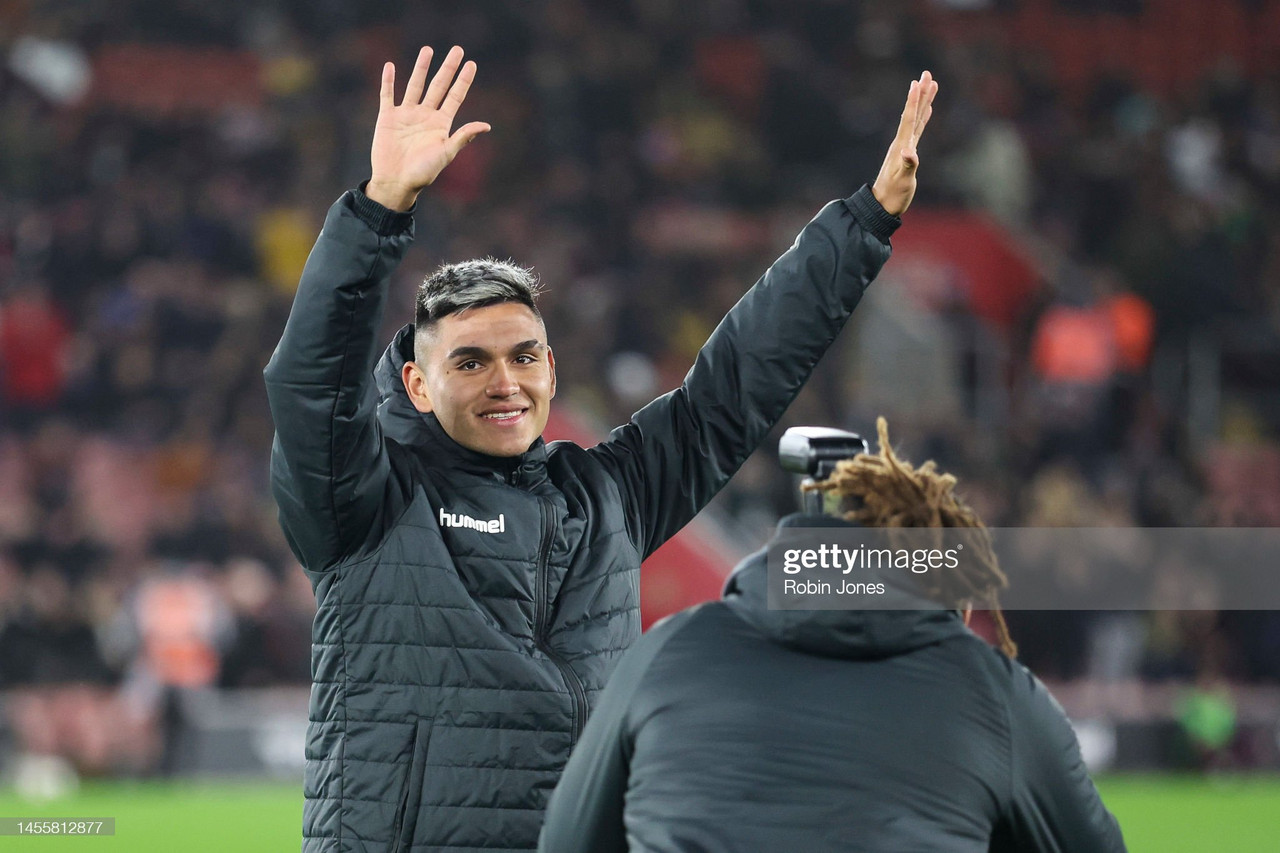 Southampton boss Nathan Jones has revealed that new signing Carlos Alcaraz could make his debut against Everton on Saturday at Goodison Park.
The Argentine midfielder completed his move to the club on Wednesday, and was presented to the fans just prior to the south-coast side beating Manchester City 2-0 in the Carabao Cup.
He is the Saints second signing this month, following the arrival of Mislav Orsic as the club look to strengthen the squad and get away from the Premier League drop-zone.
Both players are likely to be in the squad for the game against their fellow relegation strugglers and Jones spoke to the media to give his thoughts on the game and his time in charge of Southampton so far.
The Welshman admitted that although the paperwork wasn't quite done yet for Alcaraz's inclusion on Saturday, it should be done in time for him to be available.
"The paperwork should be done. We're just waiting for the visa and things, stuff like that, but hopefully he is available.
Despite there being a slight concern that Belgian midfielder Romeo Lavia won't be available for selection on Saturday, Jones quashed any talk of that and revealed that he was only substituted off on Wednesday as a precaution.
"It was pre-empted that he would play 60 minutes. If we had tried to play him for 90 minutes then we could have lost him for the weekend.
"We were not going to do that and we were able to use the squad and give others some minutes, including Mislav Orsic, which will have done him the world of good."
On his first months as manager
Jones was appointed back in November but his first couple of months haven't gone entirely to plan.
Boos have rung out on a couple of occasions after Southampton matches, since the side resumed after the world cup.
And he has also faced criticism from outside the football club, which Jones admits that he tries to ignore.
"I have ignored everything really and I don't want it to be a big issue because some of it is justified and some if it is not.
"When you're in the public eye or do a job like managers do, you are going to get criticised.
"That's regardless of what you do at every level, so it's nothing to do with having thick skin or not. I think I've held myself with real dignity in recent weeks.
"I block everything out and I focus on my job solely, I have tunnel vision for Southampton."
The 49-year-old went on to defend his appointment and feels that he is ready for the challenge of managing in the Premier League.
"I am proud of my journey and where I've come from, I didn't have the playing career of some others but that's not to say I don't want to test myself at the highest level.
"I tried to get to the highest level as a player and I wasn't good enough, but I worked hard enough to make sure I had a 23-year playing career.
"Now, I'm 10 years into a coaching and managerial career that I'm proud of. All I can do is affect my own journey and I'm proud of that."
On Saturday's clash with Everton
This weekend's encounter gives the Saints an opportunity to climb out of the relegation zone if results go their way.
But Goodison Park is notoriously a difficult ground to visit, despite Everton's results not being great this season.
"We're going to prepare a team that's going to go up there to win a football game.
"I have no idea what's going to happen yet. If I did then I'd be in a different game, but we'll be as positive as we possibly can to try and win a football game.
"We know it's a difficult game away at Everton. Yep, they're in a difficult situation as well. So, look, we've just got to focus on ourselves and that's all I can do."