Leighton Baines is not the type of player to speak out about the situation at Everton unless it really needs talking about. Last season he said the Blues lacked chemistry when that was painfully obvious for all to see.
The Everton full-back tells it like he sees it and he says that Ronald Koeman is the right appointment as Everton boss. Baines was in and out of the Everton team last season, dealing with niggling ankle injuries and is already back in training at Finch Farm.
Baines is approaching 10 years with Everton and has been a part of some highs and some lows, and he is hoping Koeman is ready to deliver more highs.
He said the appointment has been "really well received" and it is the one "everyone was hoping for."
Everton fans and players agree on Koeman
At times last season, Baines made it easy to see that the Everton players had given up on Roberto Martinez and his tactics. At half time during the FA Cup semi-final, Baines was heard on the tunnel camera talking about Everton making an already big Wembley pitch, even bigger.
When Martinez was let go, a number of reports suggested there had been a training ground bust-up between a number of senior players and Martinez's staff which led to a number of the players walking off from training, proclaiming that the staff had it completely wrong.
With Koeman, it should be different.
Baines said that Koeman's reputation "speaks for itself" and as a player he was "top-drawer" and he is on the path to achieving that as a manager.
He also said the players are "just delighted that he is in" and are all "looking forward to working with him."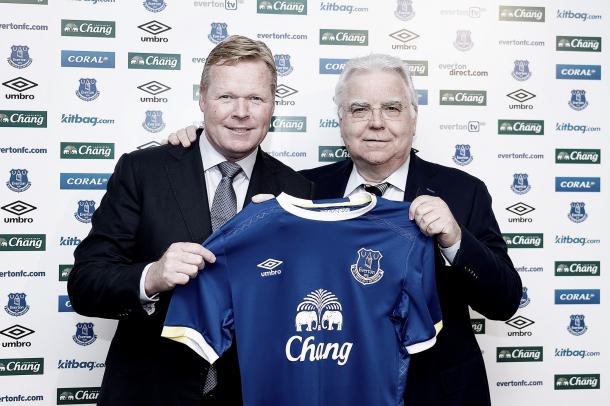 Baines support a huge boost for Koeman
Baines is a respected voice in the Everton dressing room and is loved by the Everton fans, if Koeman wants anyone on his side, it's Baines.
While the full back is getting on, he still has a lot to offer to Everton and showed towards of the last Premier League campaign that he still has the ability to be the Leighton Baines of old, bombing down the wing and helping out in attack.
Baines should be one the player who is key to Koeman's success but he knows the manager will bring in a number of new players. He said this summer is "interesting" for the club and everyone can start to look forward to the start of "what's to come" in the future.