Joel Matip believes he is ready for the rigours of Premier League football but said that he is hoping to become even stronger over the next few weeks of Liverpool's pre-season campaign.
The centre-back's move from Schalke was officially confirmed on Friday, having signed a pre-contract agreement back in February to end a spell just shy of 16 years at the Bundesliga club.
Matip joined his new teammates in his first Reds training session at Melwood on Saturday under the watchful eye of manager Jürgen Klopp, also alongside the club's other summer signings including £30 million forward Sadio Mane.
The Cameroon international arrives on Merseyside with a glittering reputation, having been recognised as one of the best in his position in the German first division last term.
Speaking to Liverpoolfc.com in his first official interview, Matip declared that he is confident that he can carry such form into his career at Anfield and revealed that he's working on his strength and fitness to ensure he can hit the ground running.
Matip suggests he'll be putting in the hard yards in pre-season
"I am ready for it [English football]," insisted Matip, who then admitted: "But I also have work to do on my body. This is another league, so I will have to work on my body to play here and to be physically strong enough for the Premier League."
The defender revealed that he "decided" to do his strength work himself, but backed the "coaching staff and manager" to help him "reach this level and to be fit for the season."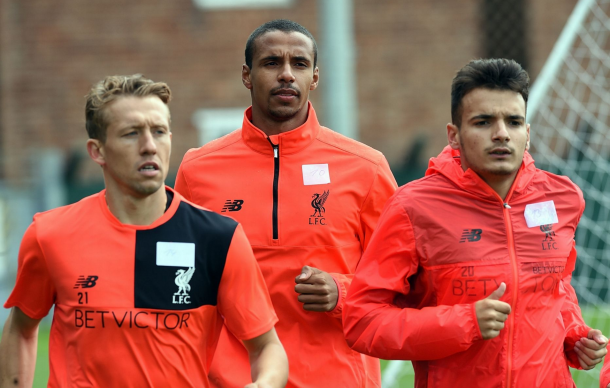 Having come from the Bundesliga, where he made 194 appearances for Gelsenkirchen outfit Schalke across seven seasons, Matip is no stranger to high-intensity football, as he acknowledged that the football was "at a high level" in Germany.
But he insisted that "maybe it's a different level" in England and that it's "also a high level" to play at, the Cameroonian adding: "I think I have got enough to play here."
Defender says "everything" about Liverpool convinced him it was the right move to make
Matip had offers from a number of clubs, including the chance to continue at Schalke, but chose to leave for Merseyside upon the expiry of his contract.
The towering defender who will take the No.32 shirt last worn by young midfielder Cameron Brannagan, insisted that "there were many points" that drew him to Liverpool of all clubs.
Citing "the coach" and "the supporters" among other things, Matip said that "everything was good" about the club and that it was "a good and simple decision" for him to take.
Praising Klopp, whom he came face-to-face with many a time as the manager of Schalke's fierce rivals Borussia Dortmund, Matip added that he will "happy to train and play" for the German who he believes is "a great coach."
He called it "a great pleasure" and "an honour" to be a part of a "big club" such as Liverpool, adding that he's a defender who is "good in the air and on the ground" and who "always wants to look in front of me" and is "always good for a few goals" when asked to describe his playing style to the club's supporters