The only fitness scare of the week for Swansea City, manager Francesco Guidolin should be good to go on Sunday and assume his spot in the dugout at Tottenham Hotspur after struggling with a chest infection.
Guidolin has missed a couple of days on the training ground this week due to illness, but he has recovered well enough during those days off to convince fellow coach Alan Curtis that he will be fine for the upcoming game.
Curtis steps in with good news
Due to Guidolin's illness, it was Curtis who took Swansea's pre-match press conference this week and, after speaking about the game at hand, he talked about the manager and his condition.
"Francesco is okay," he said, before joking that the Italian has this week "ironically" missed "the two best days weather-wise" that South Wales has seen in "I don't know how long."
During those two days though, Guidolin has rested up to try and get rid of, what Curtis disclosed as, "a bug, a sore throat and a bit of a fever."
"He will be back in on Friday," the first team coach concluded. "[He] should be fine for the match."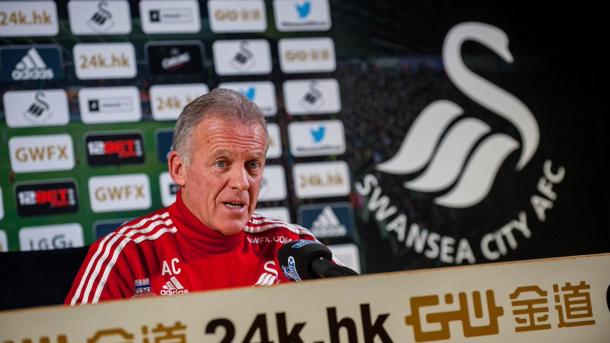 Positive team news all around
Guidolin's anticipated return means Swansea will head to North London this weekend with a fully fit squad led by, hopefully, a fully fit manager.
Jefferson Montero was the only cause for concern during their week off, with him working too hard in training and having to be pulled out as a result.
The Ecuador international has struggled for chances this season and has been grafting hard on the training ground to try and catch the eye - albeit too much it seems. Fortunately, Swansea were able to intervene before the winger did any damage to himself, and now he will be hoping to feature on Sunday.