After coming off a midweek draw in Florence, Tottenham Hotspur entertained fellow Londoners Crystal Palace. Spurs dropped out of the Emirates FA Cup with a demoralising 1-0 defeat.
The game saw Mauricio Pochettino make several changes to his side, seeing youngster Joshua Onomah make another start for the Lilywhites.
The side also saw Eric Dier shift to centre back as Toby Alderweireld got a well deserved rest, this saw Nabil Bentaleb make a surprise start, coming into the midfield to replace Dier. As for the opposition, former Spurs man Emmanuel Adebayor made his return to the Lane with a large quantity of boos from the home crowd. Going into the game, it was clear that Palace were to be a threat from set pieces, with their large presence they were set to be a danger in the air.
Quiet first half
The first fifteen minutes of the game was fairly end-to-end stuff, with Palace having a fair call for a penalty, as the ball struck Bentaleb's hand inside the box, however the call was dismissed.
It was Tottenham who controlled the majority of possession, with Palace mainly looking to hit on the counter-attack. After about 30 minutes, the best chance of the match game, as Kyle Walker looked to head the ball away from goal but ended up lobbing goalkeeper Vorm. Fortunately for Spurs, Vorm was able to chase back and palm it past his post out for a corner.
After this chance, Spurs looked to settle into the game and take control, as they started to dominate possession severely, creating more and more chances. The best chance coming after Heung-Min Son's marvellous run ended with the ball falling to Dele Alli. Alli opened up his body perfectly, a curled finish denied by both goalposts before being cleared off the line, with fans in disbelief as the ball managed to stay out.
Kelly puts Palace ahead
However, as the half was coming to a close, Wilfred Zaha was able to pull in three Spurs defenders and slip through Martin Kelly who slotted home past Vorm at the front post to put the visitors ahead at the halfway mark. A huge blow to say the least for the Spurs side. A sense of déjà vu crept in around the ground, as they found themselves down again at halftime to Palace.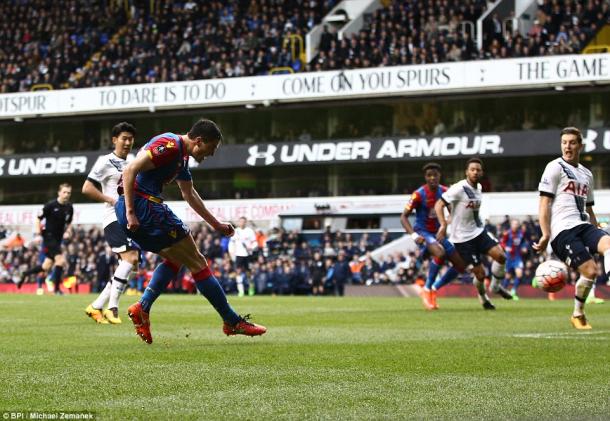 Fustrating second half for Pochettino's men
Coming out to start the second half saw Pochettino bring on playmaker Christian Eriksen for Moussa Dembélé. A rather aggressive move from the Argentine.
It's fair to say that Eriksen made a quick impact. He provided a good sense of creativity in the midfield and allowed players to create space to try and break down the Palace defence. As Spurs piled more and more pressure on Palace, Harry Kane was able to get a shot off from a tight angle, producing a marvellous save from goalkeeper Wayne Hennessey.
Unfortunately for the hosts, Tottenham struggled to create a lot of clear cut chances as the game went on, with Palace having numerous amounts of men behind the ball. The dangerous Alli began to be more and more involved with the build ups, being played down the wing where was able to whip a ball across the box, but Scott Dann was there to deny Onomah what would have been a certain goal.
Other than that, Spurs' chances were few and far between, with the best of the bunch a snap shot form about 30-yards where Alli watched his shot fizz past the post. As the game went on and on, Spurs were more vulnerable to a counter-attack, which is indeed what happened around the 80-minute mark. Yannick Bolasie, who made his first appearance since December, whipped in a ball to Connor Wickham who tapped home from a short distance out, however the linesmen's flag was up and the goal was disallowed for offside.
Should Spurs worry?
This inevitably saw Spurs knocked out of the FA Cup with that 1-0 defeat, ruining the slim chances of a famous treble. Although at first, Spurs fans may be gutted or disappointed by this result, it will allow them to focus on the league, where they sit second and in great contention to win it.
It will allow Tottenham to free up their schedule as players will have less and less games to play, allowing them to stay fit and hopefully improve the chance for that important league success. What fans will be relieved about is that the tie did not go to a replay, which would have been a disaster as Spurs have no free time in the coming midweek's to replay the match. All in all, the result was a disappointing one, but Tottenham should swiftly forget about as their season continues.