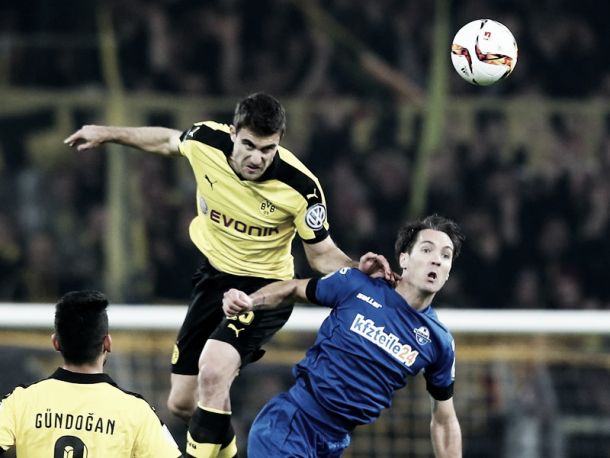 Borussia Dortmund won their DFB-Pokal game against 2. Bundesliga side SC Paderborn 07 without any difficulties - except for a few minutes in the first half - 7-1. The hosts comfortably made it through to the last 16.
Borussia Dortmund took control from the start of the game, but SC Paderborn with their new coach, the 'tiger' Stefan Effenberg, played a strong first 20 minutes and did not give any big opportunities to Tuchel's men.
Shocking start, but BVB bring it back for half-time lead
In the 21st minute, after a ball from Ilkay Gündogan back to goalkeeper Roman Bürki, the Switzerland international tried to dribble around Paderborn forward Srdjan Lakic, who got the ball off the BVB stopper to make it 1-0 for the guests.
But BVB did not seem very shocked by the lead for the underdog, as Adrian Ramos scored the equalizer only four minutes later after a good assist by Gonzalo Castro.
Five minutes later, it was again Gonzalo Castro who gained the attention of the 71000 fans in the Westfalenstadion. He scored the second, giving the Schwarzgelben the lead after Adrian Ramos assisted.
Two minutes before referee Peter Sippel blew the half-time whistle, it was Shinji Kagawa who gave the hosts a cushion with a lovely chip. Castro was involved once more, as the Japanese attacker made it 3-1.
Home side pile on the goals in the second half
Only a few minutes into the second half, a foul against Matthias Ginter in the box crashed all the hopes of the Paderborn fans to maybe win the game. Ilkay Gündogan calmly converted the penalty shot the penalty, killing their chances once and for all. Castro, who was having a night to remember, scored a fifth and his second to add some gloss to the scoreline.
Two minutes before the end of the game, it was Lukas Piszczek who scored the sixth goal for his side, making it 6-1. Only one minute later, Henrikh Mkhitaryan added a seventh to finally bring an end to the rout.