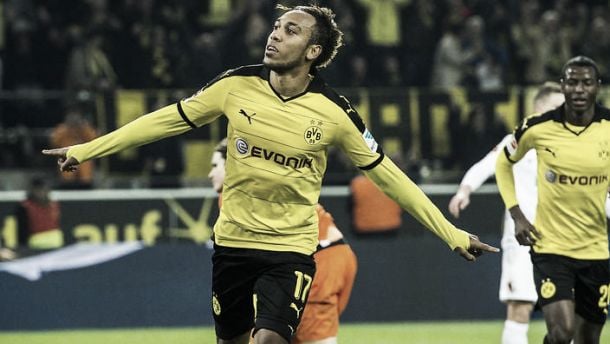 There is a new hero in yellow-and-black for the Borussia Dortmund faithful to cheer, and his name is Pierre-Emerick Aubameyang.
The Gabonese international may have joined back in 2013, but many feel that the speedster is finally hitting his stride as he moves from strength to strength in 2015-16.
His success has not come without hard work, though, and Pierre-Emerick will be the first to admit that despite his Spiderman-mask antics, he is serious about becoming one of the best in football.
The early days
In January 2007, at 18 years old, 'Auba' took the first step on his journey.
Joining the AC Milan youth team is something that young players can only dream of, boasting some of the best graduates in the world, and Pierre instantly caught the eye in the Rossoneri Primavera.
His team finished 4th in the inaugural Champions Youth Cup that was held in Malaysia, and he scored in every game, finishing with seven goals in six matches. Aubameyang was awarded the Roberto Bettega Trophy as the top scorer in the competition.
Having already attracted attention from some of the top scouts in European football, Milan decided to loan the young forward to Dijon in order to gain some match experience.
In the league, he managed eight goals and two assists, and also tallied two goals in the Coupe de la Ligue.
His manager Daniel Joseph described his spell as "impressive considering the fact he is only 18" and picked out his "physical ability, a willingness to run at defenders and a long time ahead to improve."
In June 2009, Milan sent Pierre out on loan once again, this time to Lille in Ligue 1. This wasn't as successful for his development, as Lille only fielded him for four starts. Despite that, in a total of 14 appearances he grabbed two goals.
For 2010-11 season, AS Monaco decided to take Auba on loan. After six months and 19 appearances with the red-and-whites, he amassed just two goals, but the promise was still there.
In January of 2011, he went on another six-month loan, this time to Saint-Étienne. It was an initial loan spell that proved to be enough for ASSE to take a punt on the forward, as he signed permanently in December 2011.
The 2011-12 season was somewhat of a breakthrough, as Aubameyang achieved many milestones, such as a first hat-trick (against FC Lorient) and a first major trophy, winning the Coupe de la Ligue with Les Verts.
Eighteen goals, sixteen in the league, and seven assists in all competitions. It earned him the title of top goalscorer in Ligue 1, and the world was beginning to take note of his talent.
He followed this up with a stellar season in 2012-13, scoring 19 goals in 37 appearances, in addition to eight assists. That put him second only to Zlatan Ibrahimovic (who ironically had left Milan the season before after winning the Scudetto) and earned him the title of Ligue 1 African Player of the Year, and he also appeared in the team of the season for Ligue 1.
The next step
On July 4th 2013, Pierre-Emerick Aubameyang agreed a deal to join Champions League finalists Borussia Dortmund.
The fee, around £10.5million, showed a huge investment of faith in the Laval-born striker, and one that he would duly repay.
He made his competitive debut for BVB on July 27th of 2013 against Bayern Munich in the Supercup. Dortmund won that ame 4-2, and Pierre assisted the final goal from Marco Reus after coming on in the 72nd minute.
On his Bundesliga debut, Auba remarkably scored with his first shot in the league, and went on to bag a hat-trick against FC Augsburg. He scored his first Champions League goal against Napoli later in the season in a 3-1 win for Borussia.
He finished the season with 13 goals and 4 assists in the league, as well as two in the cup and the one goal in the Champions League.
2014-15 was even better for Pierre, totalling 25 goals in 46 appearances in all competitions, with 16 goals and 7 assists in the league. It started with him assisting and scoring in the 2-0 Supercup win over Bayern; other memorable goals including a first of the season in a 3-1 win over Freiburg, and a goal against Arsenal in a 2-0 Champions League win.
The season so far for the forward in 2015-16 has been nothing short of incredible.
Already 20 goals in 17 appearances across all competitions, including 13 goals in 10 league games and 6 in 6 in the Europa League including qualifying.
After scoring two hat-tricks in four days (a second career trifecta against Augsburg preceded by a three-goal haul against Qabala), he spoke to bundesliga.com about his start to the season.
"Yesterday I made a bet with my brother that I would score another hat trick" he revealed, adding that he was "very happy" to have scored three times again.
He also confirmed a bet with coach Thomas Tuchel about reaching 20 goals in the Bundesliga, stating the he has to continue like that.
When asked what his secret is, Aubameyang remained humble. "I don't know" he stated, "I try to do my best in training." He re-iterated the importance of sleeping and eating well.
Comparisons have been drawn with Robert Lewandowski, as both now have 13 goals in the league.
"I'm trying to be like him," Aubameyang revealed, "But I can only try. I'm happy for him to be the Bundesliga's top scorer."
Finally, when asked about the match balls he has received in the last two games, Pierre said: "I always give them to my son."
"I think we'll need a bigger room now!"
One thing is for sure, he may be a late bloomer, but Pierre-Emerick Aubameyang is finding the very top of his game and is proving to be a tremendous asset for Borussia Dortmund.
Their assault on the Bundesliga so far has been magnificent to watch under Tuchel, and it seems set to continue with this man in fine form.