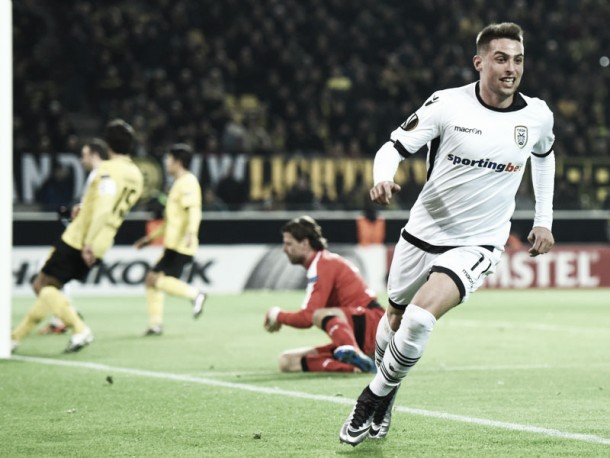 Thomas Tuchel's Borussia Dortmund dominated throughout, but were at the hands of surprise defeat as Paok Salonika took all three points from Germany.
Even though BVB reached qualification for the next round already after matchday four, Mats Hummels and his team mates could not quite convince the fans with their performance on Thursday night, losing 1-0.
Tuchel completely modified his starting XI as compared with the eleven men who started against Wolfsburg in the Bundesliga: Roman Weidenfeller, Mats Hummels, Joo-Ho Park, Patrick Stenzel, Shinji Kagawa, Adnan Januzaj and Adrian Ramos started instead of Roman Bürki, Lukasz Piszczek, Marcel Schmelzer, Ilkay Gündogan, Gonzalo Castro, Henrikh Mkhitaryan and Pierre-Emerick Aubameyang.
The guests began the game with moving back into their own half to avoid a quick goal for the Schwarzgelben. Kagawa had the first opportunity after ten minutes into the game, when his shot hit the left post.
Good opportunities for Dortmund but a goal for PAOK
Dortmund had two other chances by Marco Reus and Erik Durm, but then the visitors took the lead with their first and only opportunity. Dimitris Konstantinidis played a marvelous pass to former FC Nürnberg player Robert Mak, who dribbled around Weidenfeller to make it 0-1 afte just over half an hour.
Before half time, Marco Reus had another opportunity, when his long range effort also hit the post, making it the second effort of the night which had hit the woodwork.
BVB frustrated during second half
After halftime, it was mainly PAOK's goal keeper Panagiotis Glykos who starred in the game, saving his team time after time, most notably from Kagawa and Mkhitaryan.
PAOK made sure to keep their small lead by defending the box with eight or nine players, and it worked. Dortmund fans had to wait until the 76th minute for Pierre-Emerick Aubameyang to get another opportunity - but it was again the post to deny them the equaliser, only the third time in the game that had happened.
After 83 minutes, Henrikh Mkhitaryan had another opportunity, but his header could not find his way into the net, with another save from Glykos keeping him out.
Second in the group
With the defeat, Dortmund finish second of the group with ten points out of six games. A win against PAOK would not have changed anything, as FK Krasnodar won their game against Qäbälä.