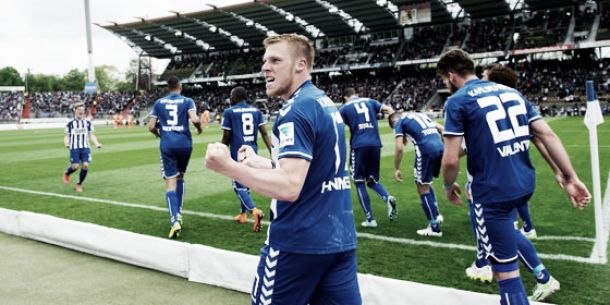 Marco Rapp's excellent volley early on gave Fürth a shock lead against Karlsruhe, in what was a relatively tame first half. The second period was tuned on its head in just two minutes, when Rouwen Hennings scored his 14th and 15th goals of the season to seal a vital win in their quest for promotion.
Karlsruhe continued their unbeaten run with a 0-0 draw away to SV Sandhausen last weekend, although that stalemate and another against VfR Aalen had saw them slip slightly behind 1. FC Kaisersluatern. Head coach Markus Kauczinski made two changes to that side; Manuel Gulde (suspended) and Dimitrij Nazarov (benched) were replaced by Martin and Dominic Peitz, respectively.
Greuther Fürth's form was greatly contrasting to that of their hosts, with just one win in their last 16 games. Mike Büskens appointment hadn't had the desired effect and the Shamrocks were creeping closer to the relegation zone, as he opted for more changes following a hard-fought 2-2 draw with Union Berlin. Marco Caligiuri returned in place of Stefan Thesker, Robert Zulj and Kacper Przbylko also dropped out to allow Marco Rapp and Johannes Wurtz into the starting line-up.
The hosts were dominating the opening exchanges but they were cut apart by a slick move down the right hand side, which produced the first goal. A slick move down the right-hand side, involving Wurtz and Sebastian Freis, allowed the former to cross for Rapp and he made no mistake with his first-time volley. Rapp connected perfectly and found the bottom corner to give the Shamrocks a surprise lead, fully justifying Büskens decision to start Rapp and Wurtz.
Chances were few and far between and, if anything, the goal put Karlsruhe back in their shell. Fürth were now enjoying the majority of possession but little was coming from it, apart from a few poor crosses.
The home faithful became more and more restless as the half went on, knowing how vital the game was to their promotion chances. Their usually dangerous front line were looking toothless, with Rouwen Hennings seeing no service whatsoever.
Kauczinski made one change at half time at half-time to try and change the game, bringing on Jung Bin Park for Peitz in the heart of midfield. That seemed to make them slightly attacking, although it wasn't enough for an immediate breakthrough.
Jonas Meffert came closest for Karlsruhe from Enrico Valentini's free-kick, only for Mark Flekken to grasp the ball just before he could tap it past him. Though, finally, they managed to get back on level terms.
Philipp Max struck a pin-point cross field ball towards Hennings, who controlled the ball brilliantly on his chest and calmly slotted past Flekken. The celebration was anything but calm as he ran to the jubilant home crowd, although credit must be given to Max for his fantastic 40-yard ball.
As if things couldn't get much better for Hennings, he added a second goal just two minutes later. Dan Gordon's hopeful ball was misjudged by Benedikt Röcker and the Dutch forward latched onto the ball before smashing it into the bottom corner. The bench, the fans and the players could hardly believe their eyes, with Hennings notching up his 15th goal of the season.
Both teams then set about trying to add to their tallies, though the respective defences and goalkeepers were in defiant mood. Substitute Gertjan Krebs was denied a goal when he was pulled back after scoring what looked to be a perfectly good goal. However replays showed the linesman had made a great calll, as he'd just knocked the ball out of Flekken's hands before he'd picked it up.
Karlsruhe held on to pick up the three points that took them back into third place, just two points behind Kaiserslautern. Meanwhile, 1860 moved a step closer to overtaking Fürth with a draw against Fortuna Düsseldorf. Such is the peril Büskens' side are in, they could find themselves one point from bottom if results go against them in the remaining games this weekend.