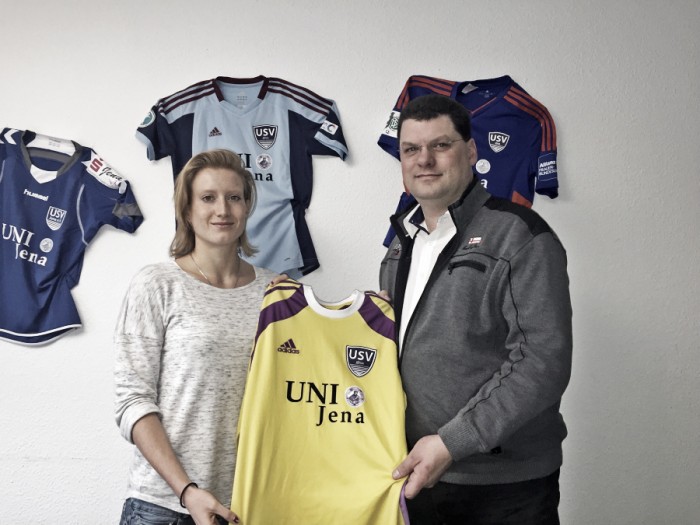 Currently occupying ninth place in the Frauen-Bundesliga, FF USV Jena have announced the arrival of German goalkeeper Kathrin Längert from Swedish club FC Rosengård.
Besides Längert, the team has three other goalkeepers in their squad - Swiss international Stenia Michel, another German Julia Gornowitz and Vanessa Fischer, so the 28-year-old will certainly have to fight for her place at the club.
Good impressions
Speaking to Jena's official website about her move, Längert said, that the "experience to play abroad was certainly important," but she has been thinking about "build[ing] something beyond football," and so has "decided to return to Germany."
"I am glad that the FF USV offer me not only a sporting perspective, but can also allow me a professional career," she added, before saying that she is "looking forward to [her] new team."
Jena coach Daniel Kraus was pleased with the signing too, saying: "I am convinced that Kathrin Längert will be a gain for our team in the goalkeeper position, the competition now receives more quality."
The next game Jena will play is against Bayer Leverkusen on February 14, after a lengthy winter break. Leverkusen are 10th in the league, with Jena just one place above them, and so the game promises to be a good one between two teams fighting against relegation.
Längert brings experience to Jena
Born in Essen, Längert began her career in her hometown with TuS 84/10 Essen, before moving to SGS Essen in 2002. However, she would be transferred to the youth team of FCR Duisburg that same year.
After being promoted to Duisburg's first team in 2006, the 'keeper would remain first choice for a long period the team. She enjoyed great success too, being part of the team that was the Frauen-Bundesliga runners-up in 2006, 2007 and 2008, and who won the DFB Pokal der Frauen in 2009 and the UEFA Cup (now UEFA Women's Champions League) the same year.
During this period, the goalkeeper was already a frequent presence in Germany's under-17 and under-19 teams too.
In 2009, she moved to Bayern Munich and quickly became one of the most important players on the team, taking the captain's armband. The Bavarian team won the DFB Pokal der Frauen in 2012 under her leadership, beating 1. FFC Frankfurt in the final.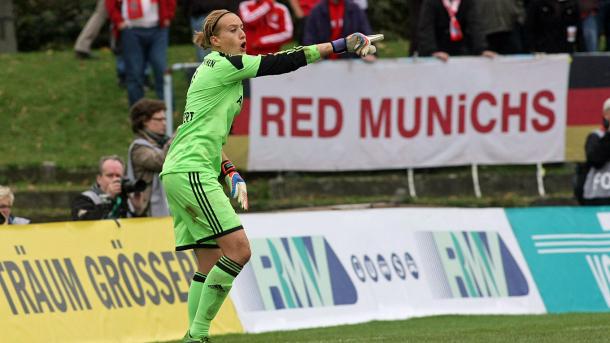 Her first game in the senior German team came on 27 March 2012, in the farewell match for Birgit Prinz. Previously, she had been in the squad for the European Championship qualifier against Turkey, as well as in the squad for the 2012 Algarve Cup.
In 2014, she decided to leave German football and sign with Rosengård, making her debut in July of that year against Umeå IK in a 2-1 win.
However, she would lose her starting berth to one of the most promising goalkeepers in the game, 19-year-old Sweden youth international, Zecira Musovic.
Therefore, despite winning the Damallsvenskan twice during her two years in the league, she has decided to serve out the remainder of her one year and a half contract, before returning to German football with Jena.