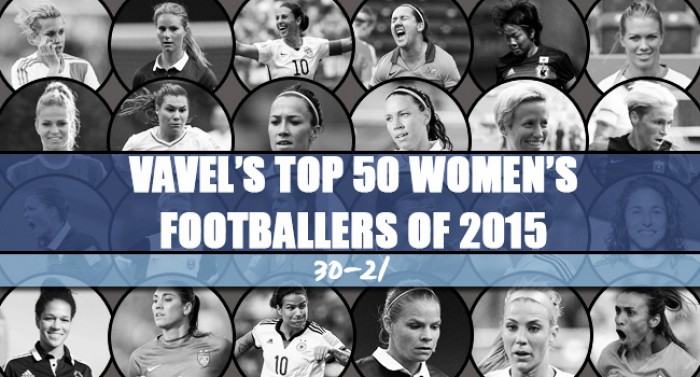 It's been a terrific year for women's football. The 2015 FIFA Women's World Cup captured more attention than the sport has ever enjoyed and now, as we look ahead to 2016, there is hope that the game can capitalise on this sudden spike in interest to help it grow and improve.
However, as the New Year beckons, it is also time for us to look back at the last 12 months and the players who really shone in this time.
So, without further ado, based on their form and achievements this year, here is the third installment of VAVEL's Top 50 Women's Footballers of 2015, with those ranked 30 to 21. If you missed the players who made it in from 40-31, you can find them here - and those ranked 50-41 are here.
30. Vanessa Bernauer (VfL Wolfsburg/Switzerland)
Vanessa Bernauer has grown to be a vital cog of the VfL Wolfsburg wheel since arriving in 2013 from BV Cloppenburg, and has had yet another impressive campaign throughout this year. While the Wolves' attacking line has taken time to gel after plenty of summer signings, her partnership with Lena Goeßling has continued to be as consistently excellent as ever. Of course, the regular goalscoring exploits have also continued.
Bernauer has a remarkable knack of being able to not only hit the target from range, but her passing is also incredible. Being able to dictate the tempo and move forward at the same time means that Goeßling is usually able to keep a hold of the more defensive midfIeld role, while the Swiss star links the play.
Such is her impressive form, Elise Bussaglia, a key part of the Olympique Lyonnais side that have dominated French football, has largely been used from the bench. Her ability to find the net on a regular basis has been of great benefit to the Wolves, helping them claim a DFB-Pokal crown and finish agonisingly close to Bayern Munich in the race for the Frauen-Bundesliga. They also were just a single goal away from making the UEFA Women's Champions League final.
The 27-year-old is starting to come into her prime and looks like she'll only get better. When Wolfsburg's front-line finally click, and she forms a partnership with Ramona Bachmann, the results could be devastating. Obviously, should the mood be right, Bernauer can score the spectacular herself and by-pass the attackers - as was evidenced by her spectacular strike against Chelsea. Replacing Nadine Keßler may be a Herculean task, perhaps impossible, but the Swiss midfielder could be doing a lot worse.
29. Fara Williams (Liverpool/England)
Searching for their third successive league title, Liverpool disappointed in the FA WSL 1 this season, finishing second from bottom in the standings and some way off retaining their crown. One of the big reasons for this was the absence of Fara Williams, who was missing for a number of reasons throughout the campaign, with the World Cup one and injuries another.
England's most capped player in history for either the men's or women's side, the 31-year-old's calming influence on a game and her ability to control it from the centre of the park is second-to-none, with her vision and passing range helping her team to transition from defence to attack in a flash.
This positivity and quality on the ball was shown brilliantly in Canada this summer, with Williams deservedly the player who stood at the forefront of the glory as her penalty in the Bronze medal match with Germany gave England a third-placed finish against all the odds. This was one of three spot-kicks that the Liverpool midfielder coolly slotted home in the tournament as her country defied expectations to eliminate the likes of Norway and Canada, before succumbing to Japan in the semi-finals in the most unfortunate and heart-breaking of circumstances.
However, her great character helped influence the team and drive them to history throughout, with her experience aiding all around her as she racked up another handful of caps – her tally now standing at 146, with 40 goals scored in those appearances.
Williams' injury following her World Cup exploits left Liverpool without arguably their most important player for three full months, with her only returning in time for the Reds to be knocked out in the WSL Cup semi-finals and in the round of 32 in the Champions League.
Whilst rumours circulate doubting her future on Merseyside as bigger clubs pursue her signature, one thing is for certain in that she would improve any team in the country, such is her quality as a footballer.
28. Lotta Schelin (Olympique Lyonnais/Sweden)
Sweden were extremely disappointing at this summer's World Cup, with many of their big names underperforming as they failed to win a single game at the tournament. Draws with the USA, Australia and Nigeria meant they totted up three points from three games and advanced to the knockout stages, only to be eliminated by Germany once they got there.
Lotta Schelin was one player many expected to rise to the occasion and inspire her team to emerge from the group of death with flying colours, before going on to put on a stellar showing in Canada. However, the 31-year-old was one of many guilty of not covering herself in glory as she failed to find the target in her four games, though poor service and support from her team can be factored in as well.
Nonetheless, the Lyon striker still makes the list after her great club form, with her showings for Sweden just seeing her slide down the rankings instead. Her 33 goals in 21 games in the Division 1 Feminine helped her team storm to another French league title, their seventh in succession, with Schelin having played a key role in every one of them.
She is forming an incredible partnership with Hegerberg - ranked 31st on this list - and Eugenie Le Sommer up top, the trio taking the league, and Europe, by storm in 2014-15 and carrying that form into the new season too. Schelin herself has already hit the back of the net 12 times in 12 games this year, with her experience in front of goal, unquestionable skill and great physicality making her a nightmare to defend against and almost impossible to thwart.
Lyon are looking to make amends for some poor recent seasons in the Champions League too, and the Swedish international is doing her part there as well, banging in a brace as they hammered Atletico Madrid in the last 16. If she can keep up this form, then there is no stopping the French giants as Schelin continues to just get better with age.
27. Jessica Fishlock (Seattle Reign/Wales)
Had this not been a World Cup year, Jessica Fishlock would be right up there with the very best after an incredible domestic season in the USA.
The Welsh international didn't make it to Canada with her country, but whilst the world focused on the women's game there, South of the border, Fishlock was stealing the show in the NWSL as her and the Seattle Reign went on an incredible run to claim the regular season title once more.
Combining with fellow Brit Kim Little of Scotland, the midfielder's contributions were outstanding this season as she continues to establish herself as simply one of the best footballers on the planet. Her movement both on and off the ball is absolutely perfect, whilst her ability to knock the ball around with such sharpness, accuracy and tempo is so rarely encountered.
Fishlock and Little formed one of the deadliest and most creative partnerships in the division - and the game - this year, the Welsh international sitting deep in midfield and exploiting pockets of space perfect to find her Scottish teammate's positive runs, either for her to then find the back of the net or set up Fishlock to complete a neat move.
Ending the season with eight goals, the 28-year-old has carried her quality and form into the W-League in Australia too, with two goals to her name already just seven games into her loan spell with Melbourne City. The club have also acquired Little on loan and so it comes as no surprise that they are flying at the moment, with a 100 per cent record after 10 games seeing them lead the standings by an eight-point margin.
Fishlock's touches of class and generally great understanding of the game, those around her, mean that City have snapped up the services of a player who can keep them there too.
26. Wendie Renard (Olympique Lyonnais/France)
There are very few players in the game that can boast the physical power that Wendie Renard possesses. At over six foot one with pace in abundance, Renard leaves attackers with a near impossible task of getting the better of her.
Towering, talented on the ball and a threat from set-pieces, the 25-year-old has well over 70 goals to her name throughout the career. That, combined with her incredible trophy haul, means Renard will go down as one of the all-time great defenders.
As is expected with Lyon, dominance from back to front is the norm. While this season is slightly more competitive, the top three Division 1 Féminine teams are separated by just three points, Renard has marshalled the defence to yet another stellar goals conceded record - only twice has the OL defence been penetrated.
That extends from the campaign before where only six goals passed Renard and her defence. Even though they were dumped out of the Champions League by eventual winners Paris Saint-Germain, they have reached the quarter-finals and should set up another match-up between the two in the final four.
Renard will be desperate to return to the four consecutive European finals and with the attack firing in a ridiculous amount of goals, it could be up to Lyon's defence to give them the cover needed to express themselves.
For France, it was a case of what could have been in the World Cup. Her troops managed to get to the quarter-finals, only to be dumped out of the tournament on penalties to Germany. At a stage it looked like the French's golden generation would finally deliver, but all hopes seem to be resting on the European Championships in the Netherlands to bring home some silverware.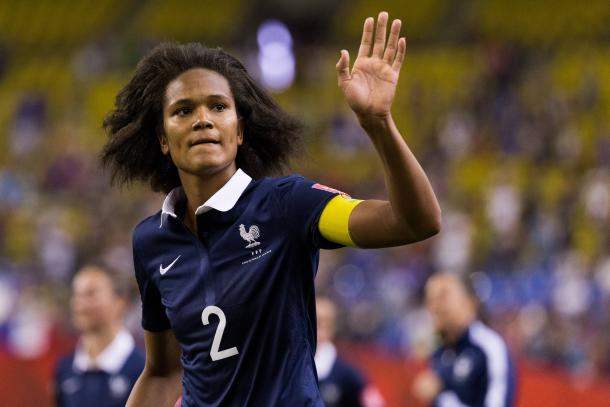 25. Lauren Holiday (Kansas City/USA)
This year has been an incredible one for women's football, but also a sad one in many cases as we witnessed the retirements of many of the game's biggest and best players. One of those is Lauren Holiday, who ended her career with an almighty bang as she claimed a World Cup winner's medal with the USA, as well as clinching the NWSL Championship with Kansas City to put a cherry on top of the cake.
A classy midfielder with so much composure about her, she has been a mainstay in her country's team for many years, ending her career with them after 133 caps and 24 goals at the age of just 28. It is a terrible shame that we will not witness her on the world stage again, or in the NWSL, where she has established herself as one of the greats during her admittedly short - with her only emerging on at scene as a promising young player at UCLA in 2006 - but special career.
There were never any limits to her ability, with her able to contribute in every department in both an attacking and defensive manner, steadying ships and moving them forward.
Fortunately for the US, however, Holiday's presence in the team has helped develop players to replace her, namely in the form of Morgan Brian - ranked 44th on this list. The midfielder has offered all of her incredible experience to those around her and it has paid dividends as they continue to grow into better players thanks to her guidance and support.
An incredible leader with the ability to motivate and inspire her team in even the direst of situations, Holiday's ever-presence in the women's game will be missed incredibly, with one of the most complete midfielders in history drawing an end to her career far too early.
24. Gina Lewandowski (Bayern Munich/USA)
This summer, while the USA were lifting the World Cup in Vancouver, Gina Lewandowski was nowhere to be seen. One of the most consistently excellent defenders in world football was overlooked by Jill Ellis. Why? Seemingly because she isn't playing in the US. An attacking full-back who is equally adept at defending is usually a dream combination for any manager, even when coaching the best team in the world.
It's hard to argue with a coach who has claimed success on the biggest international stage of them all, but it also seems unfair to Lewandowski that she wasn't included based upon that. Only Lindsay Horan seems set to buck the trend of being picked while playing abroad.
The 30-year-old ventured to Europe in 2007 with Ali Kreiger and, while the latter returned, Lewandowski is continuing to enjoy her success across the Atlantic. Despite enjoying an unprecedented treble triumph with 1. FFC Frankfurt in 2008, it seems like she is getting better with age and is doing it in style with Bayern Munich.
An impressive season in 2014-15 was capped off with the Frauen-Bundesliga title, won on the final day in dramatic circumstances. Unfortunately for Lewandowski and Bayern, the domestic dominance has not translated onto the European stage and they crashed out of Champions League early on.
However, this year has seen the Bavarians streak ahead with Lewandowski's help. She has already scored four goals in 11 games, making her one of the club's top-scorers, and has played in every match bar one. This form has seen her side basically tie up the league before Christmas, and no a DFB-Pokal triumph is in her rights.
23. Simone Laudehr (1. FFC Frankfurt/Germany)
There are very few players in the game that have achieved the remarkable success that Simone Laudehr can boast. The veteran midfielder has won everything but the Frauen-Bundesliga title, and will be desperate to do just that as she comes into her thirties.
A two-time Champions League and European Championship winner, Laudehr also has three DFB-Pokal titles to her name and the small matter of a 2007 World Cup winners medal. The 29-year-old has won it all, and a second continental title with 1. FFC Frankfurt - the first with Duisburg - has sealed her place among the women's elite.
Even though she played her part in Frankfurt's record fourth Champions League triumph, this season has not gone well for her side. They, like Laudehr, have stuttered but still sit in third - level on points with Wolfsburg in second. The midfielder hasn't found the back of the net yet, and is part of a long list of reasons as to why they haven't performed.
However, if they are to get back in the game, she will no doubt be a vital part of their return to form. Laudehr will also want to claim a third European Championship with Germany, so an upturn in form is necessary if she is to fit into a young side that are gunning for glory. Her experience, though, could be key to getting them through.
22. Ramona Bachmann (VfL Wolfsburg/Switzerland)
After dominating the Damallsvenskan yet again, Ramona Bachmann finally made the move outside of Sweden to Germany, and VfL Wolfsburg. The Swiss superstar averaged well over a goal every other game while with Rosengård and Umeå, but is yet to replicate that form in the top division of German football.
It's been a spectacular year for Bachmann, who spearheaded her country's charge to their first-ever World Cup and scored a hat-trick to boot in a 10-1 win over Ecuador. Despite their exit in the next round to hosts Canada, it was still a massively successful national campaign for her and most definitely one she'll never forget.
Her exploits for her country earned the Swiss Player of the Year accolade and that, coupled with a Damallsvenskan triumph, meant that it couldn't have got much better for the forward. Her incredible technique and all-round game make her a headache for defenders and what seemed to be a sure-fire fit into Ralf Kellerman's attacking Wolfsburg line-up.
For some unknown reason, arguably the biggest move across the "WoSo" world has yet to bare fruit. She has managed just two goals in 10 league outings for the Wolves, and is yet to score in either the Champions League or DFB-Pokal.
All the Lower Saxony side's fans will be desperate for her to hit some sort of form soon, as a fit and firing Bachmann could be the added extra they need to reclaim the Champions League crown. Her dynamism and phenomenal ability are there for all to see, it's just a case of when and not if she produces it at her new club.
21. Louisa Necib (Olympique Lyonnais/France)
Known as the female Zidane for more than just her national identity, Louisa Nécib has the talent, trickery and ability that Zinedine brought to the men's game. Comfortable across the attacking midfield positions, Nécib tends to drift across the pitch behind the front-line, much like Zidane himself.
The sublime technique and incredible pace, along with the other attributes, make her a nightmare for defenders to deal with. The Feminine Division 1 knew all about that, once again, this year as Necib helped Lyon to claim yet another league title. It was a season that lacked goals, however.
This season she has managed to find the net more, scoring every other game. With such a talented attacking line-up, she is spoilt for choice when it comes to picking out team-mates. In spite of the vast majority of the Lyon team being in the French side, she couldn't transfer that form onto the World Cup stage.
Just one goal in four games, albeit in the quarter-final against Germany, meant she was outshone in what was meant to be her time to prove that she was really one of the best. Had she turned in a great display in the World Cup and shot France to glory, Necib could well have featured higher on the list.
However, it is undeniable that the 28-year-old is incredibly talented. Her achievements with Lyon are equally impressive, although it will be the next European Championships and World Cup that could make or break her status between elite and one of the best that has ever played. One thing is for sure, Necib will be chomping at the bit to do so.