 Jackson Martinez's agent has hinted his client is looking for a move back to Europe and that Juventus, currently looking for a striker, are interested in signing the Colombian.
This would be the third move in almost a year for the 29-year old, who was already linked to a transfer to Italy last August when AC Milan were very close to signing him.
Martinez's current situation
Martinez is currently playing for Guangzhou Evergrande in China, but is unhappy there and wants to return to a more competitive league. The issue is the Chinese club paid €42 million for him only last February and will not let him go easily.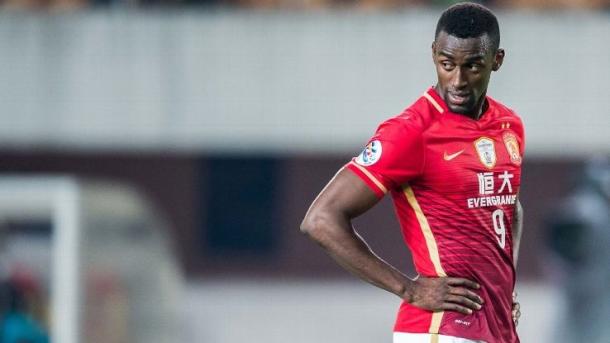 "Jackson is very grateful to his club, but has also decided to come back to Europe," his agent told calciomercato.com. "We are seeking a solution that won't damage Guangzhou, who made an important investment to bring him to China.
A disappointing season
The Colombian international was one of the most coveted strikers in Europe the last summer, with recent Champions League runner-ups Atlético Madrid signing him for a staggering €35 million.
He had scored 94 goals in only 143 games for Porto, so it looked like a great signing and even an upgrade on Mario Mandzukic who was on his way out to Juventus.
But since then, his career took a turn for the worse. He only managed to net 3 goals in 22 games with the Colchoneros and saw his place in the squad relegated behind the likes of Fernando Torres, Antoine Griezmann and Yannick Ferreira Carrasco.
Despite his very poor performances in Spain, Atlético managed to sell him for an even bigger price than they had signed him. The move to China though, would cost Jackson a place in the Colombian squad for the Copa America, as coach José Pekerman opted for players in more competitive leagues after calling him up for the Copa América in 2015 and the World Cup in 2014.
His future
Jackson's agent mentioned Serie A, and Juventus in particular, as his possible destination for the upcoming season: "I will not deny Serie A is one of the leagues that Jackson most prefers. He'd be enthusiastic at the idea of measuring himself up against Serie A defenders."
However, he was also quick to make sure fans were aware that "there are only rumours" at the moment, but said that Juventus would be "a fantastic option" for his client after "dominating Serie A for years".
The Bianconeri are currently in the pursuit of a striker since Álvaro Morata recently left due to Real Madrid exercising the buy-back clause they had on the player.
In addition, Simone Zaza might leave as well as he has reportedly received offers from the Premier League and the Bundesliga.
Only Paulo Dybala and Mario Mandzukic would be remaining from the strikers Juventus had last season, so there certainly would be enough space for Jackson Martinez in the squad.