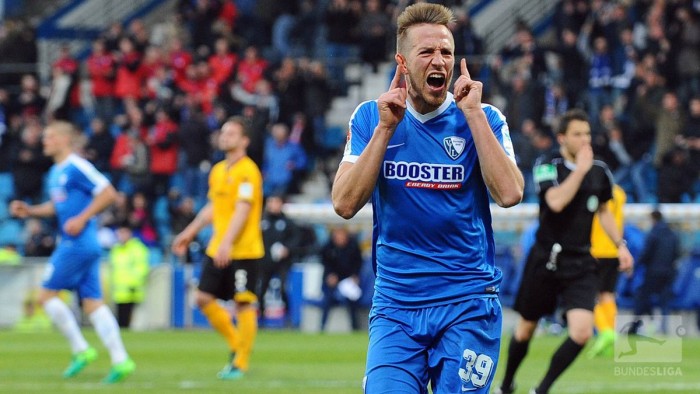 Despite being two-nil down to Dynamo Dresden after 25 minutes, with goals from Niklas Hauptmann and Andy Gogia, VfL Bochum battled back to win 4-2. Thomas Eisfeld and Marco Stiepermann scored twice inside a minute before Anthony Losilla and Görkem Saglam secured the win.
Team news
Gertjan Verbeek, following their 2-0 defeat to Eintracht Braunschweig last weekend, made three changes in a bid to turn their fortunes around. Tom Weilandt, Stiepermann and Peniel Mlapa replaced Selim Gündüz, Nico Rieble and Nils Quaschner, who all dropped to the bench.
As for Uwe Neuhaus and Dynamo were also keen to fight back following their SpVgg Greuther Fürth. Niklas Kreuzer, Jannik Müller and Hauptmann were restored to the start side as Fabian Müller (injured), Giuliano Modica (not in the squad) and Aias Aosman (bench) dropped out.
Dynamo in charge
It was an even start in Bochum that was only disrupted momentarily as Losilla went down early on. However, the parity was soon broken by an early opener for Dynamo. A good run from deep saw Gogia slide a pass through the middle, and Hauptmann stayed calm and a pin-point finish beat Manuel Riemann from 16 yards.
Bochum didn't back down, though, and came back at the visitors straight away. Marvin Schwäbe was called upon to halt Mlapa's run and also did well to deny both Stiepermann and Eisfeld, though the best chance fell to Felix Bastians. His header was a free one from six yards, as he failed to find the target.
The hosts' inability to get back on level terms was punished by a ruthless Dynamo. Gogia was causing all sorts of trouble for the Bochum defence and a long kick forward from Schwäbe fell for the winger. He stood up Bastians before cutting inside and firing at the top corner. Riemann got hands to the ball put couldn't prevent it from creeping in.
In the final stages of the first half, there were few chances but a flurry of fouls that saw both Losilla and Stiepermann go into Lasse Koslowski's notebook before the break.
Bochum turn it around
Bochum needed a quick response after the restart and almost found one when Mlapa's shot from Stiepermann's low cross was deflected narrowly wide. Yet, mere moments later, they had found a way back into the game as Losilla's through pass slipped Eisfeld in on goal, and he finished superbly past the helpless Schwäbe.
Less than 60 seconds later, and the home side had their second as Kreuzer was robbed of the ball while trying to pick a pass. That allowed Stiepermann to trundle through on goal and show fantastic composure to win the one-on-one battle, scoring at the near post.
It could easily have been four within five minutes, too, as Stiepermann's attempted cut-back to Johannes Wurtz was cut out before the latter headed narrowly wide of the post.
Dynamo and Bochum went back and forward after that, though no clear cut chances fell until Losilla gave Bochum the lead. Eisfeld's free-kick proved key as his delivery was nodded down by Wurtz, and quickly snaffled by Losilla. The Frenchman brought the ball down and prodded into the bottom corner from close range.
Aside from Aosman's volley being saved by Riemann, the Ostkurve rocked for the final 20 minutes and could hardly believe their luck when Saglam stole home for a fourth. The youngster collected another Wurtz header and slid the ball under Schwäbe to cap off an amazing comeback. Dynamo stay fifth on 46, Bochum rose to 40 and should-be safety.