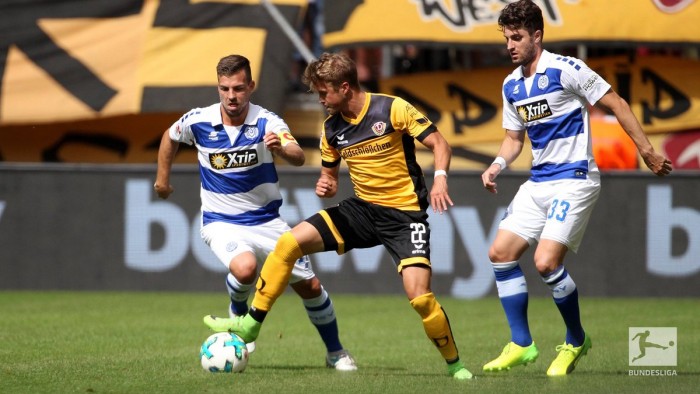 A late goal from Lucas Röser gave Dynamo Dresden an opening weekend victory over 2. Bundesliga returnees MSV Duisburg.
It looked set to finish as a goalless draw, mainly due to the efforts of Duisburg goalkeeper Mark Flekken. However Röser, signed from SG Sonnenhof Großaspach in the summer, headed home two minutes from time to seal all three points in the Saxony sunshine.
Testroet injury puts brakes on bright Dresden start
Duisburg returned to the 2. Bundesliga with a trip to the team they succeeded as 3. Liga champions in Dresden. After a cagey start, they had the first real attempt, with one of five debutants Lukas Fröde crossing in for Simon Brandstetter, with his shot deflected out. Another new face, Mortitz Stoppelkamp, also curled a good effort wide.
Between those though, Dresden were denied two superb chances to take the lead by Zebras goalkeeper Mark Flekken. Erich Berko was set up with a great ball, and he looked certain to score before the keeper got a vital touch. A few minutes later, from a corner, Manuel Konrad struck the ball hard on the bounce, but against he was denied by Flekken.
Flekken was a wall for Dresden again a few minutes later. Berko and Philip Heise combined on the left, and Flekken blocked a shot from Pascal Testroet as the two then collided. The Dresden striker came off worse, and had to be stretchered off with what looked like an injury to his knee.
That may have taken the wind out of their sails as they posed little further threat in the first half. Duisburg had the best opportunities before half-time, with Fabian Schnellhardt firing corner and then Cauly Oliveira Souza struck a shot from outside the box, which was taken by Marvin Schwäbe. Berko came to like a bit more just before the break, curling one effort over, but it remained goalless at the break.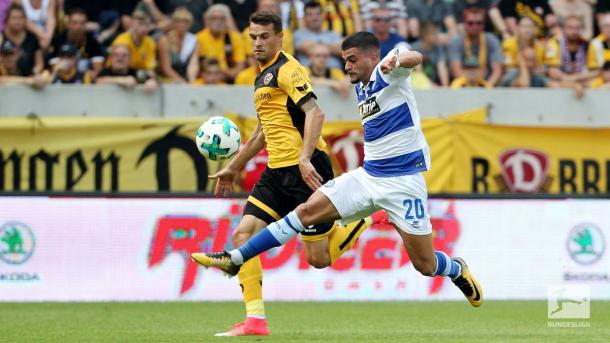 Flekken remains unbeatable until Röser pounces
Early in the second half Duisburg were limited to Stoppelkamp strikes from outside the box, with neither posing much threat for the home side. The first was an easy save for Schwäbe, with the second curling wide.
Patrick Möschl, one of the new men for Dresden, became their main creative outlet. Two great strikes from him came close to finally breaking the deadlock, with Flekken again proving impossible to beat. The second saw the Austrian try to take the keeper out of the equation with a chip, but he overdid it, seeing it sail over the bar.
Souza had another chance go over for Duisburg, but the hosts remained on top. Next up it was Rico Benatelli's turn to try to beat Flekken, yet again the Dutchman proved impassable, flicking the shot over the bar. The resulting corner was headed high by Sören Gonther. A little later, Berko back flicked the ball over, connecting with an initial strike from Konrad.
Brandstetter was becoming more of a threat again for Duisburg. Unable to shoot himself from a tight angle, he instead set up Stoppelkamp, whose shot deflected off Jannik Müller onto the post. The striker then had a chance for himself, deftly picking up a cross from Tugrul Erat with his first touch and forcing Schwäbe, keen not to be outdone in the goalkeeping stakes, into the action with his second.
Dresden found the energy for a final push in the closing stages. Röser had a shot blocked by Flekken, but it was the new striker who finally found a way past him. He rose highest to head in Niklas Kreuzer's corner in the 88th minute, with Boris Tashchy's late headed interception not enough to stop it going in.
There was no coming back for Duisburg, condemned to defeat even before Fröde earned himself a second yellow card in the final minute of stoppage time. That only added insult to injury for the visitors, with the final whistle blowing moments after.
Round-up: Ducksch saves a point for Kiel
After SSV Jahn Regensburg fell to a late winner against Arminia Bielefeld on Saturday, Holstein Kiel ensured, just, that there wasn't a clean sweep of losses for the promoted sides.
A penalty from Richard Sukuta-Pasu and a cracking strike from Philipp Klingmann had put SV Sandhausen 2-0 up at half-time. However Steven Lewerenz got a goal back with 15 minutes remaining for Kiel, and Marvin Ducksch struck in a free-kick in the fifth minute of added time to send the home crowd into hysterics.
The other mid-afternoon kick-off between 1. FC Heidenheim and Erzgebirgue Aue was abandoned after just 12 minutes of play after a stunning deluge left the pitch unplayable. 1. FC Nürnberg eased past 1. FC Kaiserslautern, with a helping hand from Marius Müller, earlier on Sunday.