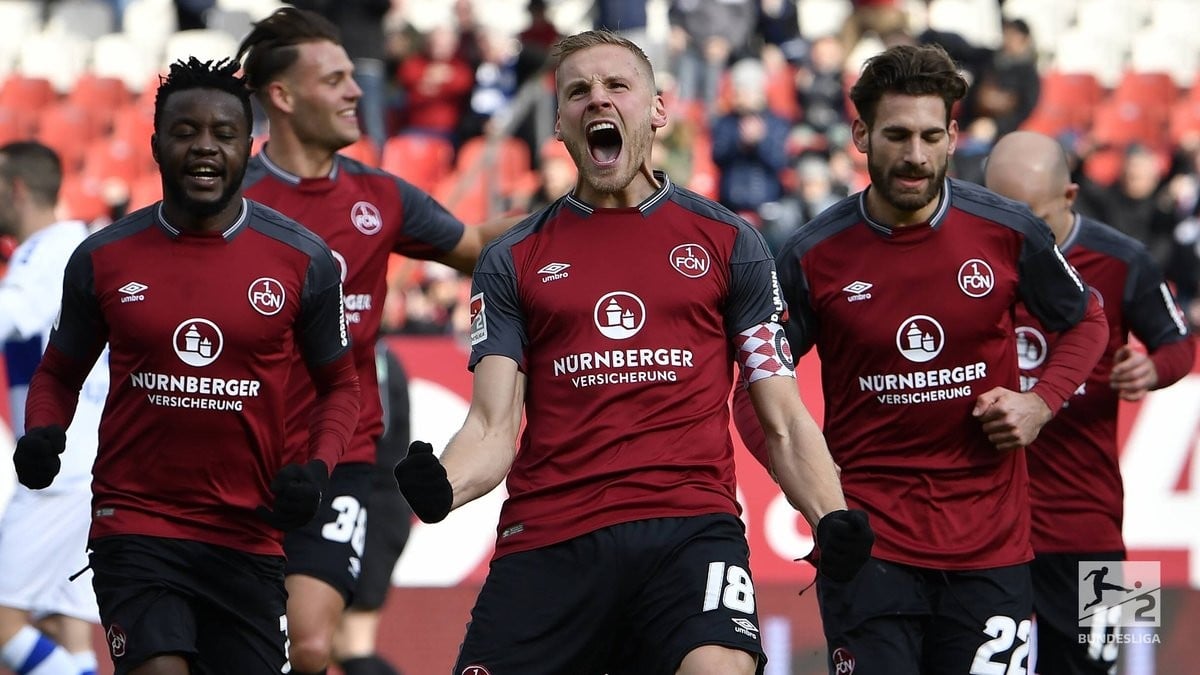 1. FC Nürnberg will finish matchday 23 top of the 2. Bundesliga, for the time since August, after a hard-earned 3-1 win against MSV Duisburg.
Two first half goals from Hanno Behrens, including a penalty, set them on their way, however Moritz Stoppelkamp pulled one back before half-time.
With the Zebras pushing for an equaliser, Eduard Löwen made the game safe with an excellent volley, moving his side ahead of former leaders Fortuna Düsseldorf on goal difference.
Behrens double before Stoppelkamp catches out Bredlow
Results had gone in favour of both sides on Saturday, with Düsseldorf and Holstein Kiel both drawing, giving Der Club a chance to go top and strengthen their position in the top two whilst Duisburg could have gone level with Kiel with a win. After a 0-0 draw at FC St. Pauli on Monday, Nürnberg were without the injured Kevin Möhwald and Mikael Ishak whilst Georg Margreitter, Edgar Salli and Tobias Werner all came in. The Zebras recalled Nico Klotz and Thomas Blomeyer at the back for the suspended Enis Hajri and ill Dustin Bomheuer.
The hosts had the perfect start. Behrens found Werner on his right, but he was forced wide by Klotz. The two jockeyed for the ball, with the Duisburg defender ultimately committing a foul just inside the box, with referee Arne Aarnink pointing to the spot. Behrens buried the penalty to put side ahead.
The minutes after that were largely uneventful, although Nürnberg were in near-complete control of the game. Duisburg dealt with with a number of corners for the home side, but they had no answer to a pass from Federico Palacios Martínez which played through Behrens. The Nürnberg skipper, in the midst of a fine goal-scoring season, got his shot past Mark Flekken and in for his ninth of the campaign (tenth if counting his goal against the Zebras in the DFB-Pokal) and second of the afternoon.
Duisburg themselves have been having a very good season, but this wasn't looking like their day early on. They struggled to create anything in attack, bar one chance which was wrongly denied to them by the assistant referee. Stanislav Iljutcenko was unlocked by a ball through the Nürnberg defence, and he timed his run perfectly leaving him one-on-one with Fabian Bredlow, only for the assistant to see otherwise and put his flag up.
With players like Stoppelkamp in their side though, there was always a chance they could find a way back into the game, and they did just that. Stoppelkamp got the ball on the corner of the box, and managed to turn Ewerton before taking aim at the far post. His low shot fooled Bredlow, who was ready to claim it higher than it actually came, and it got past him to make the score 2-1.
Löwen volley settles home nerves
Boosted by that goal just before the break, Duisburg were able to cause their hosts a lot more problems in the second half. Stoppelkamp and Iljutcenko combined before the former set up Fabian Schnellhardt for a shot, which he put just wide. Iljutcenko also went over with a shot just after, whilst they continued to keep running at the Nürnberg defence in their hunt for an equaliser.
Only Werner could test Flekken in the early stages of the half, and even then both efforts were straight at the Duisburg goalkeeper. Sensing they needed another they began to press hard again, without creating many opportunities. Salli did think he should have had a penalty when he seemed to be pushed by Kevin Wolze, but Aarnink wasn't interested in given them another spot kick.
Instead they restored their two-goal advantage five minutes later from a corner. Taken as always by Enrico Valentini, it was punched high and far by Flekken, but only to the man waiting outside the box, which in this case was Löwen. He met the ball with a superb volley, which found its way through the box and in between Flekken and the post to give Nürnberg they cushion they needed.
Nürnberg didn't deserve to come close to the 6-1 victory they recorded back in Duisburg earlier in the season, but with the Zebras tamed they had chances to add a cruel gloss to the scoreline. Substitute Adam Zrelak was denied one-on-one by Flekken before Tim Leibold put a shot over. Gerrit Nauber had a header from a corner blocked at the other end, but there was no coming back for Duisburg.
All that meant that Nürnberg could take their place at the top of the pile, ahead of Düsseldorf on goal difference and seven clear of Kiel in third, with the prospect of a Bundesliga return looking that little bit closer. Duisburg miss out on the chance to move up to fourth, staying sixth in the table.
Sunday's other 2. Bundesliga results
Dyanmo Dresden 1-0 SSV Jahn Regensburg (1-0, Berko 65')
Eintracht Braunschweig 1-0 1. FC Union Berlin (1-0, Reichel 16')