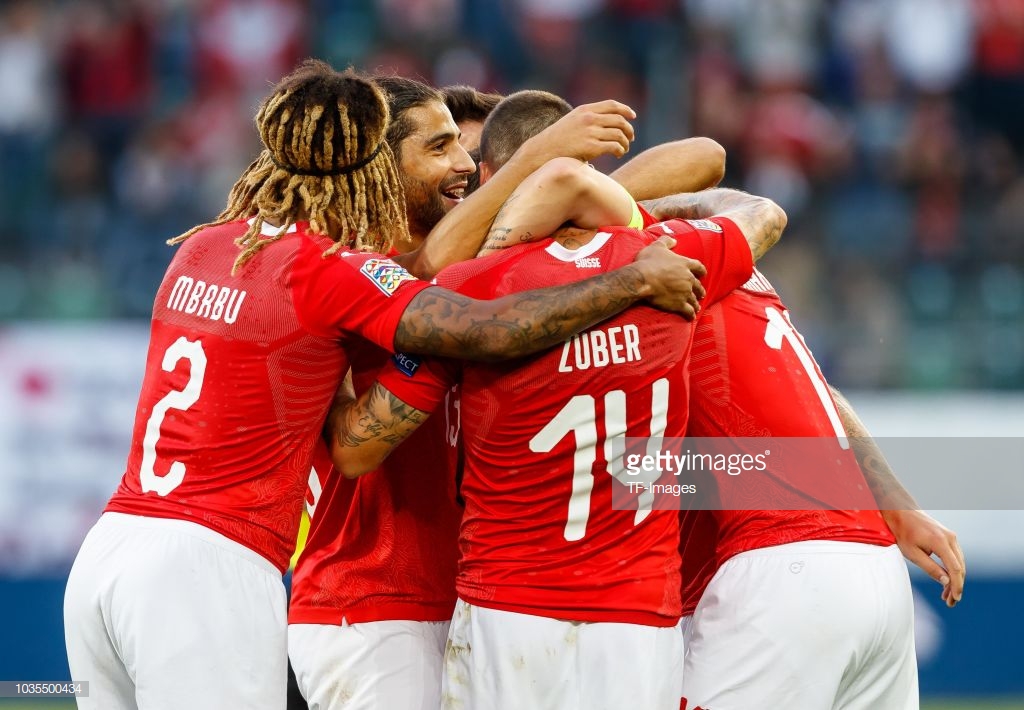 Switzerland stunned Belgium at the swissporarena in Luzern on Sunday evening. A spectacular showing from the Swiss ended in an extremely impressive 5-2 victory over World Cup bronze-medalists, Belgium.
A highly entertaining game that initially swung one way before drastically changing course ended with the Swiss administering a bruising beating to a Belgian side packed with superstars.
The result seals Switzerland's place at the top of Group 3 in UEFA Nations League A and ensures qualification for the semi-final play-offs in June 2019.
Story of the match
Switzerland knew exactly what was needed of them in Luzern on Sunday evening but putting that into practice was far from straightforward given the ominous yellow-shirted, number one ranked national team in the world, Belgium were standing on the opposite of the swissporarena pitch.
Getting one's head around UEFA rules when it comes to two teams finishing level on points at the top of a group is a challenge in itself. A victory to nil was enough for Switzerland as would any victory by two clear goals. 3-2, 4-3 or any draw would be no good and keep the Belgians on top.
This game had a furious start that never relented. It took only two minutes for the first cruel twist as Belgium shattered any illusions they were coming to central Switzerland for anything other than victory. A pass to Nico Elvedi, horribly mis-controlled, allowed the scavenging Thorgan Hazard to nip in and slot beyond Yann Sommer to give his side the dream start they craved.
For the next twenty minutes, it was Belgium applying the sort of pressure that signalled another goal and what everyone had assumed would be the end of Swiss hopes. Hazard again, given so much space, taking his opportunity to shoot, beating Sommer to give Belgium breathing space. Four goals required from Switzerland to turn the game around.
What happened in the next eighty or so minutes is hard to explain. A dubious penalty awarded as Kevin Mbabu was felled inside the box. It was as if at this very moment, the energy of a thousand suns were injected into Swiss veins. Ricardo Rodriguez stepped forward, only ice in his, and dispatched the spot kick to bring Switzerland back into the match.
Five minutes later and Switzerland were level. Xherdan Shaqiri, an architect by trade, turned up thirty-one minutes late to his scheduled appointment in Luzern but showed exactly why he is the master of his craft. The Liverpool man showing the guile to nod the ball down for Haris Seferovic and create an opportunity he simply could not miss.
By now, hope had returned. Switzerland still needed two goals but you would've been hard-pressed to find a supporter inside this sleek, modern new stadium that didn't think they could do it. That belief only grew right on the cusp of half time. The cutback by Edimilson Fernandes and a lovely sweeping finish beyond Thibaut Courtois from that man Seferovic to make it 3-2 and complete an incredible comeback for the Swiss.
The job, of course, was yet to be done. As the players emerged for the second half, there was perhaps some trepidation that fifteen minutes in the bowels of this stadium would reinvigorate an ailing Belgian side and perhaps the Swiss couldn't quite keep up an intensity that is rarely ever displayed by those in red.
Those fears were soon allayed. The terrific Seferovic came ever so close just after the break to making it 4-2 but the script had a different man in mind for the crucial fourth. Elvedi was the fall guy at the start of this match and so it came to pass that he would be the man to send Switzerland on their way to top spot. An outstanding delivery from Shaqiri and the slightest of flicks from the defender to create pure elation across Switzerland. Exclamations of joy across the country in all three languages.
The most impressive thing about the performance though, even more than the four goals, was the composure of the team after the crucial fourth goal had went in. It wasn't backs-to-the-wall, it wasn't panicked, this Swiss side showed a steely determination and repelled anything the Belgians had to offer and just to put the icing on the cake, the much-maligned Seferovic headed home at the end of a team move that saw a sumptuous Shaqiri backheel and pinpoint cross from rising star Mbabu to give the Swiss a cushion in the final minutes and Seferovic his hat-trick.
Belgium had huffed and puffed but the steam had evaporated long ago. Luzern Allmend/Messe station is just a stone's throw away from the stadium but the Belgians were way off track as this game came to its conclusion. This was Switzerland's night. This was the perfect night, and perhaps the greatest Swiss performance in modern times.
Takeaways from the match
Rollercoaster in Luzern
This was undoubtedly the match of the international break and there are still two games to play! Switzerland don't do things easily, you only have to look at their World Cup campaign in the summer to see they like to keep it exciting, and tonight in Luzern was no different in a game that looked lost after 21 minutes.
The response from Switzerland was not only emphatic but outstanding. This isn't a Swiss side known for its beautiful quality of play or ability to score lots of goals, so there wouldn't have been many after the opening twenty minutes that believed their side had four goals in them, especially against the best side in the world, according to the FIFA rankings.
The game had a little bit of everything. The awful defensive mistake from Elvedi in the opening two minutes, a brilliant strike from Hazard and of course, the quite incredible comeback that saw Seferovic score three goals and several bits of beautiful football and delivery from the Swiss players.
It was a night to remember in Luzern for the Swiss and the neutrals too, just not one that the Belgians will ever remember too fondly.
Brutal Belgium
Belgium were missing a number of key players in their side heading into this match. The likes of Kevin de Bruyne and Romelu Lukaku were not available to Roberto Martinez on this night and while they undoubtedly would've helped, the likes of Eden Hazard, his brother Thorgan, in-form Dries Mertens, Youri Tielemans and PSG's Thomas Meunier were all capable of filling any voids in the team.
It looked like business as usual for Belgium in their opening to this game. This is a side that had a successful World Cup campaign, finishing in third, and had three wins from three over Iceland and Switzerland ahead of this one. They also hadn't thrown away a two-goal lead in a competitive game since a 2-2 draw with Kazakhstan in 2007 and it is fair to say that they are a much stronger side eleven years on from that night in Almaty.
The capitulation that followed was aided by a controversial penalty but in truth, the Belgians could not get near Switzerland for the rest of the game and had little ideas to breach Sommer's goal for a third time. This is a star-studded Belgian side but when they are asked genuine questions, they are sometimes left stuttering just like tonight.
It would be surprising to see Belgium fail in the regular qualification for Euro 2020 but tonight is a wake-up call for Martinez and his superstar charges ahead of those games.
Seferovic delivers
Seferovic has been the subject of much criticism in the last couple of years for the Swiss national side. His goal scoring record for a striker at both international and club record is not the greatest and there are many that felt, especially at the World Cup, that Mario Gavranovic should have started ahead of him.
The insistence of his manager, Vladimir Petkovic, to stick by the Benfica forward despite the barbs coming from all sections of the Swiss support was vindicated as he delivered his best ever performance in the national team shirt and looked every inch the superstar as he strutted around the swissporarena putting Belgium to the sword.
A hat-trick is exactly what he deserved and this Seferovic that stepped off the team bus in Luzern is one that can take this Switzerland side up another level.
Stand out players
Seferovic was not the only player to excel on Sunday evening. His ten team-mates all played a part and all came up big when it really mattered for Switzerland.
Elvedi deserves a special mention for his strength of character to bounce back from a crushing early mistake that looked to be the beginning of the end of Switzerland's hopes in the Nations League. It is easy to forget, at just 22, Elvedi was only appearing in a Swiss shirt for the ninth time. His spirit was rewarded with the vital fourth goal.
Mbabu is a superstar and he is quickly featuring on the radar of a number of big clubs in Europe. He gets himself noticed in every game and is a wonderful talent. His pace and strength are a big problem for many sides in the Swiss Super League and it proved the same for Belgium. He has an anchor down on that right back slot for the future if he desires.
Shaqiri is often the heartbeat of the Swiss side and when moments get tough, he is the man to drag the team through. Tonight, he delivered another exceptional performance that was further proof that when he is really on his game, he is virtually unplayable. His quick-thinking on the ball and his ability to create were vital in more than one goal and that backheel in the build-up to the fifth goal was a simply beautiful piece of skill.
Everyone else did their fair share too. Sommer was composed at the back. Rodriguez was confident through out. The players were all composed on the ball and there was little panic throughout the game. It was refreshing and so unlike Switzerland.
As for Belgium, Thorgan Hazard is probably the only player that comes out of the game with pass marks alongside Courtois in goals. Hazard scored twice and showed plenty of determination throughout while Courtois was simply let down by his defenders and had to produce a good save to prevent the sixth from Denis Zakaria late in the game.
To lose that opening goal after two minutes in those circumstances and another soon after, knowing you need to score four goals to qualify and then going on to do precisely that is an outstanding achievement. It is a massive test of character and a real show of spirit and determination. On the shores of Lake Lucerne, the Swiss rose to the surface and punched their ticket to Portugal next summer.