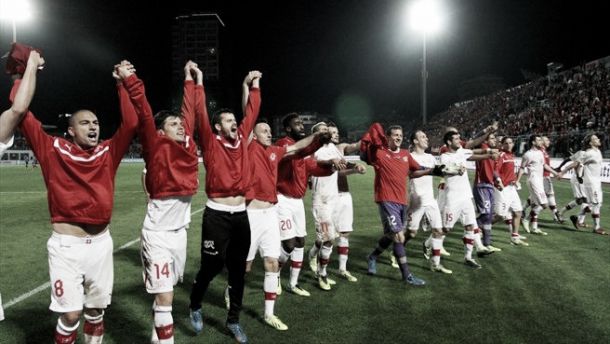 Switzerland, in many people's opinion, are side that is organised, well drilled and not much else. Despite the stereotype of the Swiss team not being terribly exciting, it would be wrong to say that of this side. Coach Ottmar Hitzfeld certainly has them well regimented, but what they have in defence is matched in attack. They came through their qualifying group at a canter, without losing a game and only conceding six times. Some will point out the fact that only 17 goals were scored, against sides like Albania and Cyprus among others, however they now have a threat at striker. Josip Drmić of Nürnberg embarked on a one man mission to try and keep his club in the Bundesliga, unfortunately they fell just one point short of the relegation play-off spot. This was in no small part thanks to the Swiss striker's 15 goals, but the pressure will really be on the 21-year old's shoulders come July. They currently sit in eighth spot in the world rankings, a major feat for the country, but they once reached the dizzy heights of third before the 1994 tournament with England boss Roy Hodgson in charge.
Goalkeepers
Switzerland are well covered in the goalkeeping department, with three very able custodians in their ranks. The man who will most likely be between the sticks, come their opening game against Ecuador, will be Diego Benaglio. Benaglio has been through the good times and bad at VfL Wolfsburg, in his six year stint at the club, having won the league in his first full season at the Wolves to narrowly avoiding relegation in 2012. The current captain of the Volkswagen backed outfit and stalwart of the team, both his country and club look much less solid with him between the sticks. Benaglio is an excellent shot-stopper and has a calming influence on those in front of him, he'll be a key player this Summer.
The other two 'keepers will be new Borussia Mönchengladbach signing Yann Sommer and Grasshopper shot-stopper Roman Bürki. Sommer has been Basel's first choice keeper for the last few years, but will be switching to German giants Gladbach this summer for around €8million. He has been the reigning Swiss champion's first choice goalkeeper since 2011, which is coincidentally when he played out of his skin at the under 21 European Championships in Denmark. Sommer kept a clean sheet in every game, apart from the final against Spain, propelling him to stardom. Since then, the Basel goalkeeper has been a vital part of the team's domestic success and impressive runs in Europe. He's showcased his impressive penalty saving abilities through-out his time in European competition, which could prove useful later on in the tournament.
Roman Bürki is catching the eye of teams all around Europe, with a release clause of under €3m, Freiburg are one of the aforementioned sides who are interested in acquiring Bürki's signature. With Oliver Baumann seemingly on his way to Hoffenheim, this could pave a way for Bürki to make a breakthrough in one of Europe's top leagues. The Swiss 'keeper has impressed greatly in his first full season with Grasshopper, after spending two seasons on loan with them making it permanent this year. Should Sommer and Benaglio pick up freak injuries, Bürki will be a more than adequate deputy.
Diego Bengalio will be hopeful that he can take his club form into the World Cup.
Defenders
As previously mentioned, Ottmar Hitzfeld will lead Switzerland into another tournament with an impeccably organised defence. This year, the back four will mostly likely consist of Stephan Lichtsteiner, Fabian Schär, Steve von Bergen and Ricardo Rodriguez. Not only is the defence solid, but also extremely good going forward. The wing-backs, Lichtsteiner and Rodriguez, have both had great seasons. The Juventus defender helped the Turin side to their 32nd Scudetto title this year, a solid but not spectacular player, the Swiss international is tireless and is strong in the tackle. His partner on the left side will be Wolfsburg's Rodriguez, who has been in stellar form through-out the year. The left-back has a fantastic left foot, whether that be for crossing or dead ball delivery, he is also defensively savvy and will pose a challenge to the oppositions right-sided players.
Fabian Schär is one of many Swiss starlets who'll make their names known worldwide this Summer. Schär is one of the finest central defensive prospects in Europe, with many top clubs around the continent craving his signature, his partnership with his young Aleksander Dragovic was a fine sight last year. He has all the makings of one of the best and a good World Cup, like many other young Swiss players, would increase their demand considerably. His partner is likely to be Steve von Bergen, the former Palermo and Hertha Berlin centre-back is now back in Switzerland with Young Boys after an average time in Italy. He's been almost ever present for the Bern outfit this season and his experience will be valuable next to Schär in his first World Cup.
The 'second string' defence, if you will, is made up of Michael Lang, Reto Ziegler and former Arsenal duo Philippe Senderos and Johan Djourou. Lang has been in impressive form for Grasshopper this season, scoring twice and assisting five times, himself and Sassuolo's Reto Ziegler will prove as useful understudies to Rodriguez and Lichtsteiner. Senderos and Djourou haven't been spectacular this year, with both failing to make an impact at Valencia and Hamburg, respectively. Djourou was part of a HSV defence that conceded the most goals in the Bundesliga, and while their experience can not be underestimated in such a tournament, Ottmar Hitzfeld will be keen to keep Schär and von Bergen wrapped up in cotton wool.
Ricardo Rodriguez is being chased by a host of clubs, a good World Cup could add an extra few millions to his price.
Midfielders
Gökhan Inler will lead Switzerland into this Summer's World Cup. The Napoli midfielder will be joined by fellow team mates Blerim Džemaili and Valon Behrami. Hitzfeld should start the Naples trio in midfield, not only because they are the three most talented central players in the squad also, for continuity reasons. These three will provide experience for the young attackers and defenders alike. Gaining control of the midfield will be incredibly important in this world cup, especially with the climate, and Inler, Džemaili and Behrami should provide this and more. It'll be a massive occasion of Inler who, with the ability to strike the ball from distance with both feet, could see his name among lights if the ball falls to him outside the box. Taking nothing away from, Džemaili and Behrami who are both excellent footballers themselves and will not shy away from having a go at goal.
Switzerland will likely play a 4-2-3-1 with advanced wingers, or simply a 4-3-3. The two players who will occupy the wide positions are Xherdan Shaqiri and Valentin Stocker. The latter could soon be in the Bundesliga, with Hertha Berlin leading the chase for Stocker's signature, the Basle star has been scouted by many clubs since he scored the winner against Bayern in the Champions League a few years ago. Shaqiri's where-a-bounce is less certain, the Bayern Munich man hasn't played regularly this season and a host of club's will be looking to sign him this Summer. Shaqiri would be a fantastic signing for any top European side, with pace, power and a knack for goalscoring all within his repertoire, though his injury prone nature could put some potential suitors off.
Tranquillo Barnetta, Gelson Fernandes and Granit Xhaka will mostly likely be on the bench when the World Cup comes round. The Bundesliga trio are all very capable to step in and cover for any of the aforementioned Napoli players. Barnetta is the most capped Swiss player that was selected in the 23 man squad for Brazil, but has rarely featured for Eintracht Frankfurt this season and is unlikely to start. The veteran member of the squad does pose a threat from dead ball situations and from out wide, he'll most likely be back-up for Stocker and Shaqiri. Gelson Fernandes, formerly of Manchester City, has been solid if unspectacular for Freiburg this season. Playing in the vast majority of games this season, Fernandes will be confident he can fill in for any of the midfield trio, his excellent stamina will play a big part in the Brazilian heat. Granit Xhaka has impressed alongside Christoph Kramer for Gladbach this season and fully deserves his chance to shine at the World Cup. The 21 year old has a cannon of a left-foot and is physically imposing, however, he can also be hit and miss in some games. The last thing the Swiss midfield needs this Summer is for a young and talented player to go missing at the crucial moment. Xhaka also possesses a fine passing range, which will help the Swiss build from the back, and his attitude towards the game will help him manage the strains of the world's biggest football festival.
Switzerland's leader this summer, Gökhan Inler.
Forwards
As previously mentioned, for a pleasant change, Switzerland are a real threat going forward. Josip Drmić and Admir Mehmedi have scored 29 Bundesliga goals between them this season. Mario Gavranović has also scored 13 goals for Zürich and despite the poor form of Haris Seferović, the Real Sociedad forward impressed in qualifying. Drmić has been fantastic for Nürnberg this season, his 17 goals were almost enough to keep Der Club in the Bundesliga, but they fell just a single point short of Hamburg in that respect. The Swiss striker's dynamism, finishing and also his ability to create something from nothing meant he single-handedly won games for the Bundesliga bottom-dwellers. His potential was noticed all around Europe, with Arsenal and Borussia Dortmund attempting to sign him, though many top sides were beaten to his signature by Bayer Leverkusen. With new coach Roger Schmidt coming in next year, Drmić should flourish.
Admir Mehmedi has been equally as important to Freiburg, as Drmić has been to Nürnberg. He's contributed with 12 goals and been part of a Rückrunde revival at the club. After the pressure of European football was lifted, Christian Streich's men improved drastically, with their second half of the season form equating to 6th place if the Bundesliga had begun after Christmas. Mehmedi signed permanently for Freiburg after the season had finished, a massive boost for the club. The Switzerland international will toil tirelessly in the Brazilian heat and his finishing combined, mean that he would be an excellent super sub for Hitzfeld's men.
Mario Gavranović and Haris Seferović will both be very able back-ups to Mehmedi and Drmić. Gavranović has been in especially good form, he is also the top goalscoring forward in the national team, netting 13 times this season and twice in qualifying. Both players are very technically capable and will look to make an impact at some stage in the tournament, but the former Mainz and Schalke forward is much more likely than Seferović.
Josip Drmić's one man mission to keep Nürnberg up this season almost bore fruit.
Prediction
It is Switzerland's 10th World Cup finals and they will be aiming to reach at least the knock-out round, if not the quarter finals and further. A win against France should allow them to do that, thus setting up a winnable last sixteen tie. If the Swiss lose to France, they'll most likely face Argentina in the next stage of the competition. A tough task but not beyond them, winning the group should set them up nicely for a quarter-final berth. From there, it's anyone's game. They could face of against one of world football's powerhouses at this stage, but who is to say that the nerves won't get to the giants and the young minnows embrace the occasion? As far as Ottmar Hitzfeld and his men are concerned, a quarter-final place would be a fantastic achievement and would set them up nicely as they head into EURO 2016 qualifying. In that competition, with their youngsters matured, they could really trouble the big guns.