 From a rant about Marco Silva to Germany's first win over England, how arrogance has cost the nation on the pitch.
Merson goes viral, again
"I could win the league with Olympiacos," Paul Merson is incensed, how dare Hull appoint a, a… foreigner?!  What could Marco Silva possibly know about managing in England and what of this jonny come lately, maybe he should follow in David Wagner's footsteps and start lower.  "Go to the Championship, start off and if you do well come to the Premiership."
The ex-Arsenal man was champing at the bit, barely able to keep from ripping his shirt open and beating at his bare chest whilst belting out the first few lines of God Save the Queen.
"These ex-footballers, they're doing four-five year courses costing a fortune to do their badges and none of them get a chance to manage at the top level." Those ex-footballers who clearly didn't need to prove themselves in a lower tier or at any club before stepping into the English top-flight, because our England boys know what's best. After all, it's only been 26 years since an Englishman lead a team to top-fight glory and it's of little irony that he (Howard Wilkinson) didn't have a distinguished playing career.
"Every manager in the world – bar if you're manager of Barcelona, Real Madrid and probably Atlético Madrid – every manager out there wants to manage in the Premier League. It is the ultimate." The ultimate, the ultimate what isn't quite clear, it's hardly the pinnacle of footballing excellence.
Television has revolutionised football and the money that comes with it has done one hell of a number on the Premier League. The EPL is there for all the world to see and has been for years, money pumped into the game drawing some of the best players and coaches in the world – none of them English. But Merson's arrogance is, it's an English staple that is more tangible that a cup of tea and hoofing it to the big lad up top.
Glory and deaf ears
Managers, English managers are a funny breed, they're such a fascinating topic that New York Times journalist Rory Smith set about authoring a book on them. More specifically, about a wave of revolutionary men who set about teaching the world how to play, who despite their success overseas were constantly dismissed at home. Men like Fred Pentland, George Raynor and Vic Buckingham (among others). Men who not just taught the world how to play but how to beat England.
Throughout his debut work, Mister, Smith chronicles the lives of some of the finest coaches England ever produced, he also chronicles their warnings to The FA and their compatriots, siting the arrogance at home time after time.
When the World Champions rolled into London five months after lifting the Jules Rimet Trophy, England weren't impressed. The Three Lions once again hadn't bothered to enter the tournament, sure of their global superiority, Italy would undoubtedly be another feeble foe.
With the Azzurri vanquished, England could be safe in the knowledge that they reigned supreme, the men who had invented the sport had taken it to its limits and would never be bested. The 3-2 should have served a warning, but like countless others, it did not. Just as every end of season tour to a foreign country should have set off alarm bells when teams were bested they were written off, "it was a long flight," "the boys were tired after a long season," "it was too hot."
One of the greatest managers of the 20th Century that is too oft forgotten by the English was in attendance at Wembley in 1953 to see England get taken down several pegs by the Mighty Magyars. He was Jimmy Hogan and the Hungarian team was one he knew well from time spent at MTK, a vocal man Hogan was obsessed with training with the ball, lifting the ability of those he coached. Throughout his coaching career, as after his retirement, Hogan continued to warn the English of the rise of football on the continent, though his arrogant countrymen refused to listen.
Hogan had helped to foster talent, to teach and coach, he had seen the strides made around Europe, he knew as well as anyone else that England's stagnation would cause it to slip from the throne.
By the time that the 1966 World Cup came around, the Three Lions had already fallen from grace, no longer the world's elite the home nation steamrollered their way to victory… or squeezed through, depending on your perception (or patriotism). From Geoff Hurst's late goal at Wembley to see off Argentina to Bobby Charlton's brace against Portugal all the way through to Hurst's hat trick against West Germany, England were victorious.
Pelé's Brazil had failed to make it out of a group containing Portugal and the free-scoring Eusébio as well as a Hungary side that boasted Puskás (no, not that one), just as Italy has failed to get out of their eclectic group. The only other pretenders to the crown, Uruguay were dumped out in the quarter-finals by Franz Beckenbauer and co'. So, that was that, England were World Champions at the fifth time of asking and 52 years later they've yet to make it back to the final, West Germany denying Bobby Robson a shot at glory in Italy.
The last great England team, the likeable one, lead by golden boy Gary Lineker and so many tears in Turin, the final insult a loss in Bari to demote them to fourth in a third-place play-off match the day before the main event in Rome. The last tournament outing for West Germany and Beckenbauer a successful one.

Recent history
The 30 years of hurt sung about by Baddiel and Skinner has somehow become 50 and England have possibly reached their lowest ebb.
We were told that public interest was at an all-time low as Roy Hodgson's boys prepared to do battle with Costa Rica, Italy and Uruguay four years ago. The team, the coach? "All rubbish," said the man on the street before adding, "we'll still get to the quarters…" We like to think that Claudio Marchisio, Mario Balotelli and Luis Suárez all went home smiling, knowing they'd helped contribute to knocking the mighty England out of the World Cup. In truth they probably didn't give a damn, Marchisio and Balotelli were heading home early, Cesare Prandelli resigning before the team had even left Natal. Suárez would soon be banned, denying him a chance at leading La Celeste to glory, his brace in São Paulo a distant memory and a chance to say one last goodbye to Liverpool teammates Steven Gerrard, Jordan Henderson, Glen Johnson, Raheem Sterling and Daniel Sturridge.
England were out and despite the public feeling being so low we all carried the shame of finishing dead last in our group, our lone point from a scoreless draw against Costa Rica enough to separate England from Cameroon, Australia and Honduras who finished pointless. 76 days after England had been knocked out of the World Cup at the Mineirão in Belo Horizonte, the Three Lions were back in competitive action, kicking off their Euro 2016 qualification bid. Drawn into a group with San Marino, Lithuania, Estonia, Slovenia and Switzerland, England fans were at a loss at to where to find Tallinn and Vilnius on a map, let alone how to spell Ljubljana – 'Are you sure it's got a J in it?' Switzerland, a nation who had gone several better than England in Brazil, had pushed Argentina to extra time in one of the worst matches of the tournament at the Arena Corinthians.
But the Swiss had lost Ottmar Hitzfeld after the tournament and instantly looked a mess under new coach Vladimir Petković. What should have been England's toughest match in Basel was one the Three Lions had no trouble with, despite (typically for England) having less possession than their opposition. The goals flew in against San Marino – 'Did you know their goalkeeper is an accountant? Bantz.' – and Lithuania. Estonia and Slovenia both ran England close and 75,751 fans saw Harry Kane score his third for his country before Wayne Rooney netted his 50th for England, sealing the three points from the spot in Wembley. Qualification? – 'Smashed it lads. Unbeaten, the ultimate. Euro favourites or wot?'
Up against two of the oldest squads at the tournament – Slovakia's average age of 30.7 being the oldest, Russia not too far down with an average of 29.4 – England fans salivated at a home-nation tie. With plenty happening off of the pitch, people can be forgiven for forgetting England's first match in France, Vasili Berezutski's stoppage time header denying the Three Lions three points.
Then the big one, the derby, the Welsh, the Dragons? – 'More like the pussycats.' England dominated them… and found their own stoppage time winner. "Marek Hamšík, he's the danger-man, watch out for Slovakia, no slip ups boys." 90 agonising minutes in Saint-Étienne greeted the 39,051 fans at the Stade Geoffroy-Guichard, the match as one-sided as it could have been, England out-shooting Slovakia 28-4. Ján Kozák's team had one thing in mind; get through the damn match unscathed. A scoreless draw enough to get Slovakia through to the next round, the 0-0 taking England down to second in the group with Wales top – 'Aye, but we beat them, that's all that counts.'
Three goals, three matches, five points; England were on track for glory; enter Iceland. Rooney's fourth minute penalty, the Three Lions a goal up against Iceland – 'Stade de Nice? More like Stade de Niiiice.' The match restarted and then two minutes later it restarted again, Ragnar Sigurðsson's equaliser a bucket of cold water, a warning sent out by the defender who, before kick-off only had one international goal to his name. A warning not heeded by a side already looking for a spade to dig a head-sized hole in the ground. Kolbeinn Sigþórsson's goal remembered by the English public not for the goal but for Steve McClaren's reaction on Sky Sports News.
England's arrogance on show again during ITV's half-time analysis; "Should Roy Hodgson drop Joe Hart for the quarter-finals?" asked Mark Pougatch. Why let a little thing like being down at the break stop you from thinking you're already through? – 'Iceland? I could win the league in Iceland… do they even have a league?'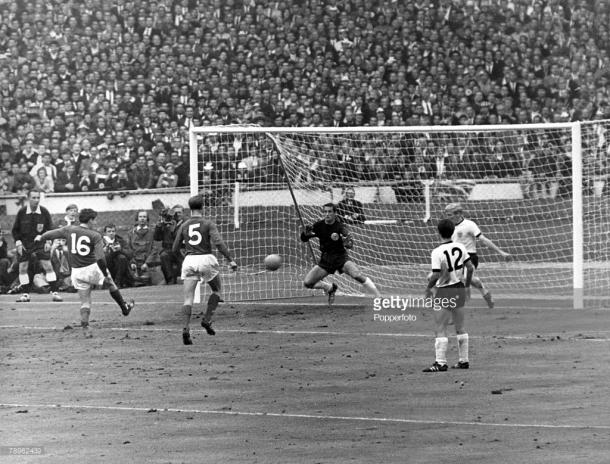 The one-sided rivalry
To understand just how far down England are in the pecking order, you've only to take our greatest derby against our ultimate enemies; the Germans. – 'The Krauts, they love nothing more than to beat us on penalties, still mad that we won the war, they'll never get over that!'
Have Germany knocked England out of many a competition? Yes. Do the Germans care that it's England? No. Do they think it's weird that we're still so obsessed with the war? Yeah, yeah they do.
There was a time, before the Mister's had imparted wisdom across the globe, when England were at the pinnacle and Germany would have given an arm and a leg to defeat the Three Lions. But those days, much like Wayne Rooney's hair (and subsequent plugs), are long gone. It was Otto Nerz, appointed Germany's first head coach by Felix Linnemann in 1926, who was the first obsesser in the German-English rivalry, the rigid man fanatical about employing Herbert Chapman's WM formation.
Nerz, described by Ulrich Hesse in tor! as looking, "Exactly like the man one would expect to coach a German team in the 1920s and 1930s," made progress with Germany and slowly but surely lifted their status. Winning matches and playing well, Die Mannschaft, who had so often been swept aside by the English before the First World War, found their first draw against England.
A match, the first to be contested between the two for 17 years, saw the British team travel to Berlin in a bruising match that ended 3-3. The date was 10 May 1930 and Germany were still a way away from beating England, the Second World War around the corner, ready to halt the development of football and take millions of lives. It wouldn't be until 1968 that Germany finally bested England, 14 years after Sepp Herberger's team wrote history [or performed a Miracle] in Berne.
A friendly at the Niedersachsenstadion in Hanover, a goal from Beckenbauer and finally the Germans had tasted victory over the English. When reflecting on his match winner some years later, The Kaiser noted that it was, "A crappy deflected shot," but more importantly, "That was when we realised we could really beat the English and lost some of the respect we had had." 50 years on and the English still cling to a notion that the Germans are as obsessed with us as with we are them, though in truth our Teutonic cousins have long-since moved on and see the Italians and the Dutch as their rivals.
The price of arrogance 
There was a time when England were at the top of the tree, a powerful team in world football, one that rightly commanded respect and fear but just like the days of the Empire, England has been cut down, pushed back and exposed. We may have been the country that gave the world football, as well as the nation who sent the Misters on their way to teach the rest of the globe, to guide them and set them on their own paths but those are days for the history books.
We allowed ourselves to get comfortable, to grow arrogant, we stopped moving whilst everyone else caught up and overtook. When the Brazilians were showing football fans what the game could be, we persisted with the old hat, flair and English football (or English footballers) polar opposites. Spanish Tiki-taka can trace its roots back through Englishmen though English footballers have yet to posses the grace and understanding to perpetuate the art, despite our monumental head start we're still playing catch up. We were already out-dated in '66, our greatest trumiph only serving to cement our arrogance, not just holding English football in place but dragging it backwards as everyone else evolved. 
When Paul Merson bemoans the lack of English coaches in the top flight, those being overlooked, we make jokes about the managerial carousel about Sam Allardyce, Hodgson, Mark Hughes, David Moyes, Alan Pardew and Tony Pulis. Big Sam, Pards, that horrific Vine of Pulis cackling perpetually looped in our nightmares, this is it, the zenith of English management. The arrogance. The ultimate.