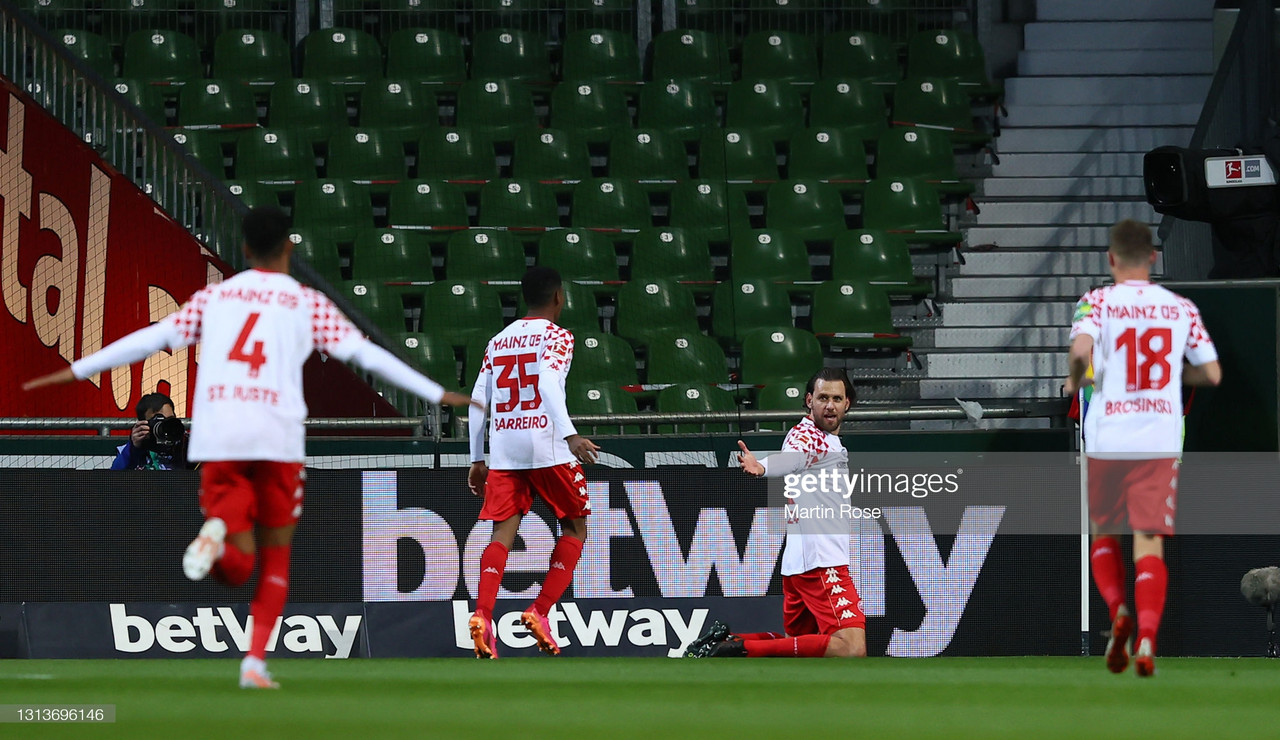 The Bundesliga relegation battle continued to heat up on Wednesday as Mainz defeated Werder Bremen 1-0 at the Wohninvest Weserstadion to leap ahead of them in the standings.
A close contest throughout, the only goal of the game came in the 16th minute when Ádám Szalai pounced on a rebound in the area to give his side the lead. Mainz were able to hold on for the rest of the match, securing a win that continues their remarkable climb away from the relegation zone while sending Bremen even closer to the bottom three in the process.
Story of the match
The hosts started the contest on the front foot, but it would be Mainz who took the lead in the 16th minute in fortunate fashion. A slip from defender Miloš Veljković allowed Karim Onisiwo through on goal, and even though his shot was saved by Jiří Pavlenka, the rebound was slotted home by Ádám Szalai.
Bremen created their first real chance at the half-hour mark, as a superb pass from Maximilian Eggestein picked out Niclas Füllkrug in space in the area. He couldn't convert, though, hitting a shot right at the goalkeeper.
It was nearly 2-0 a bit before the break. A volley from Leandro Barreiro wasn't hit properly, but that almost worked out in his favor, as the ball went a different way than some would have expected. Pavlenka was still able to do enough to make the save, however, tipping the ball wide of the post and out of play.
Mainz would catch another lucky break on the stroke of half-time as a Bremen equalizer was harshly ruled out. A header from Füllkrug wasn't dealt with properly by Robin Zentner, which allowed Kevin Möhwald to kick the loose ball towards goal. That ultimately led to Josh Sargent finally rifling home from a few yards out, seemingly tying the game as a result. However, following a VAR review, the goal was called back, and it wasn't clear whether a foul was called on Möhwald or if he was deemed to be offside. Either way, it didn't really look like the right decision.
Die Nullfünfer came inches away from doubling their advantage moments into the second half. All coming via some incredible play from Szalai, he was able to settle a high ball before turning and unleashing a volley towards goal. Unfortunately for him and his side, all that effort would be for naught as the ball rattled off the crossbar before eventually being cleared away.
Bremen kept up the pressure following that chance. Marco Friedl was able to lay the ball off to Eggestein on the edge of the area following a corner, but his low strike went wide of the target.
The game had burst into life at this stage, and both teams started to create chances. Onisiwo was denied on the counter by Pavlenka before Mainz just about dealt with a low cross from Eggestein, who picked up the ball after Zentner spilled it following a shot from Füllkrug.
Each came close late on, but neither were able to find the back of the net as Mainz held on to secure three massive points in their fight for survival.
Takeaways
The difference of form (and luck)
It was clear to see which side was playing with confidence and which team was playing while frustrated, and that had a big impact on the final score.
Bremen just couldn't get going on the day. Their passes were off, they couldn't win any headers, and they failed to finish off the few chances that fell their way. Die Grün-Weißen certainly looked like a side who had lost their last five league games going into this contest, which contributed to them losing a sixth.
Mainz, meanwhile, seemed like they believed in themselves. Solid defensively throughout the 90 minutes, they were always able to deal with whatever the opposition threw at them. Die Nullfünfer grabbed an early goal going forward, and they could have had a few more on the day. Even though they couldn't add to their advantage, they were still able to hold on to what they had to secure a crucial victory.
The away side did make the most of their luck, to be fair, as some fortunate breaks led to their goal, while Bremen had a potential goal of their own controversially ruled out. However, that's just how football is sometimes.
Man of the match - The Mainz back three
It'd be harsh to praise any specific player more than the others, so all three Mainz centre-backs deserve some share of the man of the match award.
Jeremiah St. Juste, Stefan Bell, and Moussa Niakhaté each put on a defensive masterclass, which is what led to Mainz winning on the day. The trio dealt with crosses throughout the contest, constantly winning headers to clear the ball away and keep Bremen at bay.
Their performances meant that goalkeeper Robin Zentner didn't even have much to worry about, which goes to show just how good the back three were. It was another superb showing from the trio, who have been a big reason why Mainz seem to be staying up this season, which was proven in this contest.