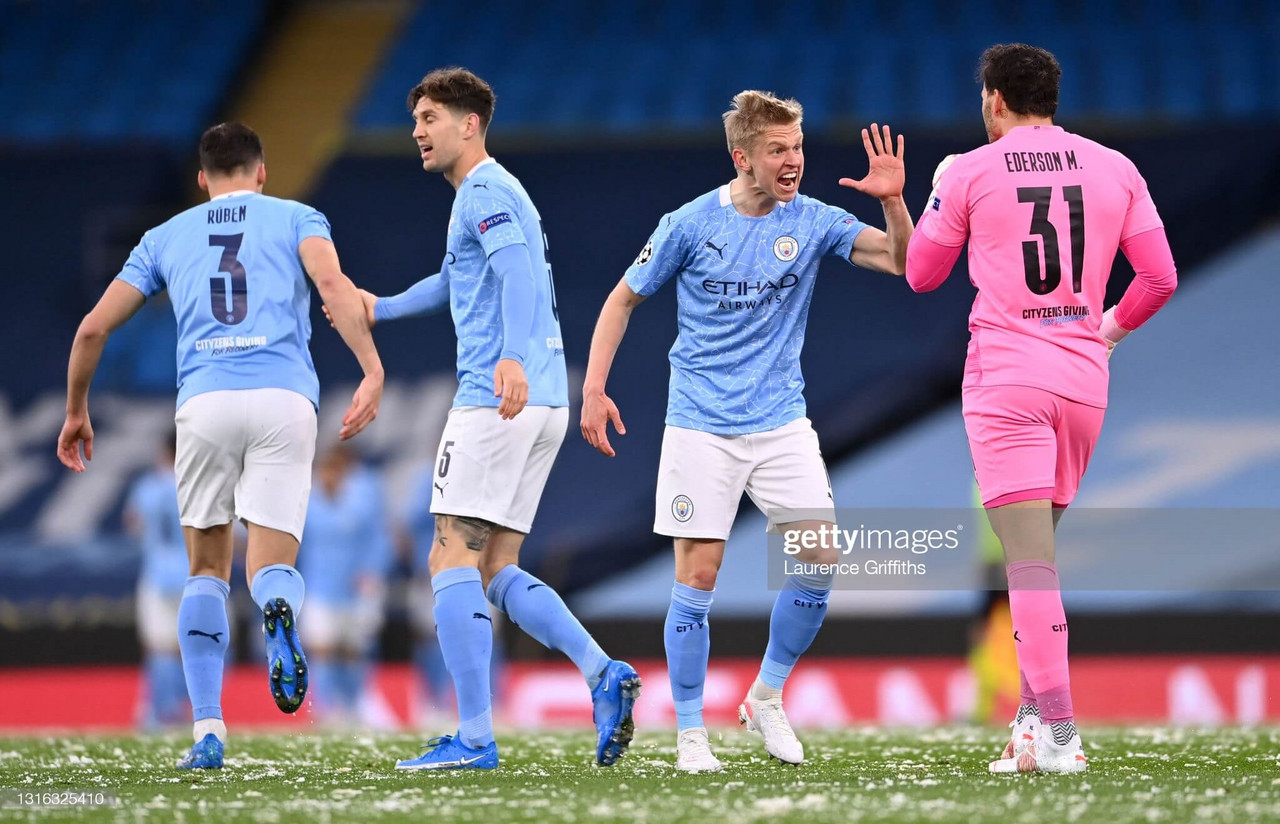 It was not the full-time whistle that brought the biggest celebrations at the Etihad Stadium last night. Nor was it either time Riyad Mahrez scored to tighten Manchester City's grip on this Champions League semi-final. Instead the largest bear-hugs and tub-thumping came after a defensive block.
When the dust settles on City reaching their first Champions League final, it will perhaps be that image in the 55th minute that will best encapsulate the night in which Pep Guardiola's side came of age in Europe. That brief moment was not about tactics or systems, it was not about attacking either, but it was a picture of determination and resilience, which are the key ingredients to City's progress deeper into this competition than ever before.
It was also not the most 'glamourous' of players who produced the block. Oleksandr Zinchenko launched himself to prevent Neymar's shot troubling Ederson. John Stones was also with his defensive partner and flung himself too in the way of the strike, just in case. Only yards away was Ruben Dias, who had also contributed immensely to this win. All three embraced as PSG prepared their corner.
Display of grit and determination
That single display of aggressive defending, and the will to win, was not in isolation as this was a victory built on defensive grit as much as attacking class. Considerable pressure came from Paris Saint-Germain, before they lost their heads in the second half, but they were held up by City's blues brothers, snuffing out danger wherever it appeared.
The block. The commitment. The reactions.

Man City want this! 👊 pic.twitter.com/tfpGELe3uP

— Football on BT Sport (@btsportfootball) May 4, 2021
All told, City made nine defensive blocks during this second leg - the most they have produced in a match under Guardiola. Dias made three, Stones two while even Bernardo Silva and Mahrez contributed too. "Blocking a shot is like scoring a goal," Kyle Walker said afterwards.
The City full-back was once again at the top of his game as he shadowed Neymar and defended diligently on the right, often forcing the Brazilian back into the middle third of the pitch. No player made more interceptions than Walker's three and no one made more tackles than his six. Alongside him, Stones made the most clearances, repelling every cross and absorbing every shot.
"We defended so well," Guardiola proudly said later. "We defended all together, helping each other. After that the quality of the players did the rest."
Dias is the difference-maker
The quality of Dias is indisputable. The Portuguese centre back has made such a difference since arriving from Benfica last summer. He is rightly in contention for this year's Player of the Season. The transformative effect he has had on City's back-line is remarkable, the confidence and leadership that he brings along with the nous to deal with unrelenting attackers is indispensable.
It is hard to believe that at the age of 23 he was the youngest member of City's defence last night. The scary thing is the best is probably yet to come. Whatever was thrown at him, whether it was hailstones or powerful PSG shots, he dealt with it head on.
The relationship he has formed with Stones has been well-documented and is undoubtedly key to City's dominance this season. Goals have been a little harder to come by this term. For City, but the defensive rigour of Dias, Stones and company has helped them out.
Across this Champions League run, totalling 12 games, City have conceded just four goals and kept eight clean sheets. Admittedly a lot of those came as a result of City's unrelenting control of the ball and high levels of possession, but this one was different.
For large spells PSG were in control of possession so City had to become compact, forcing the opposition into wide areas where they were ill-equipped to do as much damage. Kevin De Bruyne, playing as the false 9 often dropped into midfield to ensure all City players were behind the ball. Silva was clearly selected for his pressing.
Courage, resilience, determination all came to the fore as City fought for their place in the final. "Everyone has to be solid defensively and that is what we did," said Mahrez, who knew where the credit lay despite his goals. "We did not concede much. That is why we are in the final."