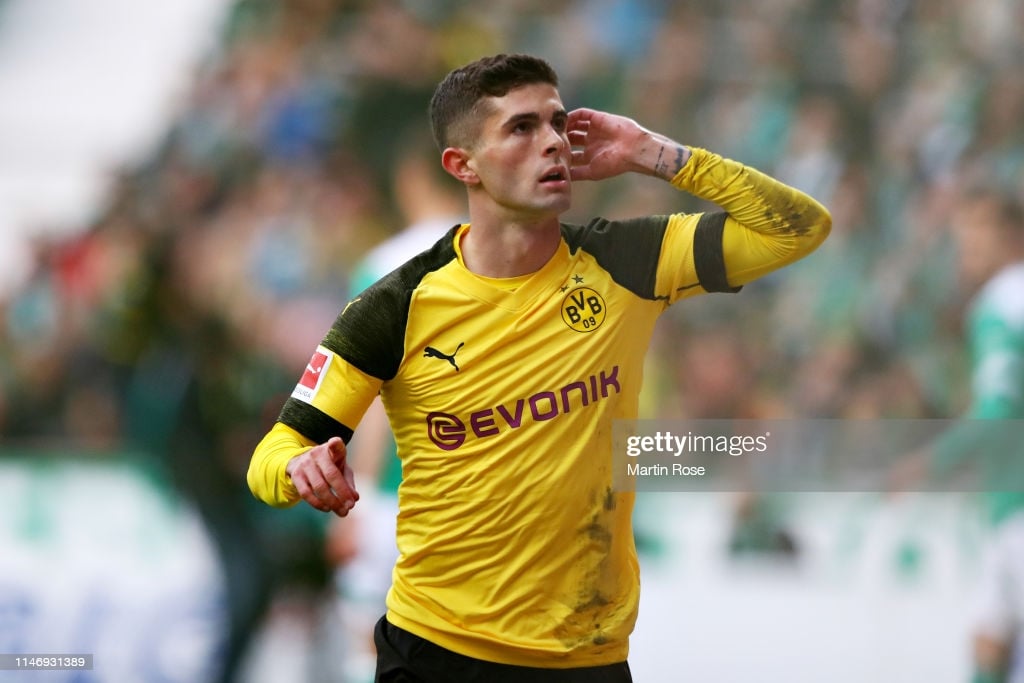 Christian Pulisic. Weston McKennie. Giovanni Reyna. Josh Sargent. Tyler Adams.
These are just some of the notable young American players that either used to play or are currently playing in the Bundesliga. But why does Germany's top-flight attract so many of these talents?
The story and legacy of American players in the Bundesliga
The Bundesliga has almost always been a place where Americans have come to play at the highest level. An early example of this was Landon Donavon, one of the best forwards to ever play for the United States, as he started his career in Germany. When Jürgen Klinsmann became the U.S. head coach in 2011, he actively encouraged his young players to look abroad, particularly to Germany and the Bundesliga, rather than staying in America.
However, the catalyst that really ignited things came in the form of Christian Pulisic. He went to Borussia Dortmund on a free transfer when he was just 15, using a Croatian passport that allowed him to be exempt from the regulations put in place by FIFA for players under the age of 18 moving abroad.
By the time he was 18 years old, he had already made 11 appearances in the Bundesliga, and barely two years later he secured a £58 million move to Chelsea. Dortmund had found a gem and made bank, and the success story of Pulisic triggered other Bundesliga clubs to scout the American talent pool.
FC Schalke were the next major German club to follow in Dortmund's footsteps, as Weston McKennie moved from FC Dallas to Die Königsblauen in 2016. He did so well for them that Serie A powerhouse Juventus eventually came calling, bringing in the player on loan before making his deal a permanent one for €18.5 million in March.
He would certainly not be the last American to come to Germany's top-flight. In 2018, after impressing at a U.S. soccer academy, Josh Sargent signed for Werder Bremen. Then, a year later, RB Leipzig signed Tyler Adams from one of their sister clubs, the New York Red Bulls.
A key factor of this movement is the relationships between clubs in the U.S. and in Germany. For example, Bayern Munich signed promising defender Chris Richards from FC Dallas in 2019, and after the transfer was complete, the two teams agreed to from a youth development pathway. Hoffenheim have followed the example set by Munich, reaching a similar agreement with FC Cincinnati.
The mindset of these young American players is also an attraction for Bundesliga clubs. In an interview with ESPN, a Bundesliga academy head coach said that "young American players have a lot of discipline and self-motivation and come with certain mentality." Many youth coaches at these clubs see this frame of mind and athleticism as a perfect fit with those of young German players, with all of them able to be easily trained in the traditional German style of "Gegenpressing".
Like with everything in football, finance and legal restrictions also play a part.
On the financial side, many Bundesliga clubs were able to pretty much sign these young players for free. This was due to old arrangements that prohibited American teams from demanding training compensation or payments for their players in the club's system who had yet to sign a professional contract with them. However, in April of last year, Major League Soccer changed its regulations, allowing its clubs and academies to be in line with FIFA protocols. This has not yet had a real impact on the transfer market, though.
There is also the legal side of things. While there are pathways for Americans in places like England or Spain, the majority will end up in Germany because it is easier to get a work permit there than in other major countries. In leagues like the Premier League and La Liga, it is very difficult for non-EU players to get a work permit because the organisations are dependent on big transfer fees or international experience.
However, in Germany, as long as an American can show proof that they are a decent athletic prospect, and that they'd be joining a club on a salary, then they are given a work permit.
As mentioned earlier, the relationships between MLS and Bundesliga clubs are important, but so are the people involved. For example, St. Louis City SC, who will start playing in 2023, appointed ex-Germany goalkeeper Lutz Pfannenstiel as their sporting director. On the flip side, you have New Jersey born Pellegrino Matarazzo, who is currently in charge of VfB Stuttgart.
What is next?
Then there's the future, which looks very bright. Since Pulisic's success in 2015, many of the top Bundesliga clubs have established youth pathways, which makes them aware of promising young Americans from the age of 12. In addition to the league's brand of trusting in youth, this means that these players will get their chance in the spotlight no matter how old they are as long as they are good enough.
This migration shows no signs of slowing down. The latest American sign for a Bundesliga club is Joe Scally, who joined Borussia Mönchengladbach this past January aged just 18.
Which player makes the jump next remains to be seen, but what is for certain is that German teams will be keeping their eyes on the U.S. in search of the next Pulisic or McKennie.