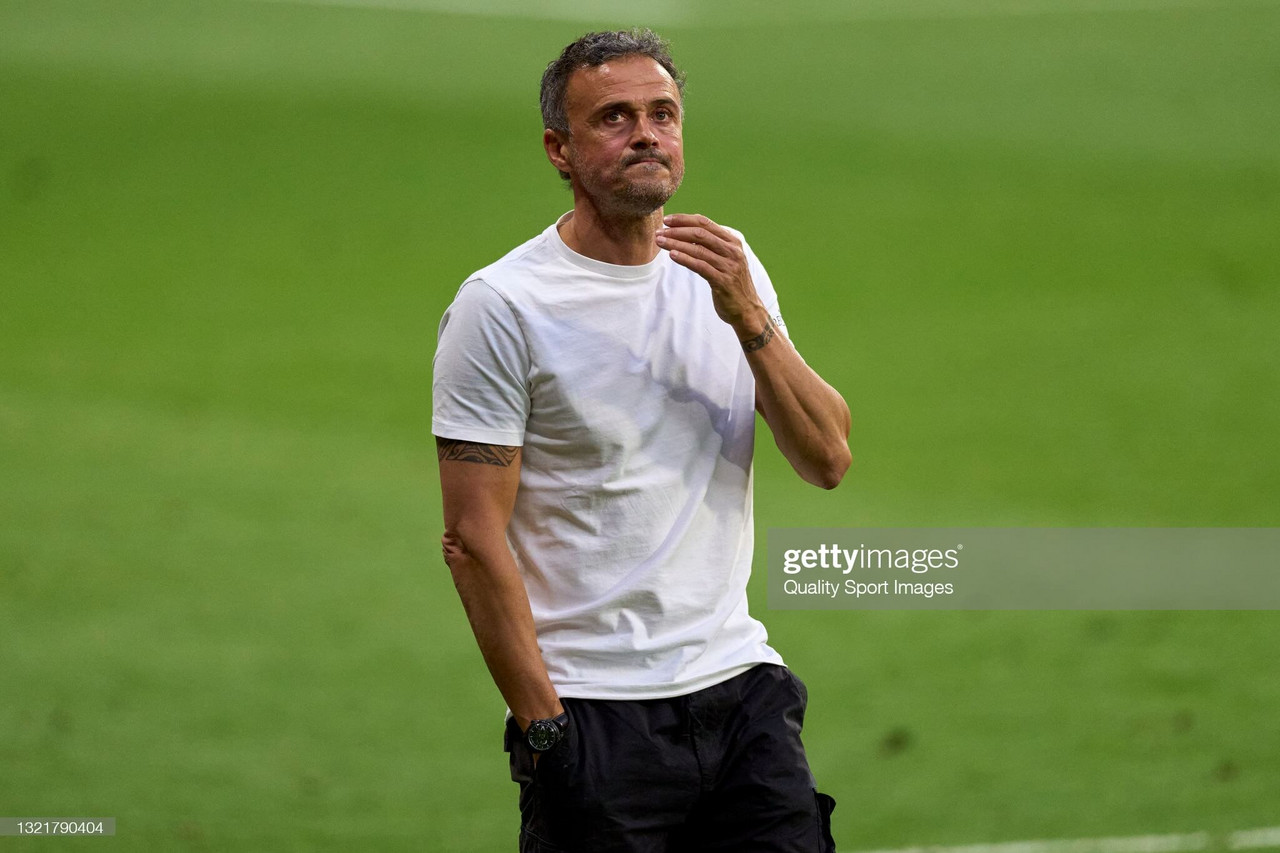 Spain's preparations for Euro 2020 have endured further turmoil after Leeds United defender Diego Llorente was the latest player to test positive for Covid-19. This comes after captain Sergio Busquets's positive test on Sunday.
Luis Enrique was forced to name a team of under-21 players for Spain's last warm-up game before their opening game of the tournament next Monday as the first team squad immediately went into isolation in Las Rozas, Spain's training camp in Madrid.
Further tests suggested that there were no more positive cases in the camp but Llorente's diagnosis on Wednesday morning was an additional blow. The centre-back came on as a substitute in last Friday's friendly against Portugal.
Both Busquets and Llorente are now expected to miss the first two group games against Sweden and Poland but it is unclear when exactly they will be able to return to Spain's secure training bubble. Spain are playing all three of their group games in the Estadio la Cartuja in Seville.
Luis Enrique has called up an emergency standby squad comprising of 17 players, including Kepa Arrizabalaga, Raul Albiol, Carlos Soler, Brais Mendez, Pablo Fornals and Rodrigo Moreno. There was, however, no place for Sergio Ramos who had been left out of the squad in the first place in what has been much-debated decision.
What's more, there are concerns that further positive cases could emerge within the camp during the coming days. "There could well be more positive cases, it's probable there will be," said Luis Rubiales, the Spanish FA president.
Games at Euro 2020 can be postponed for up to 48 hours to get new players into the squad in the event of Covid infections or quarantine requirements, but matches must go ahead if a squad has at least 13 players, including one goalkeeper, available.
Luis Enrique didn't use the full squad allocation available to him when he named his 24-man squad last month. With the cohort currently down to 22 players, it does appear a slightly impractical decision given the circumstances.
Any distractions of this nature are unwanted on the eve of a tournament but there are indications from the Spanish Health Ministry that the squad will receive Covid-19 vaccinations later this week on the back of the developments.
A statement on the Spanish Football Association's website said: "The coaching staff of the Spanish National Team has decided that the eleven internationals initially called up for the match against Lithuania remain under the discipline of the National Team with a planned training session under Luis Enrique this Wednesday, June 9, starting at 11:00 hours.
"This group of internationals will join their teammates Rodrigo Moreno, Pablo Fornals, Carlos Soler, Brais Méndez, Raúl Albiol and Kepa Arrizabalaga in the group of players to complete training during the next days within a parallel bubble, created in anticipation of the possible consequences that the positives of Sergio Busquets and Diego Llorente could bring.
"The 17 players will remain outside the Ciudad del Fútbol bubble and will go daily to Las Rozas with their teammates after having passed the relevant daily tests before their arrival and during their stay."