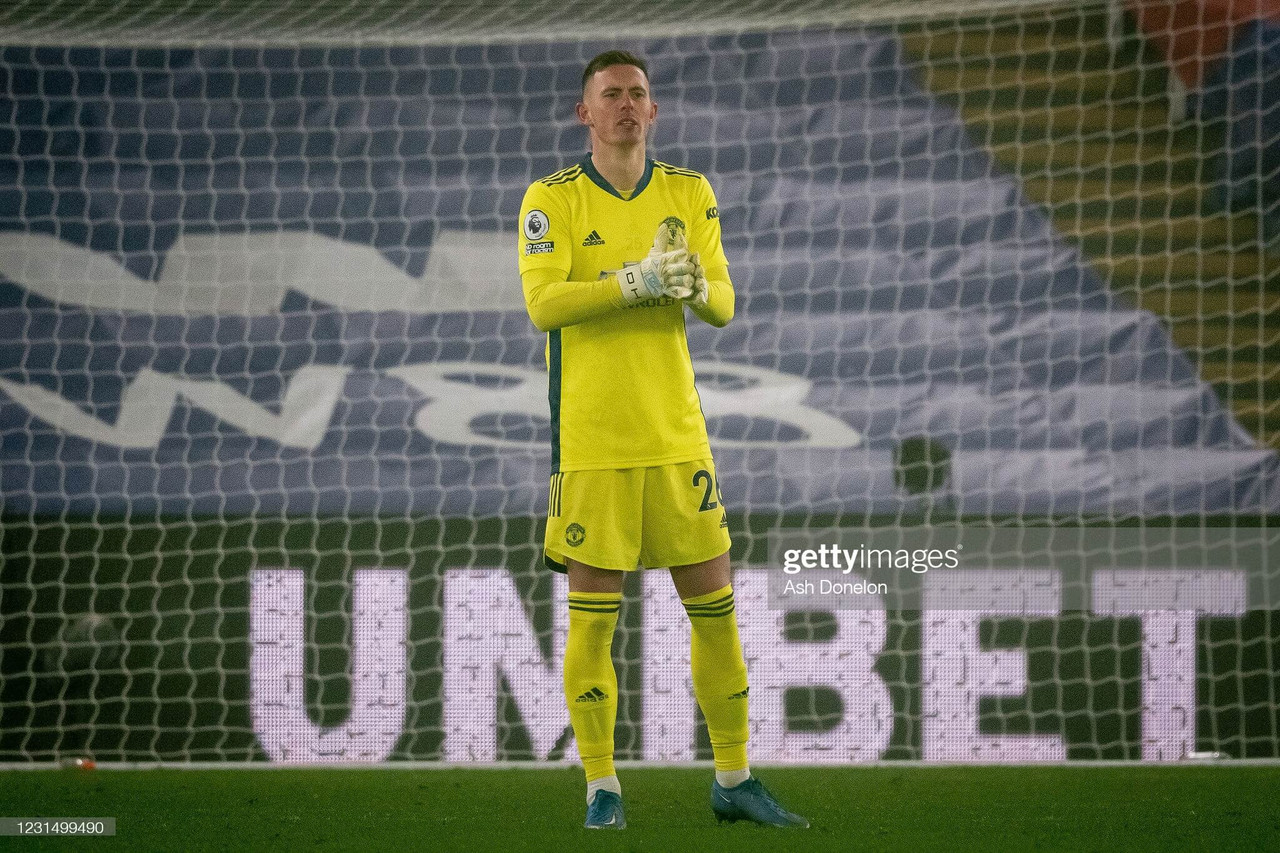 Dean Henderson is set for a run of games in goal for Manchester United after Ole Gunnar Solskjaer confirmed that David De Gea was in Spain to be with his girlfriend for the birth of their first child. Current quarantine rules means that De Gea would have to isolate for 10 days when he re-enters the UK.
De Gea had the clubs backing when he travelled to Spain this week and this gives rise to an opportunity for Henderson to play a sequence of games for United, having not managed two consecutive starts since returning from his loan spell at Sheffield United last summer.
"He [De Gea] has to go home and in the old world that is a day and you are ready again, but with the pandemic it is a different world," the United manager said. "We felt when David wanted to go there isn't even a decision to make. Dean is ready.
"He did well against Crystal Palace, he is looking forward to the City game as well. He experienced it in the Carabao Cup as well."
"We must be best possible United"
This will be a big opportunity for Henderson to stake his claim for the United No.1 shirt, and facing Manchester City on Sunday will be a test for the 23-year-old. United currently trail their city neighbours by 14 points and the title race is all but over.
However, when the two sides meet at the Etihad this weekend one record will have to fall: either United's unbeaten run of 20 league away games will end, or City's sequence of 21 victories in a row will cease.
"Our focus is just on this one game, not where we could end up," Solskjaer said. "We have to be the best possible Man United and try to improve on last season. More points, hopefully get to a final. We have to challenge ourselves. They are ahead of us by a far distance so it is a test for us."
United should have Victor Lindelof available for the match this weekend, even though he is "still felling the effects of his back problem", according to the manager. Anthony Martial could also be available but Paul Pogba is likely to miss out.
"There's been no dip in form"
If United's away form in the league bodes well ahead of the trip to the Etihad, the fact that they have failed to score a single goal from open play against any of the 'big six' teams this season counters that achievement somewhat.
"We have looked at it," Solskjaer admitted when asked about their approach to the bigger games. "We have been in a strange way, more positive. High press in more or less every game, trying to pin teams back - last year maybe we relied more on the counter-attacks.
"We have tried to be more positive but we have not been clinical enough. They've often been tight games."
It is also three successive games that United have failed to score, against Real Sociedad in the second leg of the Europa League last-32 tie, Chelsea last weekend and Crystal Palace in midweek. Nevertheless, Solskjaer is not entertaining the idea that his side's standards have dropped after an impressive start to the calendar year which ignited their fleeting title challenge.
"When you get the results sometimes you forget the actual performances," he said. "The West Brom game wasn't the best quality, Palace game of course. But if you compare to last season's match it wasn't too dissimilar.
"In the Premier League when opponents don't make mistakes you've got to earn it. We lacked that, but then we are still unbeaten. Three, four weeks ago the narrative was we couldn't defend, now it is we can't score. Not long ago we played really well versus Sociedad and Southampton. It's those margins."
"I'm not buying into the narrative that we've had a dip in form. Three 0-0's isn't really us but we've just lacked a bit of spark. I don't buy the out of form one. There are still 11 league games to go. I've always said lets get to March and April before we talk about the title race.
"We've given ourselves a very good chance to improve on last season. There are loads of quality teams and we can only control ourselves."