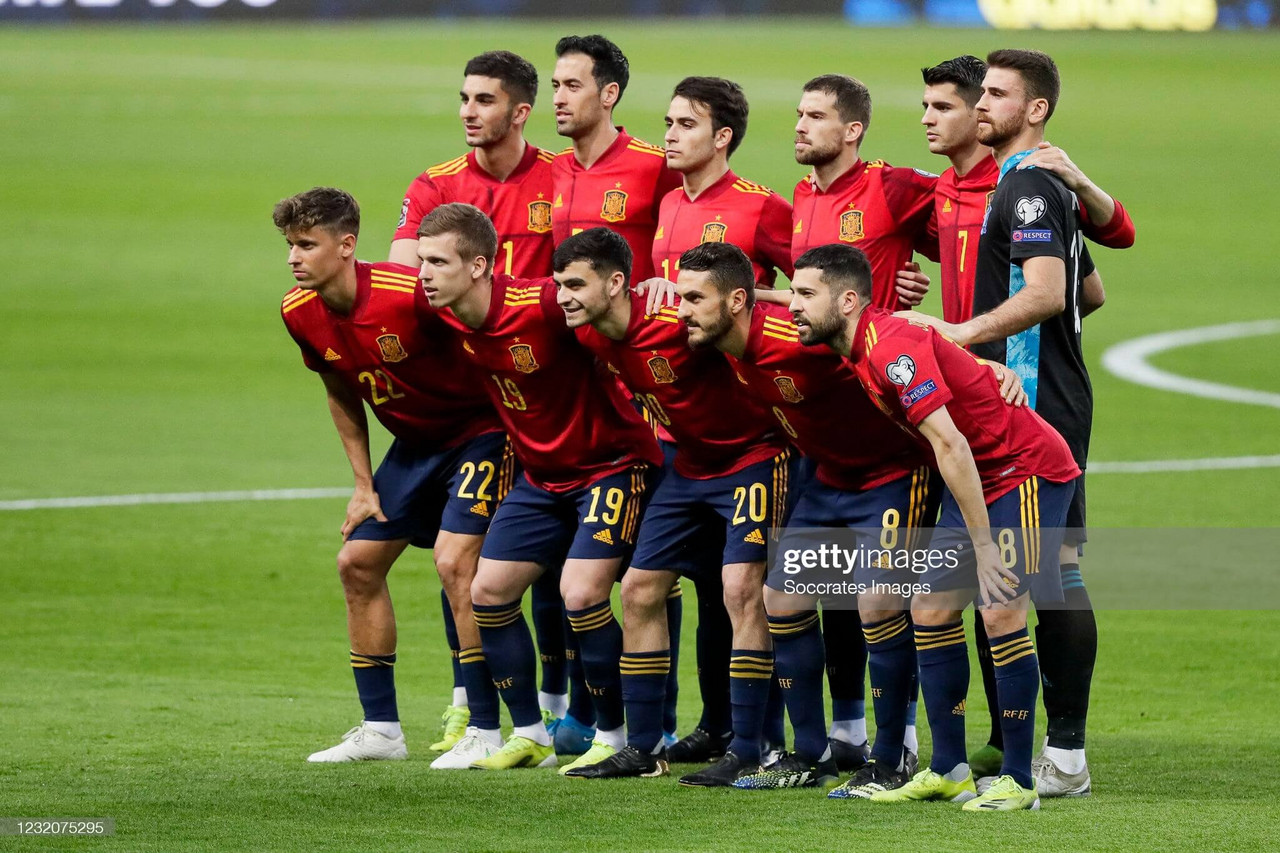 Spain enter into this European Championship in a state of change. This is not the team, or squad, that won consecutive Euros in 2008 and 2012 or the nation's first World Cup in 2010. Neither is it the same cohort that fell short in the last version of this competition five years ago or the World Cup in 2018. Instead this is a new-look Spain.
Luis Enrique has always had the ambition of revitalising the national team and when he returned to the job in 2019 he said, very much tongue-in-cheek, that his first squad list was 74 players long. However, that may not have been an exaggeration as Enrique tends to be a coach with an eye not just on talent but on form too.
That stance has led to him raising a few eyebrows with his 24-man squad for this tournament and the players who he has left out has created more headlines than those who he's included. Picking just 24 players in the first place, rather than the 26 which Uefa are allowing, was a decision that instigated debate.
Busquets tests positive
A snag in preparations, and possibly a flaw in Enrique's thinking, came to fruition with Sergio Busquets, Spain's captain, needing to isolate on Sunday after testing positive for Covid-19. A spell outside the national team bubble now looks likely which is far from ideal just a week away from Spain's first game in the competition.
What is clear, however, is that Enrique wants to break from the past, albeit a successful one, and seriously refresh the national team. It is with that method that he sees Spain challenging the other big nations such as France and Portugal for this latest title.
"I would love to have a starting XI that everyone could reel off from memory but that's not the situation we're in at the moment," Enrique said a few weeks ago. His squad features no player from Real Madrid for the first time. That means Sergio Ramos will miss his first tournament in 15 years and raises a doubt as to whether he will be called up again and may miss out on becoming the record appearance-maker.
There was no sentiment in the announcement of the squad this time; Jesus Navas also didn't make the cut and neither did Iago Aspas who has played a wonderful season for Celta Vigo.
New names, new faces
Instead, this is a squad of inexperience and youth and is drawn from 17 different clubs around Europe including unusual outposts such as Brighton & Hove Albion, Wolverhampton Wanderers and RB Leipzig. There is a sense that this tournament comes a little too early for a lot of the players who will be experiencing their first tournament.
"This is a young national team with a good future but maybe not yet," said Miguel Angel Diaz, who follows the national team for radio station Cadena Cope. "Spain can beat anyone but they can be beaten by anyone too."
That was apparent when Spain inflicted a humiliatingly 6-0 defeat on Germany in the Uefa Nations League last November but have since been held to a 1-1 draw with Greece and had to come from behind to beat Georgia in the final moments of a World Cup qualifying match.
Given such unpredictability, Diaz believes that "it would be a success to reach the semis, you have to be almost perfect to win the tournament and Spain lack a bit of cohesion and experience."
There are good players, however, at Enrique's disposal: Cesar Azpilicueta has just lifted the Champions League as Chelsea captain; Pau Torres, one of Europe's most promising defenders, helped his hometown club Villarreal win their first ever title with Gerard Moreno, their striker, scoring in the final and showing why he is the best forward in Spain at the moment; Marcos Llorente and Koke have been instrumental in Atletico Madrid's first La Liga triumph in seven seasons; and 24-year-old Mikel Oyarzabal captained Real Sociedad to their first trophy since 1987.
Clearly, a lot of Spain's squad are in good form, something which Enrique attempts to draw on and will continue to do so as the tournament progresses. There was a sense that a drawn-out loyalty to the golden generation was holding Spain back from progressing once more; the exit to Russia on penalties at the round-of-16 stage in the 2018 World Cup being a case in point.
There is, however, an argument that Enrique has gone too far too soon and the absence of some familiar faces may cost the national team. "There are players in this national team who could walk along Las Ramblas or Puerta del Sol and no one would recognise them," says Alfredo Relano, a long-time columnist and editor for newspaper Diario AS. "This generates distrust," he believes.
The additions of Robert Sanchez, the Brighton goalkeeper, Aymeric Laporte, who changed loyalty from France to Spain in order to get a call-up, and Eric Garcia, who has rarely played this season for Manchester City before joining Barcelona on a free transfer this summer, are all decisions which have been picked up on and analysed in the Spanish press in the build-up to the big kick-off.
Creating chances may hold Spain back
Apart from the uncertainty of youth, the main limitation of Spain in recent months has been their lack of creativity in front of goal. It's a theme that stretches back to the World Cup in Russia and even before then. Spain still usually play in a 4-3-3 formation and may even do so with a false No 9, and the commitment to having possession and pressing high up the pitch remains; Premier League-based duo Rodri and Thiago Alcantara are key to that.
Yet, there is a conscious attempt to try and arrest the predictable, academic approach that sees possession kept without much being done with it. The Spanish team has long mirrored the playing style of Madrid or Barcelona, but now that Real are transitioning and Barcelona are struggling to identify themselves, it has led to the national team having to reflect on how they want to get the ball forward effectively.
As with the Germany and Greece games, sometimes it works, sometimes it doesn't, which in essence brings us to Spain on the eve of this tournament. With so many new names, inexperienced players and a tournament arriving on the back of an arduous season, it is difficult to assess where Spain seem to be - no one quite knows what their true level is, who they are.
Home advantage will be important, especially given their 'host stadium' has moved from Bilbao, which for obvious reasons never particularly wanted to host the Spanish national team, to Seville. Albeit the temperatures will be unforgiving in southern Spain in late June.
It starts with Sweden next Monday evening, then Poland before Slovakia. Spain will hope to advance into the last-16 as group winners and take the knockout stages as they come. "It means a lot to have a challenge as attractive as this," Enrique said. "Seven games to be champions. We know how hard it will be but we're all really looking forward to it."