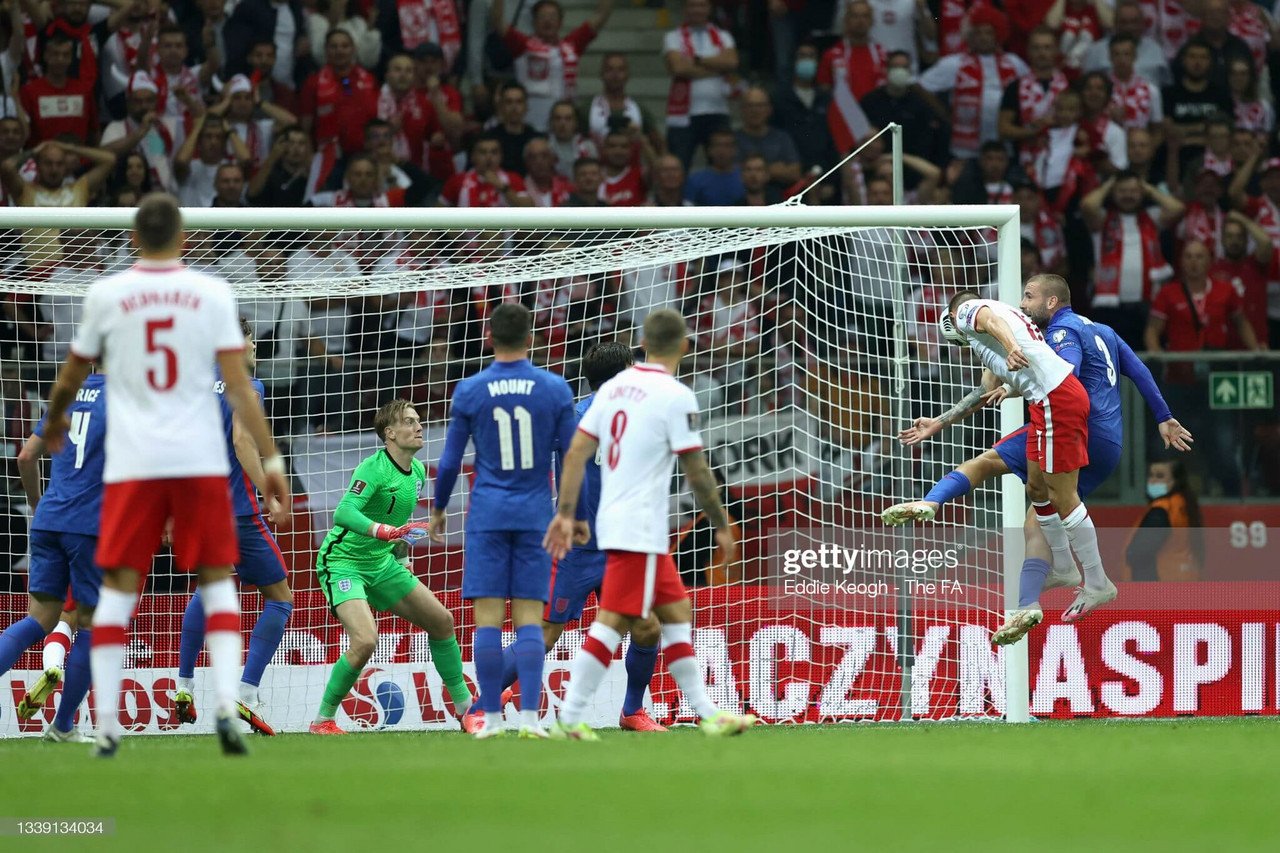 England were only two minutes away from a sixth victory from six World Cup qualifying matches in Group I after Harry Kane had struck from distance midway through the second half, but Poland rallied and mustered a late equaliser to keep their own ambitions of reaching next year's World Cup alive.
Damian Szymanski's 92nd-minute header at the back post evaded Jordan Pickford and became only the second goal that England have conceded in this qualifying campaign, the previous one was also scored by Poland at Wembley in March.
The visitors hadn't been required to defend to the same extent in which they had to in the first half but the threat of Robert Lewandowski and Poland's never-say-die attitude hinted at a possible late twist. Gareth Southgate didn't make any substitutions and claims may be made that his players were flagging by the time Poland equalised after a match of high intensity.
A draw will do little to dampen England's momentum along the road towards Qatar but still frustrations will linger at how they allowed a hard-earned victory, and professional performance in difficult surroundings, slip out of their grasp.
Story of the game
England reverted back to the first choice starting line-up after the wholesale changes made for the kickabout with Andorra at Wembley on Sunday. Meanwhile, Poland's hopes of upsetting their in-form opponents rested on the shoulders of Lewandowski, who had already managed six goals in five qualifying games.
It was the home side who pressed that bit more urgently in the opening exchanges and appeared emboldened in the 3-5-2 formation that Paulo Sousa has instilled in his charges since becoming manager earlier this year. They had seriously pushed England in March and only succumbed to a late Harry Maguire winner at the death.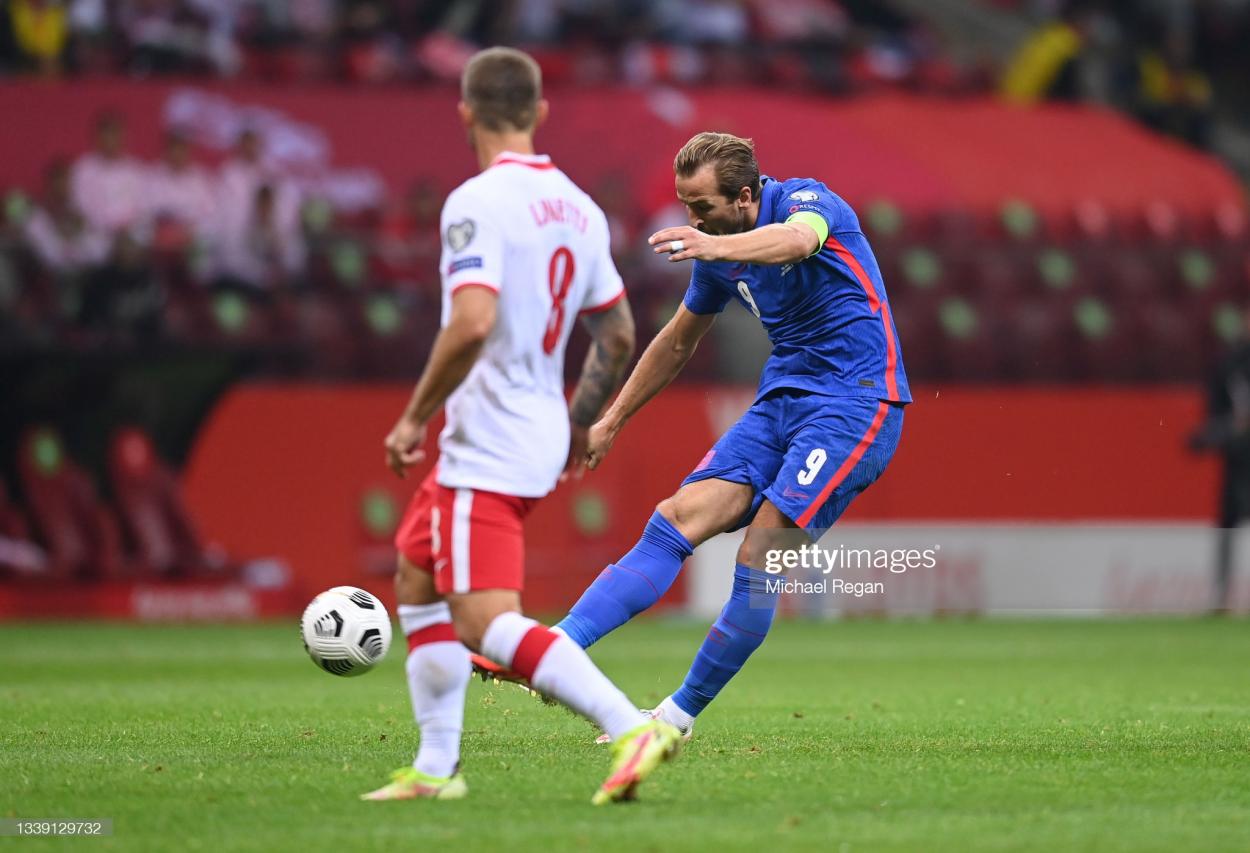 The tempo was quick and when Kalvin Phillips was booked for an accidental stamp on Tymoteusz Puchacz it was clear that the partisan crowd was going to have an impact on German referee Daniel Siebert. Tempers were never too far from boiling point albeit clear goalscoring chances never rose to the surface.
Karol Linetty lobbed through for Lewandowski and he got in front of Kyle Walkerbut his finish was tame. England couldn't manage much better as Declan Rice tried to stamp authority in midfield but the outlet up-field was too often lacking. Raheem Sterling sped past Puchacz and crossed for Kane but he could not direct his header properly.
Red mist descended as the half time whistle sounded when players from both sides came together after it appeared Kamil Glik had raised a hand into the face of Walker before the final set-piece of the half. Maguire took up the issue with the Poland defender as the players were walking towards the tunnel and ended with both seeing a yellow card from the German official.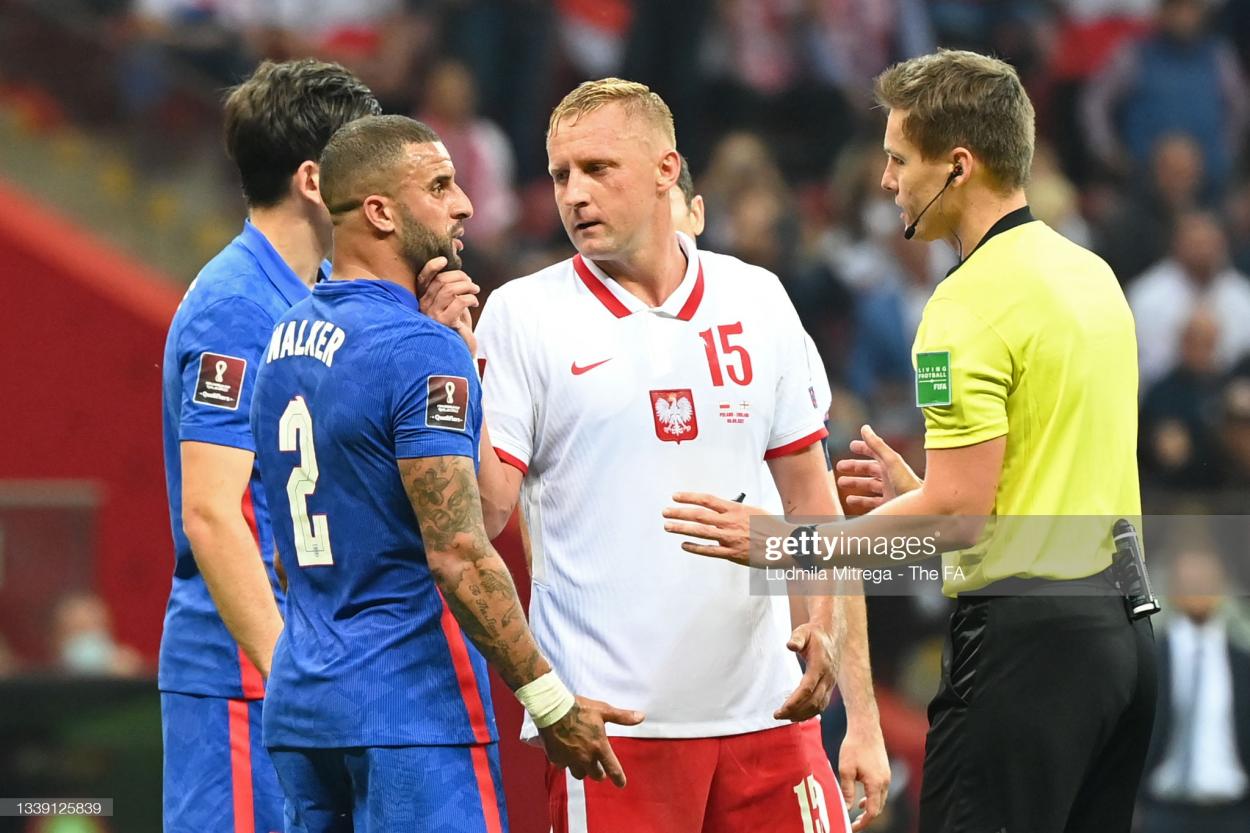 Sousa's side had succeeded in making the match a battle, disrupting England's play. There was a lot of chasing back and tackles sprouted all over the place. One of them led to a free-kick that saw Maguire hit the post with a header, as he powerfully met Luke Shaw's cross.
The home side were making it so awkward that England really required a flash of inspiration, some individual brilliance. That came via the right boot of Kane. The England captain had experienced a rather quiet evening until then, often dropping deep and at one stage even right back as he tried to influence England's build-up rather than end product.
In the 72nd minute he suddenly fancied his chances at moving up to fourth in England's top-goalscoring charts and took aim from 30 yards out. His shot swept past Jan Bednarek before bending away from Wojciech Szczesny and into the left corner of his goal. It silenced the crowd and the fact that a Tottenham Hotspur striker had beat a former Arsenal goalkeeper was not lost on the north London marksman who has now scored in 15 consecutive international qualifiers.
If England's game until that point had been professional in dealing with their toughest assignment of Group I to date, then they simply had to match their application from the first half and withstand any late Polish pressure to ensure a six successive win in the group.
Pickford almost allowed Poland in when he took too long in clearing his lines on the edge of his area with substitute Karol Swiderski charging it down and the rebound coming close to evading the England goalkeeper who scurried back to his goalline to collect the loose ball.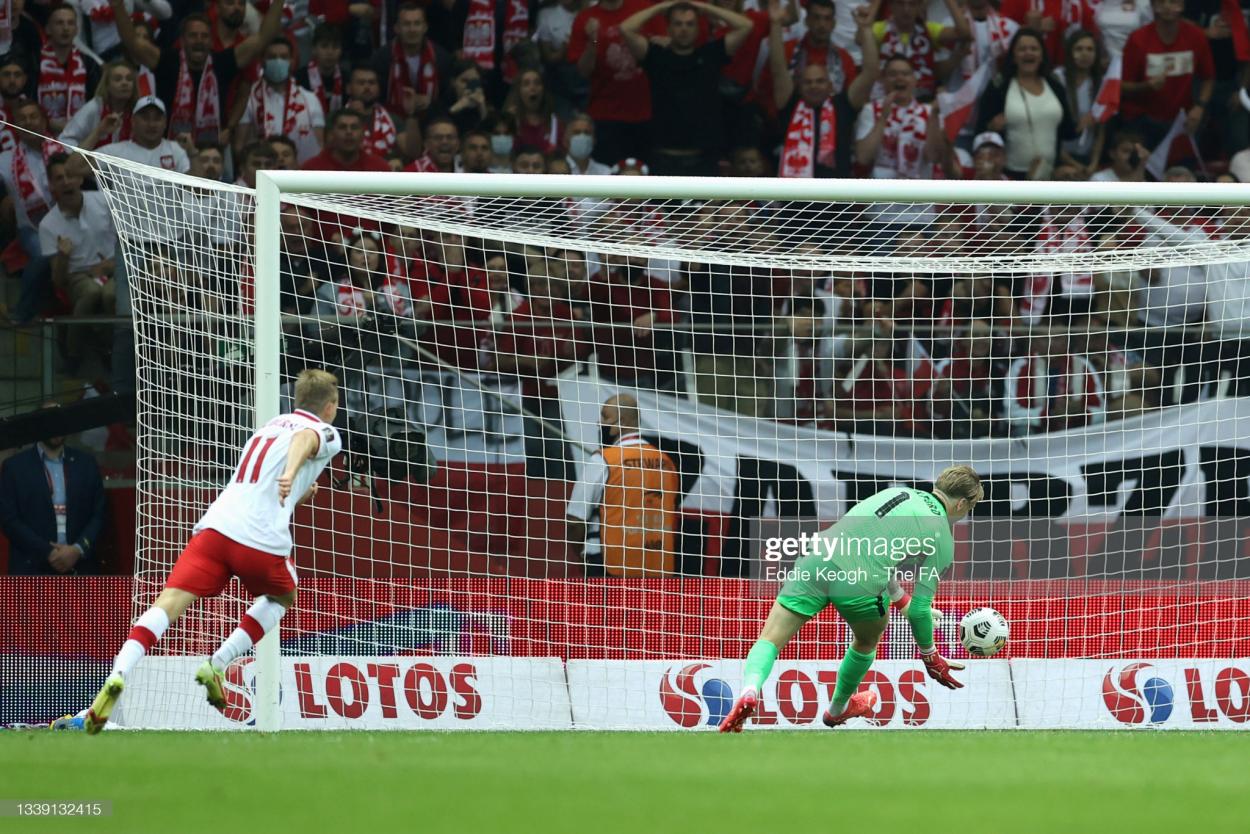 Poland had nothing to lose at this stage and threw everything at continuing the hope of progression to the qualification play-offs. England were flagging; should Southgate have freshened up his side after such a trying match? With quality of the likes of Lewandowski around then few teams can afford to drop off so candidly.
The Bayern Munich striker hadn't seen much of the ball in dangerous situations during the 90 minutes but it fell to him on the left of the area after a few ricochets. Into the area he chipped a cross which was well balanced but more in hope than anything else with the clock now showing fewer than 180 seconds of stoppage-time left to play. Up rose Szymanski to crash a header home and send Warsaw into delirium.
Takeaways
Kane on target again
For the 15th successive international qualifier Kane found the net for England and showed once again why he is so valuable to Southgate's side. In truth, his evening until the 72nd-minute strike that almost knocked Bednarek over before bending away from Szczesny was rather non-descript.
He found himself in much deeper positions, as he often does for both club and country these days, and trying to influence England's build-up play rather than being in the area to finish moves off. The service that was fed to Kane wasn't anything to write home about either as the game developed into a battle and once in which England's maturity was tested.
Yet, when required, Kane let rip and gave England the lead. His 41st goal for his country took him above Michael Owen and into fourth place in the all-time goalscoring charts for the national team. Given that Kane has many years ahead of him still, there is every chance that he will rise to lead those standings before his international career is out.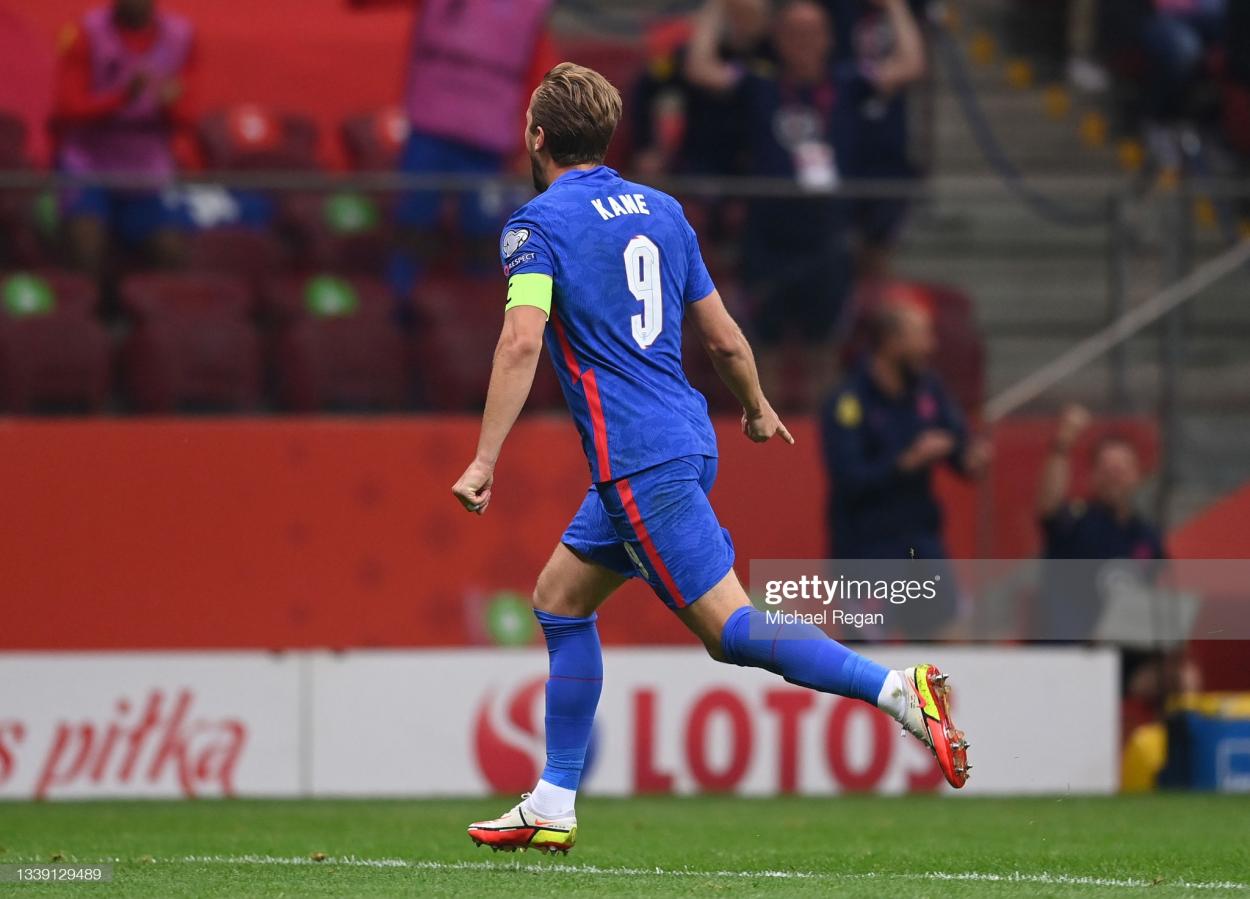 England's discipline severely tested
Phillips received a booking within the first 10 minutes for an accidental misplacing of his foot when trying to step over the ball. Playing 80 minutes with a yellow card, especially in a position as combative as central midfield, is never easy but the Leeds United player managed it well.
Poland made this game very aggressive with a high tempo. But in a sign of England's growing maturity on the pitch they performed professionally during a first half of few clear chances but plenty of tackles and even better in a second half which they dominated and scored in before conceding at the death.
The partisan home crowd got in the referee's ear and that told by Maguire joining Phillips in the book before half time. England were upset with a few of the challenges that the home side were dishing out and tempers simmered for much of the game, but it was a testament to England that they kept their heads in such a testing environment.
Key Quotes
Southgate defended his decision not to make any substitutions in the latter stages of the game after England were pegged back by a last-minute equaliser. A change or two would have refreshed the side which visibly flagged after taking the lead through Kane midway through the second half. Or at the very least, a substitution late on would have caused a break in play to hamper Poland's rising rhythm.
"We were in total control of the game and to bring players into that moment when everyone was performing to a good level and we were in control of possession, you can put players into the game who've had to sit in the stand and it's not easy to come in in those latter stages," the England manager said.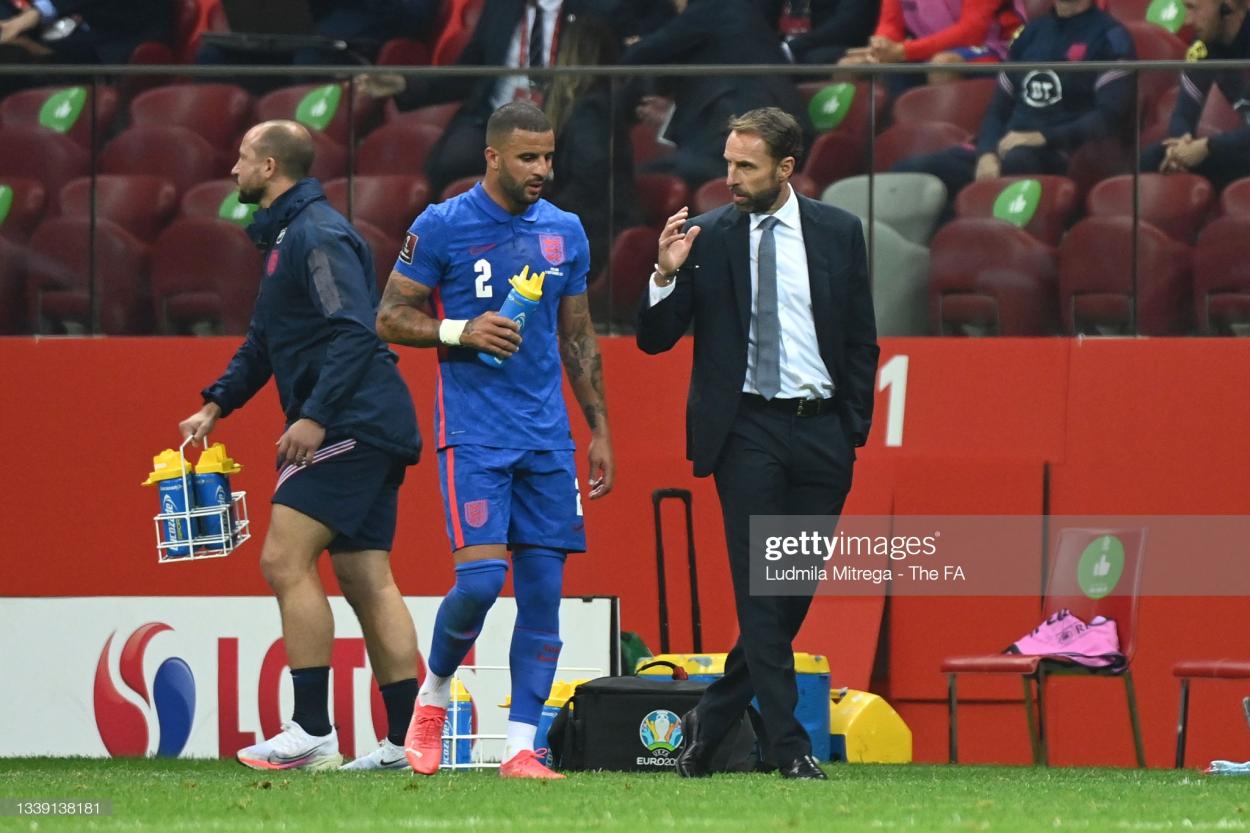 "There were a couple of moments we looked at it and said: 'No, we're doing well, no problem.' We were going to refresh the wide players right at the end but that would have been to wind the clock down more than anything, but before we could get them in we conceded and it wasn't a good time to make a change."
Despite the draw, England remain top of Group I and are set to secure qualification for next year's World Cup, but that didn't provide solace for Southgate who rued the late slip and the disappointment it brought. "We knew that if we could win we were pretty much in Qatar," he said. "We could've been in an even stronger position, so that is a disappointment."
The England manager also hinted at frustration with some of the officiating during the game and the lack of protection that his players received on the back of a high tackle count from the Poles.
"I don't know what the tally was but I thought the three forwards for us were fouled a lot," Southgate said. "Sometimes when you give an early yellow card, that means that the defender can't make further challenges or the next one's a red card, and both of those things might have been possible. I was a bit surprised at times, but it's gone."
Teams
Poland: Szczesny; Dawidowicz, Glik (Helik 80), Bednarek; Jozwiak (Frankowski 80), Linetty, Krychowiak (Szymański 68), Moder, Puchacz (Rybus 80); Buksa (Swiderski 63), Lewandowski.
England: Pickford; Walker, Stones, Maguire, Shaw; Phillips, Rice; Sterling, Mount, Grealish; Kane.
Referee: Daniel Siebert (Germany).