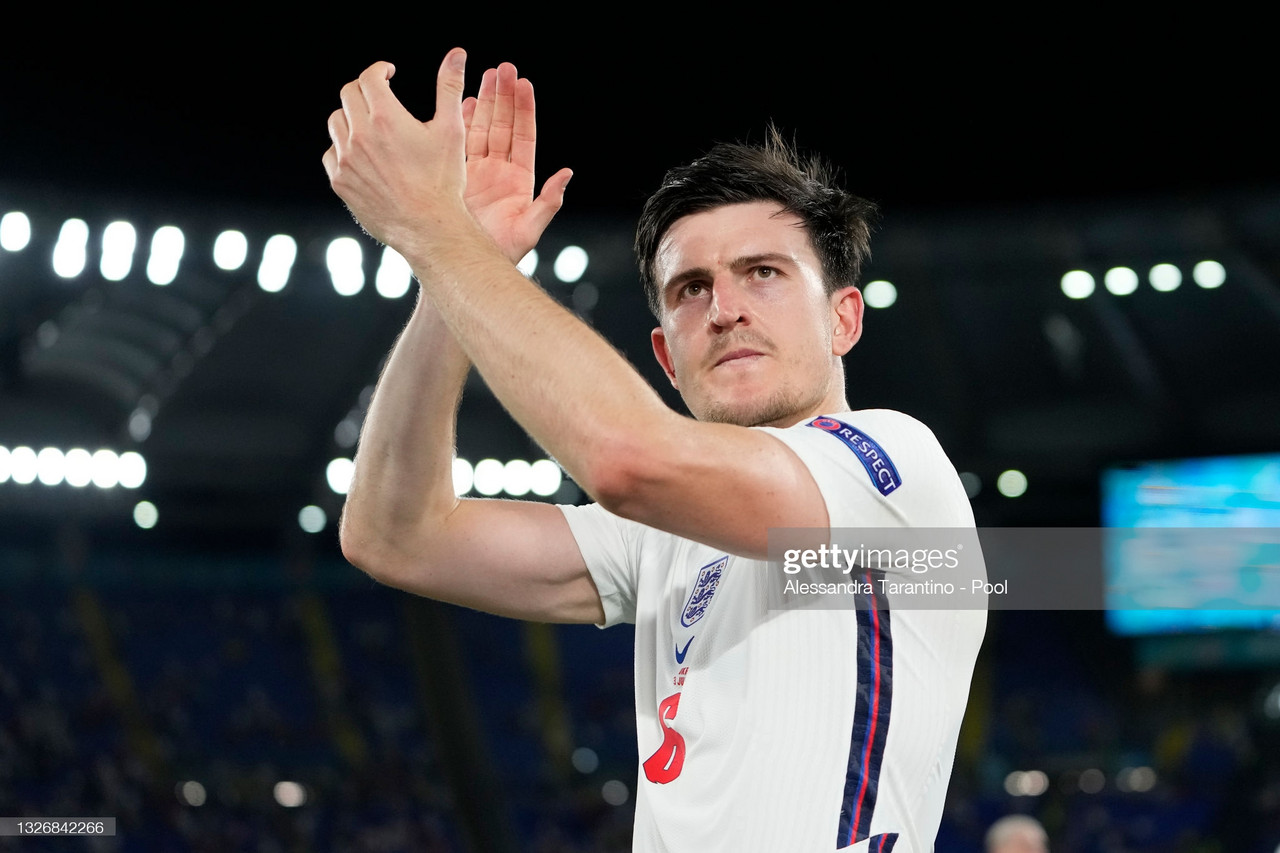 If you had been living under a rock for the two months preceding the European Championship, and were tuning into England hosting Czech Republic in the third group stage fixture for Gareth Southgate's men, you would be forgiven for not recognising that a major development had taken place within the first-choice eleven.
Not Bukayo Saka's excellent outing, though that was noteworthy. On this occasion, it has been the seamless return of Harry Maguire, whose absence with damaged ankle ligaments threw Manchester United's end to the season off-course, with the captain absent from their Europa League final defeat against Villarreal.
Why Maguire's return was remarkable
An ankle injury this close to the summer's international competition would usually rule a player out of the tournament, especially considering such player is a centre-half and requires cohesion to operate. Not Maguire. Southgate's immense trust in the United skipper meant that he was a certain member of the 26-man squad; regardless of whether he would feature, he would be a key figure in dressing room morale and leading the squad from the sidelines.
It's a similar tactic that Southgate employed with Jordan Henderson. The Liverpool captain has been used sparingly this summer, with only a few cameos from the substitutes bench – his effort in Saturday's quarter-final was marked with his first international goal. But Henderson's dressing room leadership as vice-captain of the group was more valuable to Southgate than an extra creative player like Jesse Lingard or a workhorse such as James Ward-Prowse, who have not been missed by England despite pre-tournament fears.
But Maguire was predicted to be fit in time for the knockout rounds – and even returned to full fitness prior to England's clash with Scotland in the second matchday of Group D. However, Southgate wanted qualification to be secured before throwing his best centre-back to the wolves, as he did against the Czechs.
How did Maguire cope? Like he always does, professionally and capably. He didn't take unnecessary risks, aware that aggravating an injury like this would end his tournament. He let John Stones – arguably the most underrated cog in England's machine – do the hard yards of defending with the United defender looking calm and collected, conducting his duties efficiently and growing a sense of cohesion with his back-line as well as the rest of the side.
As admirably as Tyrone Mings had deputised in Maguire's absence, England's chances at achievement at this tournament became a lot better when the United skipper returned to the fray. Maguire was excellent again against Germany – another display of trust from Southgate in the Three Lions' biggest fixture of the tournament so far, though a back-three did give him ample security; and once more against Ukraine in the quarter-final.
The quarter-final, in particular, was a strong outing for the Sheffield-born defender, with a powerful header just after half-time seeing him net yet another goal for England at this stage of a competition. Maguire had previously netted a similar effort against Sweden in the World Cup in Russia three years ago.
A match made in heaven.@HarryMaguire93 🤝 quarter-final goals pic.twitter.com/1CyUDmZyug

— England (@England) July 3, 2021
Returning from an injury like damaged ankle ligaments is particularly difficult for a defender given the importance of jumping reach and agility to cope with quick attackers, but if Maguire has had an adverse reaction from his run of games in the first-team, then he hid it from the public extremely well.
Can the centre-back yet be considered world-class?
While there has definitely been bafflement in the past over the expensive £80 million that United paid for the former Leicester City centre-back, his absence from the last few games of the season, including that Europa League final was validation of his worth to the squad. And that worth carries on into his importance for his nation, which is recognised by his manager.
"We have total belief in him" said Southgate after Maguire was sent off last autumn, in England's previous meeting with Denmark. The manager trusts Maguire, with that trust being reciprocated on behalf of the United captain; trust which is only a facet of what makes Maguire a truly world-class defender.
His price tag has drawn inevitable comparisons with that of Virgil van Dijk, who cost fractionally less than Maguire, but the difference in style between Liverpool and United makes this a difficult assessment to make. Both teams play different styles of football, both sides contain different players and have different relationships; it's unfair to compare two different types of defenders.
Maguire hasn't won a UEFA Champions League or a Premier League winners medal like his Dutch counterpart, but his experience in a progressive squad and a mismatched and inconsistent defence at Old Trafford has given him the experience to be considered a quality defender.
The ability that Maguire has shown from his time with Leicester and in his spells in the England squad also contribute to his top-class skill, with the ball at his feet and coming to meet his man. The notion that he is sloppy defensively should now be considered purely a myth, as his work with a decent defence and a strong midfield has shown his level, which should now be considered in the world-class tier.
Indeed, the ability to seamlessly adapt to the highest level of international football from a difficult injury, without even a sign of the injury, should be testament to his work-rate, determination, and class.