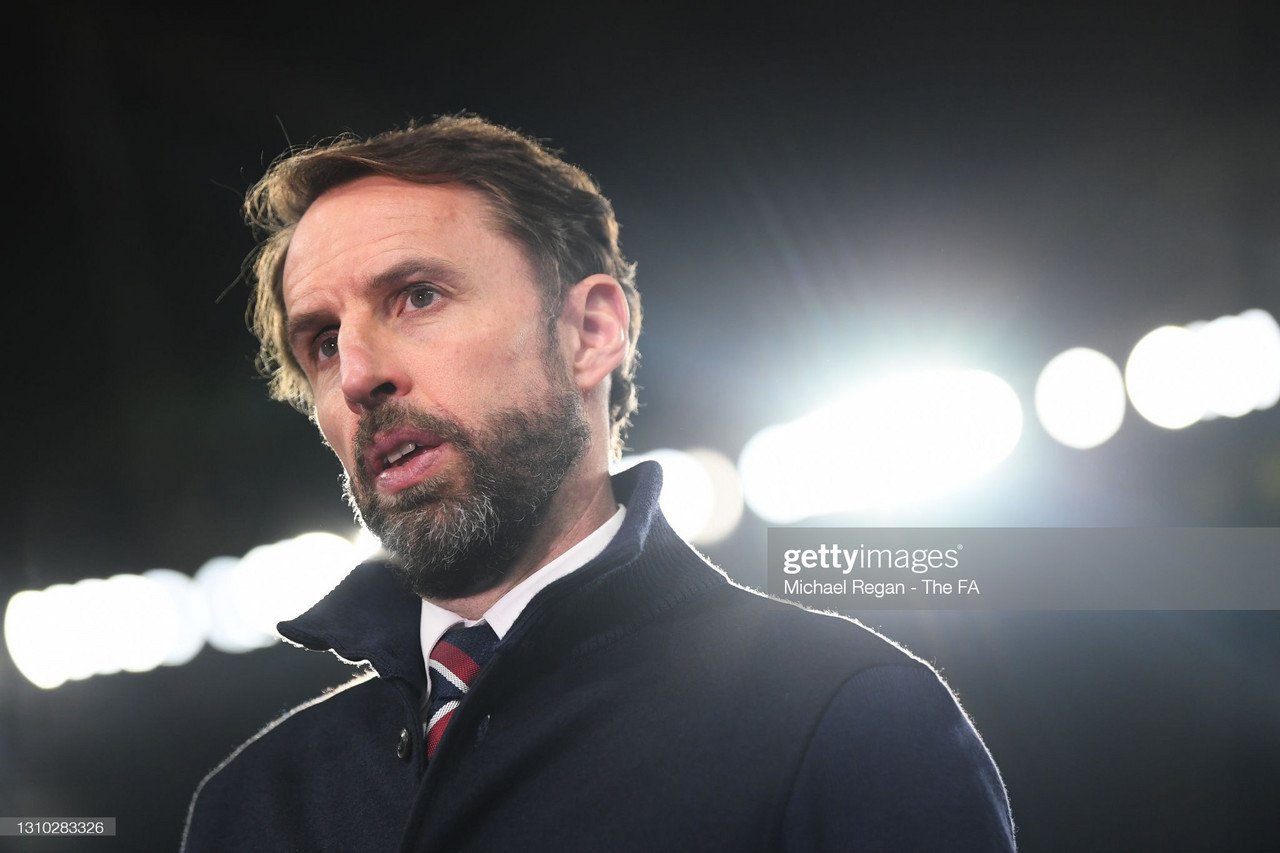 The news of Gareth Southgate's enormous 33-man provisional squad for the upcoming European Championships shocked many, but there are key questions that could shape how England line-up this summer. There are plenty of key battles in the provisional squad, with Southgate having a week to whittle his squad down to the maximum of 26.
The size of the provisional squad is supposed to account for any injuries in this week's European finals, with English sides Manchester United in the Europa League final - and an all-English Champions League final - as Manchester City take on Chelsea. Twelve of Southgate's men will be in action in some capacity this week, with the England manager likely to be watching both finals from behind his fingers.
If all 33 men are available on June 1st for the full tournament, which are the key battles to look out for?
Ben Godfrey and Ben White vs Tyrone Mings and Conor Coady
The inclusion of Godfrey and White came as a shock to many, with perhaps a question of whether other English centre-backs deserved a call-up, such as Ezri Konsa from Aston Villa or Fikayo Tomori, the AC Milan centre-half on loan from Chelsea. Konsa's familiarity with Mings would have made him a decent option, with the Villains enjoying an impressive second season back in the Premier League.
While White has had two great years for Leeds in 2019-20 (while on loan from parent club Brighton), and with the Seagulls this year, his selection causes some head-scratching as his club were fighting relegation for most of this season.
🗣 "They're both exciting young defenders, they are others we are also looking at, Konsa has had a good season & Fikayo has done well at Milan."

🏴󠁧󠁢󠁥󠁮󠁧󠁿 Gareth Southgate on selecting the uncapped players Ben White & Ben Godfrey in his provisional squad pic.twitter.com/nrrIDG4BMK

— Football Daily (@footballdaily) May 25, 2021
After a good year at Everton, Godfrey makes sense, but making the provisional squad could be more of an opportunity for experience with the set-up at St George's Park.
Coady's consistent selection for the first-team has been questioned by many, but with the Wolves captain more likely to slot in as depth for the starting two of Harry Maguire and John Stones, his experience and leadership will be useful in a knockout tournament.
Expected winners: Mings and Coady
James Ward-Prowse vs Jesse Lingard
While Ward-Prowse and Lingard are different positions, they are both square pegs in a round hole when considering how Southgate will set up his England squad. Both are creative, but Lingard enjoys his role further up the field, with Ward-Prowse more of a traditional centre-midfielder.
With Jordan Henderson looking to be a doubt after missing the end of the Premier League season through injury, Ward-Prowse makes more sense as an orthodox box-to-box midfielder.
The Southampton midfielder is also durable - not missing a single minute of football for the Saints in two seasons.
🏃‍♂️ 😇 👏@SouthamptonFC captain @Prowsey16 hasn't missed a single minute of #PL football in either of the last two seasons

If he plays 90 minutes in #WHUSOU, he'll be the first midfielder to play every minute in consecutive campaigns pic.twitter.com/El0Lp2TT34

— Premier League (@premierleague) May 23, 2021
And, of course, the midfielder offers a threat from set-pieces, with ten direct free-kicks being scored by the Englishman in his Premier League career. For reference, Cristiano Ronaldo scored eleven, while Thierry Henry netted twelve from direct free-kicks.
Despite the positives of Ward-Prowse, Lingard's season at West Ham United can't be ignored. After moving to London on loan, he burst back onto the scene, scoring nine goals and setting up four more, and deservedly securing himself a spot back amongst the England side for March's World Cup qualifiers.
However, he was used out wide during those matches rather than in the hole behind the striker during those matches. If Lingard is to play for England this summer, he'd be used out wide rather than as a midfielder, unless Southgate reverts to the 3-4-1-2 formation used at the 2018 World Cup, which only seems likely for games against stronger sides in the competition. Even then, Southgate should probably look towards Mason Mount or Phil Foden before Lingard.
Unfortunately, James Ward-Prowse's set-piece ability and leadership edges over Lingard's creativity, especially if Henderson's absence is longer than initially believed.
Expected winner: James Ward-Prowse
Bukayo Saka vs Mason Greenwood
This isn't too difficult for me, but I can see why Bukayo Saka has been included after a strong season for Arsenal despite his club's frustrations on the pitch.
Saka is creative on the wings, being the only bright spark for many weeks of Arsenal mediocrity. With regards to intangibles, this could be a game-changer for England. If the rest of the squad underperform, Saka has the potential to be the ace-in-the-deck; a spark that can lift a team. His ability to play as a left-back is also advantageous, but if he ends up playing in that position in the European Championships, something has gone wrong for England.
Greenwood has enjoyed a wonderful end to his campaign, with six goals in his last ten games. Whisper it quietly, but the forward is also England's best finisher, outside of Harry Kane.
Greenwood could come off the bench and offer the same impact as Saka, lifting an uninspiring team performance and potentially giving the side a different weapon in the closing stages. He's also a good free-kick taker and could certainly slot home a penalty - if that situation were to emerge.
For me, Greenwood's exceptional finishing edges Saka's versatility - but inclusion for Saka wouldn't surprise me either.
Expected winner: Mason Greenwood
The Royal Rumble of England right-backs
If Southgate was looking for a reaction from Trent Alexander-Arnold, he certainly got one.
His exclusion from the last England squad obviously sparked a fire in the right-back's belly, as his end to the season was inspiring enough to help Liverpool to a third-place finish in the league.
It's hard not to see where Gary Neville was coming from - when asked to argue for Alexander-Arnold's exclusion from the final squad. However, his defensive vulnerabilities are certain to be exploited by the talented front-lines of the likes of France, Germany or Portugal - or even by Croatia in the first outing at Wembley.
A stronger defensive option would be Kyle Walker or Reece James, though the latter still leaves much to be desired given his relative inexperience at the highest level. With the squad expanded to twenty-six, Southgate should be expected to remove one of his four provisional selections.
But removing Kieran Tripper would be controversial, after a wonderful season for La Liga champions Atletico Madrid. The Spanish giants could tell when Trippier was missing from the side, and his tournament experience gives him an edge.
GOAL! Kieran Trippier scores for @England with a fabulous free-kick! pic.twitter.com/WRQctKZakk

— ITV Football (@itvfootball) July 11, 2018
Honestly, is taking Alexander-Arnold worth it if he doesn't start over Walker as first-choice right-back? If England set up with a back-three, then he could be selected at right-wing-back, with Walker as a third centre-half. But even then, how often are England likely to use such a strategy?
Alexander-Arnold should be selected if Southgate plans to start him every game due to his attacking ability in comparison to the rest of the squad, his technical ability on the ball and, once again, his set-piece ability. But if he isn't likely to start, could his spot not go to another midfielder? Or a forward?
Overall, I think Southgate does select Alexander-Arnold, but at the expense of the talented Kieran Trippier.
Expected winners: Kyle Walker, Trent Alexander-Arnold, Reece James
A winning England squad requires winners, leaders and technical quality. The best England sides, across sports, were renowned for their determination and leadership - tournament winners are always crowned based on intangibles as well as on-field brilliance.
To that end, I think the final twenty-six man squad will look something like this:
Goalkeepers: Dean Henderson, Jordan Pickford, Sam Johnstone (3)
Defenders: Kyle Walker, Trent Alexander-Arnold, Reece James, Harry Maguire, John Stones, Conor Coady, Tyrone Mings, Luke Shaw, Ben Chilwell (9)
Midfielders: Declan Rice, Kalvin Phillips, Jude Bellingham, Jordan Henderson, James Ward-Prowse, Mason Mount (6)
Attackers: Jadon Sancho, Raheem Sterling, Marcus Rashford, Jack Grealish, Harry Kane, Dominic Calvert-Lewin, Phil Foden, Mason Greenwood (8)