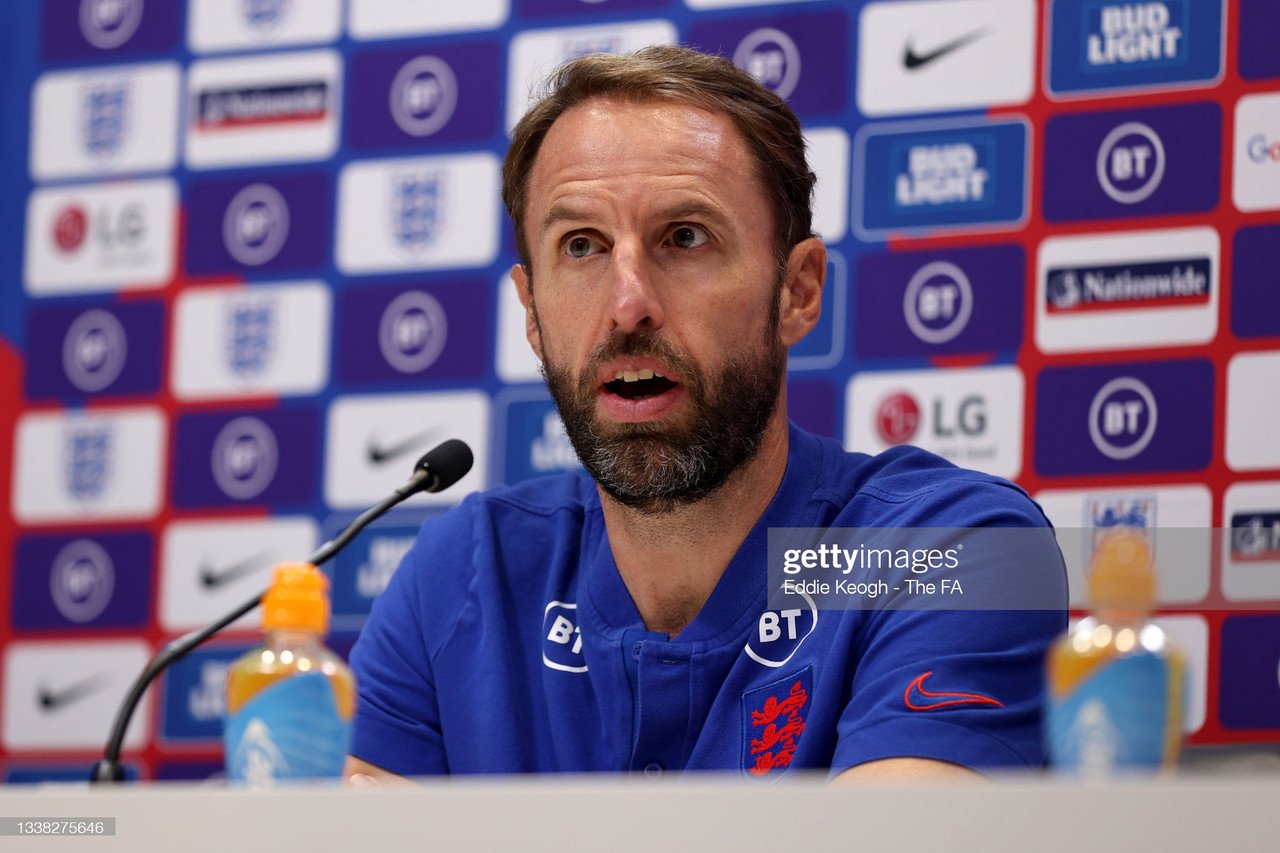 England manager Gareth Southgate spoke to journalists regarding his team's preparation for their World Cup Qualifier match against Andorra.
He gave an update on team news, how the squad deal with racist abuse towards players, a potential debut and being back at Wembley Stadium for the first time since the Euro 2020 final.
These are the five key things that the England boss said in his press conference yesterday...
Sancho Injury
'Well, it's disappointing for Jadon [Sancho] first and foremost because these opportunities to play for England are obviously important and cherished, and we've only got another five camps before a World Cup so for him not to be able to play is a disappointment.'
'But we've got a strong squad and we've got other players who are in good form and playing well so in terms of the depth we're in a good place.'
An update from the #ThreeLions camp...

— England (@England) September 4, 2021
The loss of Jadon Sancho to an injury is evidently something Southgate, nor the player himself, would've wanted, especially as, like the manager said, there's not many opportunities to impress for your country before major tournaments.
However, in the short term, the quality of the rest of the squad means for the two remaining matches England will still have plenty of highly-rated players available to start in his place.
How players can impress
'I think every time we train, every time we work together there's a level of performance that's expected ... we've seen that since we got together again on Monday.'
'You've got to set the standards and there's got to be a level of focus and humility ... they're important qualities as it means the talent we have comes to the fore.'
Southgate's slightly different answer to the typical response to such a question shows his alternative way of thinking and evidently encourages the players to not only work hard physically but also mentally.
He will hope that this sort of attitude training means that, in the tough situations, the players have the necessary frame of mind to put in their best performance.
Possible Bamford Debut
'Of course it's a special moment for him and for his family ... you always think about people that have helped you on that journey when you get these opportunities.'
'We just want him to go and enjoy his football ... we know what he's capable of and we're looking forward to seeing him play.'
"We know what he's capable of and we're looking forward to seeing him play."

The boss on @Patrick_Bamford... 👊 pic.twitter.com/d2BP2T7XYz

— England (@England) September 4, 2021
Patrick Bamford will be hoping that he gets his chance to make his first cap for his country against Andorra and judging by Southgate's comments that appears relatively likely.
The Leeds striker is evidently admired by the boss and, while being a backup to Harry Kane can never be easy, he will certainly want to grab this opportunity with both hands and make the most of it.
Racist Abuse
'It's something that has always happened but I think that we're more aware of it now ... so we've learned a lot from the experiences of the past and, most importantly, in our mind is to be there to support our players.'
'There's also a balance there that the lads want to get on with their football ... they want their performances on the pitch to be recognised and when they've played they want to be talking about how well they played.'
Following the racist abuse suffered by Raheem Sterling and Jude Bellingham during England's previous match against Hungary, Southgate was asked about how they deal with the abuse.
It's clear from his answer that, while the players want the issue to be known about they are, at the end of the day, footballers and they want that to be the reason they are in the papers, not because of what they have gone through.
Being back at Wembley
'As special as it is to play at Wembley, it's special to be manager of your country and to lead your team out at Wembley any time.'
'I know that we've got a fantastic crowd coming, we're quite unique in Europe in terms of the volume of support we get for our home matches and that's very special.'
Matchday back at home! 😍

🆚 Andorra
🏆 @FIFAWorldCup qualifier
🏟 @wembleystadium
🕔 5pm
📺 @ITV pic.twitter.com/pMuxJH8SxY

— England (@England) September 5, 2021
While the most recent visit to the national stadium wasn't one that Southgate will want to reminisce on at all, the excitement to get back to the 'Home of Football' was palpable.
His mention of the crowd is clearly a big factor for England, with the consistent support, no matter the importance or size of the game being steady throughout - something that will surely help the squad put in their best performance.