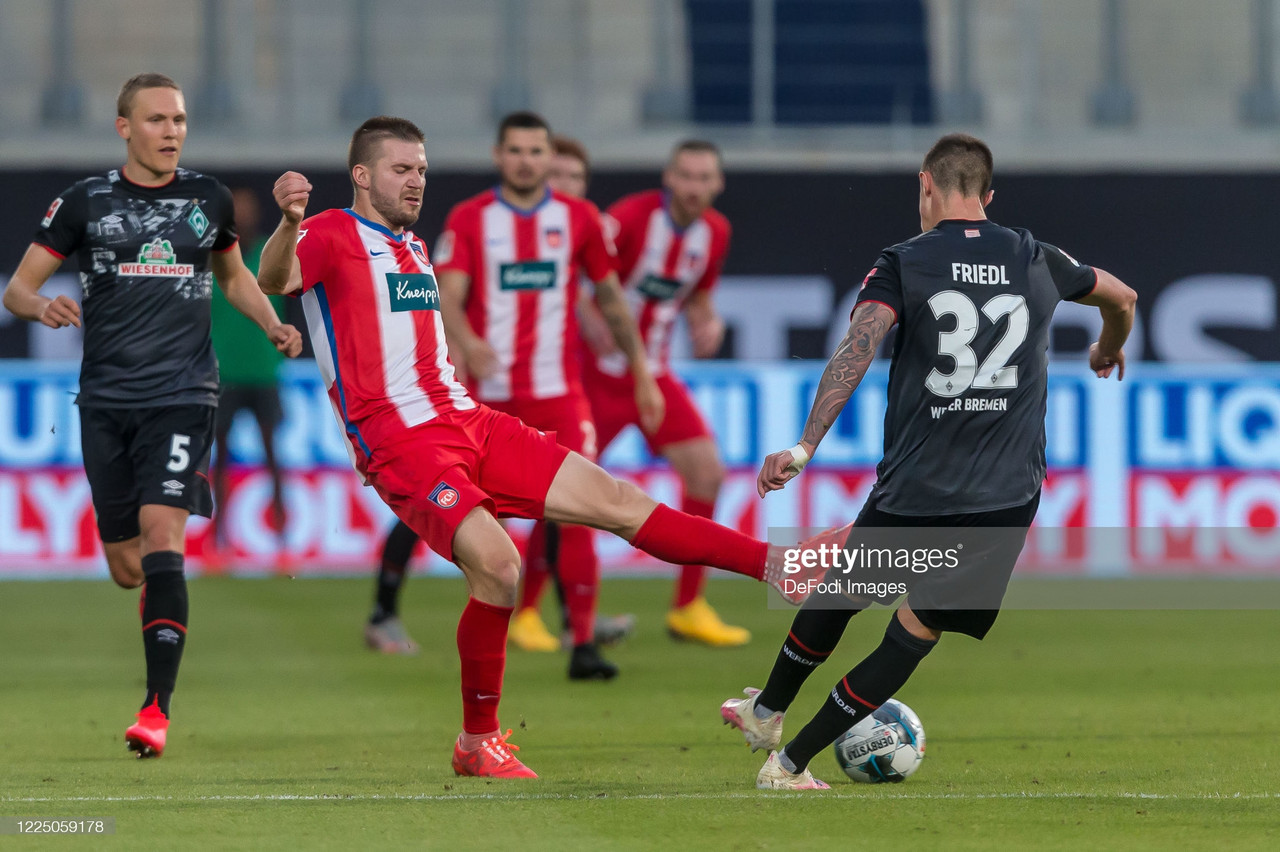 A big-time 2. Bundesliga clash with potential promotion implications takes place on Friday night as Werder Bremen hosts FC Heidenheim at the Wohninvest Weserstadion.
Bremen have been the epitome of inconsistency this season. A bit all over the place, they've won some games in dominant fashion, but they've been blown out in other ones. As a result, they currently sit in 10th place, which is way below where they would have expected to be. It's still early, of course, but there is some pressure on Die Werderaner to pick up points at this stage of the season. If they don't, then they might have too deep of a hole to dig out of come the end of the campaign.
Heidenheim have been a little better, as they are four points ahead of their upcoming opposition, and they are currently in 3rd. A tough team to play against, they've lost just one league game so far, and they've got the best defense in the second division, only conceding six goals from their opening eight games. FCH has come close to promotion recently, but there's a chance that this year will finally be the one that sees them make it to the Bundesliga.
Team news
Neither team is doing too well on the injury front.
Bremen knows that they'll be without Ömer Toprak and Christian Groß for the contest, while Leonardo Bittencourt and Felix Agu are both probably out as well since they only just returned to training.
Heidenheim, on the other hand, won't be able to call upon the services of Tim Siersleben and Konstantin Kerschbaumer, who are both hurt, while Gianni Mollo will miss out due to illness.
Predicted lineups
Werder Bremen: Pavlenka, Weiser, Veljković, Mai, Friedl, Assalé, Rapp, Gruev, Schmidt, Schmid, Ducksch
FC Heidenheim: Müller, Busch, Mainka, Hüsing, Theuerkauf, Malone, Thomalla, Schöppner, Kühlwetter, Mohr, Kleindienst
Ones to watch
Marvin Ducksch
Bremen needs a hero, and if anyone's going to step up, it's likely going to be Marvin Ducksch.
Signing from rivals Hannover 96 over a month ago, the striker has made a strong start to life at the club. He scored a brace on his debut, and then he followed up that dream performance with another goal in his next game. He also seemingly scored a spectacular free-kick in the derby versus Hamburg, but that strike was called off by the referee.
Ducksch was kept at bay last time out, and that game showed what could happen to Die Werderaner when he's not playing well. No one else was able to pick up the goalscoring slack, and the team didn't really create much going forward. The few opportunities they had mostly ended up falling to him anyway, and although he could've done better in the final third, no one can really blame him for the loss in that game.
The important thing is that he's still clearly the main man in attack. The Borussia Dortmund academy graduate was a hyped-up prospect back in the day, and even though he never reached the heights some thought he would, he's still an elite forward at this level.
He can do a bit of everything, as he's fast enough to run in behind, and he's tall enough to be a presence in the air. Combine that with his finishing ability and knack for being at the right place at the right time and you have the recipe for a consistent goalscorer.
Whether or not Ducksch gets onto the scoresheet once again remains to be seen, but if anyone is going to grab a goal for Bremen, it's probably going to be him.
Oliver Hüsing
One of the players who will be in charge of stopping him will be Oliver Hüsing.
The Heidenheim centre-back has been very solid this season, and he's a key reason why his side has the best defensive record in the league. Standing tall at 6'4", he uses his frame to win aerial duel after aerial duel. He's even helped out on the other side of the pitch, as he scored in the recent win over SV Sandhausen.
This contest will mean a bit more to Hüsing as well since it's against his boyhood club. Making the jump up to the first team from the academy in 2014, he didn't play much, which led to a loan to Hansa Rostock. When that was over, he spent a season at Ferencváros before returning to Rostock on a permanent basis.
He was back on the move just two years later, though, as he ended up joining Heidenheim, which is where he's been ever since. Luckily for the German, it seems like he's finally found a stable home for the future, which has allowed him to focus on his football.
The Bundesliga could be in his future as a result, but he needs to worry about getting one over on his former team first.
Last time out
This meeting might be of some importance, but it's not nearly as important as the last few games between these two sides.
Those took place back in 2020, when the teams faced off in the Bundesliga relegation play-off. The first leg, which took place in Bremen, was quite uneventful. There were some chances, especially at the end, but the contest ultimately ended scoreless.
That set up a captivating second leg in Heidenheim. Die Werderaner made a dream start to the match, as a screamer of an own-goal from Norman Theuerkauf put them in front after only three minutes. Heidenheim stayed in it, to their credit, and a rebound from Tim Kleindienst levelled the scoring the night, although his side were still technically behind on away goals.
Since they had to send bodies forward, they left themselves open on the break. Bremen ultimately capitalized on that, as Fin Bartels broke free on the counter before setting up Ludwig Augustinsson, who finished off the move with a shot that went in off the underside of the bar.
The hosts grabbed another goal when Kleindienst converted from the penalty spot in the final moments, but it proved to be too little too late as Die Werderaner held on to maintain their Bundesliga status for another season.
How to watch
The match kicks off at 6:30 p.m. CEST, and it will air live on Sky Sport Bundesliga 1, Sky Sport Bundesliga 2, Sky Ticket, and Sky Go for those in Germany.