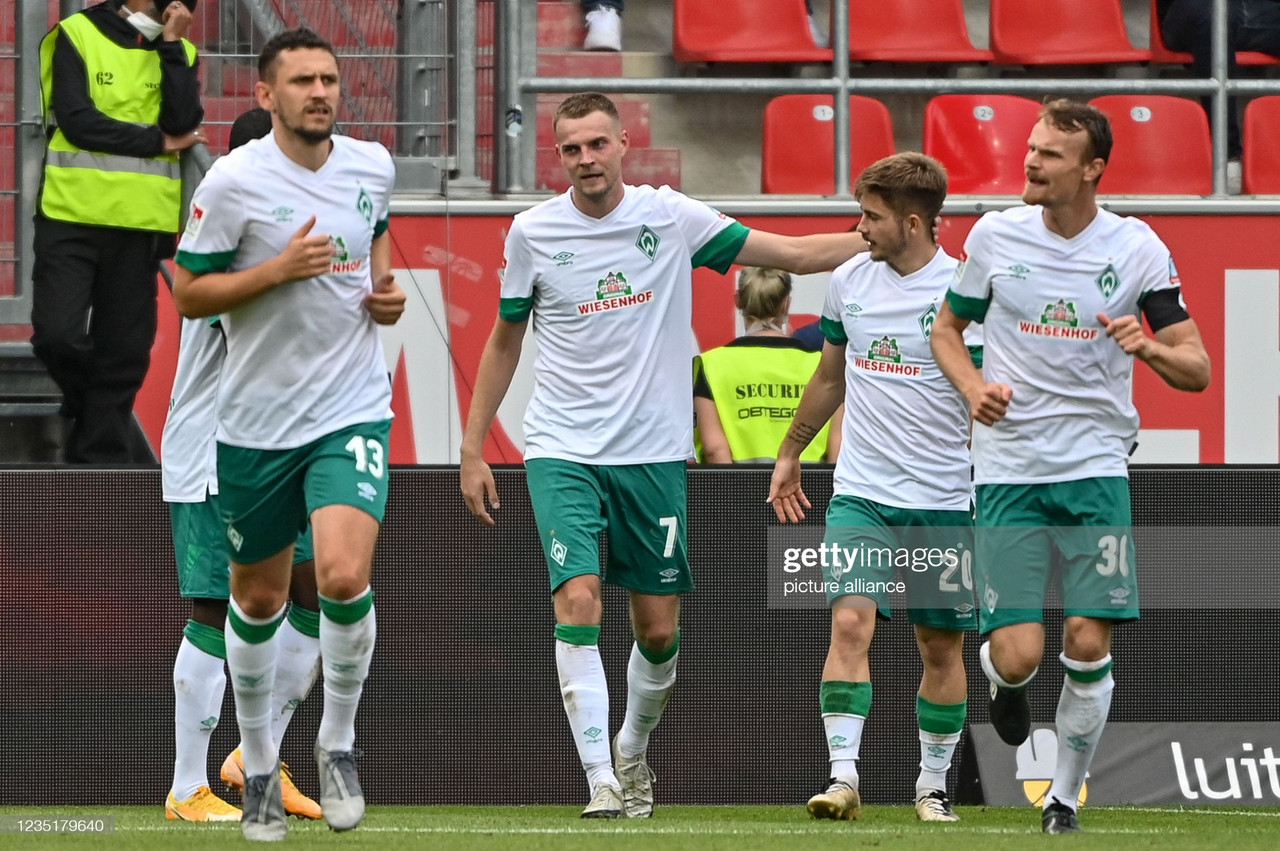 Werder Bremen picked up another impressive victory on Saturday as they defeated Ingolstadt 3-0 at the Audi Sportpark.
Opening the scoring via an own-goal from Nico Antonitsch, Die Werderaner were in complete control for almost all of the contest. Mitchell Weiser made it two on his debut, and then Marvin Ducksch sealed the result with a header minutes after the half-time break.
It was a wonderful showing from them, and it's starting to look like good times may be ahead for the club.
Story of the match
Bremen should have had a chance near the 10 minute mark, as Romano Schmid picked out Marvin Ducksch in the area with a textbook low cross. He made a mess of it, though, swinging and missing before the danger was eventually cleared away.
They were the better team early on, and they made the most of their strong start by taking the lead midway through the first half. It was a lucky goal, to be fair, as a cross from Niklas Schmidt was accidentally flicked on by Ingolstadt defender Nico Antonitsch into the back of his own net.
As it seemed like the half was going to end with little fanfare, Bremen doubled their advantage a bit before the break. A cheeky backheel from Schmid laid the ball off to a surging Mitchell Weiser, and he did the rest, dribbling past a defender in style before rifling a low shot past the goalkeeper.
The contest was all but wrapped up minutes into the start of the second half. A counter attack from the away side led to a shot from Schmidt that was saved, but Ducksch reacted quickest to head home the rebound. Just like that, it was 3-0.
It should have been four moments later. A woeful back pass led to Ducksch being played through on goal, but he bottled the finish, curling the ball wide of the target.
Bremen had another chance right after, as Abdenego Nankishi managed to break free down the wing. He couldn't get the job done either, but at least his effort was saved by the goalkeeper, who did well to rush out and get a hand on the attempt.
Ingolstadt finally created their first real chance of the afternoon just past the hour mark. A cross wasn't dealt with properly by Michael Zetterer, which allowed the ball to fall to the feet of Filip Bilbija. He got a strong shot off, but his strike from close range was saved.
That proved to be the final highlight of the contest.
Takeaways
This was a pretty dominating performance from Bremen, all things considered. They started on the front foot, and they were effectively in control for the entirety of the contest. The deadlock was broken in fortunate fashion, but the following goals they scored were fully deserved. They might be kicking into gear at the perfect time, especially since their next match is at home to bitter rivals Hamburg.
Ingolstadt did make things easy for them, to be fair. Scared throughout, it seemed like they thought they were playing one of the best teams on the planet. They were too cautious going forward, and the opposition just kept the ball as a result. The floodgates eventually opened, and things got ugly. What was especially disappointing is that Die Schanzer were at home. It was a nightmarish day at the office for all involved, but at the very least, they can learn from this match going forward.
Fans should never fall in love with a loan player, but it'd be tough to blame Bremen fans for not already falling for Mitchell Weiser. Signing on deadline day, he made his debut this afternoon, and he was superb. He looked a bit better than those around him, and his wonderful goal showcased that. Who knows what his future has in store, but for now, supporters should enjoy him while he's there.
Marvin Ducksch also did well. Getting on the end of a number of solid opportunities, the goal he did score came via his hard work. The forward did miss some chances that he should be scoring, but there's plenty of reason to believe that he'll be getting onto the scoresheet more and more as the season goes on.
Romano Schmid is magic, and he was certainly wearing his magic hat on this day.
The diminutive playmaker dropped a masterclass, ultimately playing a big role in his team's victory. He was involved throughout, constantly getting on the ball before dribbling past defenders or picking out teammates with passes. His flick led to the second goal of the game, and he could have had even more assists if things went a little bit different.
It was still a great performance from him, and it proved just how key Schmid has become for Bremen. At the age of 21, he used to be seen as a player for the future. However, it's now clear that he's certainly a player for the present as well.