 The British quartet of Laura Trott, Elinor Barker, Jo Rowsell-Shand and Katie Archibald won Olympic Gold in the Women's Team Pursuit in another world record time of 4.10.236 in the Women's Team Pursuit final at the Rio Olympic Velodrome, on Day 8 of Rio 2016.
The GB four beat world champions the USA winning Britain's third gold after just three days competition in the marvellous city.
It is Barker and Archibald's first Olympic title, whilst Jo Rowsell-Shand and Laura Trott claim their second and third Olympic golds respectively, defending their pursuit title from four years ago in London.
Trott also becomes Britain's first-ever triple gold-winning female Olympian.
In the women's Keirin, Becky James takes the silver behind surprise winner Elise Ligtlee of the Netherlands.
GB women qualified with world record
Trott led her team into the final on the back of breaking the world record twice en-route the final with the American four. There was little between the two teams, with Britain finishing a mere tenth faster than US in progressing to the gold-medal race.
The US four of Sarah Hammer, Kelly Catlin, Chloe Dygert and Jennifer Valente, also broke the world record time of Saturday, minutes before they were usurped. As documented also, Hammer's team held the the upper hand over GB from earlier this year, when she led the USA to world gold on British home soil at the Lee Valley VeloPark in London.
On that occasion, Trott's four finished a disastrous fifth overall, after a gap developed in their chain-gang in qualifying for a podium race-off.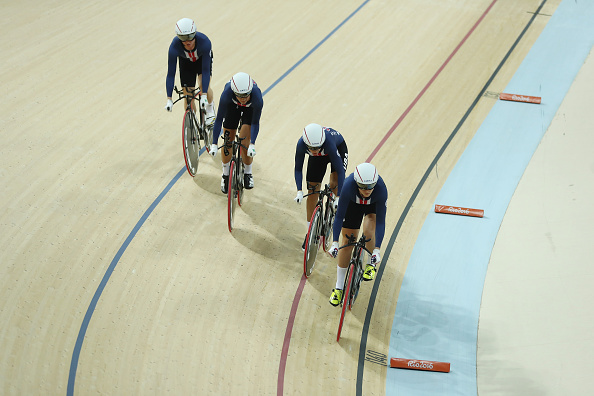 Hammer and tongs for GB
The Velodrome was set for a frantic chase on the track. The US once again went out the quicker, but at the 1000m mark, less than one tenth separated the teams. By the half-way mark however, GB had almost a second advantage.
Hammer pursued the British quartet, as they lost Catlin off the back. It was telling, as a two and a half second gap opened up in the second part of the race, as Trott and her team eased to Olympic glory.
In the bronze medal race, Canada beat New Zealand with ease by over four seconds in a time of 4.14.627, as Allison Beveridge leapfrogged the Kiwi four to finish in third on the medal rostrum.
James wins Keirin silver
In the keirin, Becky James made a late surge from the back of the pack to overtake defending champion Anna Meares of Australia in a photo-finish, as European champion Elise Ligtlee stormed into a lead, holding off her rivals on the line.
James, 24 - the keirin world champion from 2013 - casts an injury-plagued few years aside, returning to win an Olympic medal after suffering a career-threatening injury.