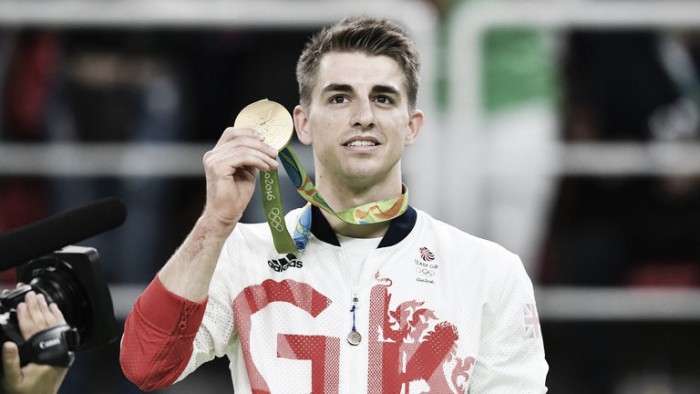 So, with the apparatus finals underway, Britain had two representatives in both of the men's finals taking place at Rio 2016. On Floor Max Whitlock and Kristian Thomas took their places.
Whitlock was the third gymnast on the piece. After the Japanese Kōhei Uchimura stepped out on a landing, he knew his chances of an individual gold were gone.
Brazil had two representatives in the floor too, and the home crowd made their presence felt as each got ready to the arena. Thomas pulled off a great routine but it as not good enough to threaten for a medal.
Whitlock's routine was impressive, with barely anything that could have marks deducted, and he overtook the first Brazilian to sit in first place. Jacob Dalton of America could do nothing to displace the Brit and was well down the placings. Kenzō Shirai the world champion on the floor made a few small errors to falter and end outside of the medals.
With one gymnast left to go the Brit was guaranteed at least a silver medal, with no one so far going close to his score of 15.633. Sam Mikulak the second American in the field would be the only one who could dislodge Whitlock. The American, though, did not have a great routine and the score reflected this.
Whitlock was the first British Gymnast to land Olympic Gold in an Olympic final. The Brazilians were extremely happy as they celebrated finishing second and third.
Pommel horse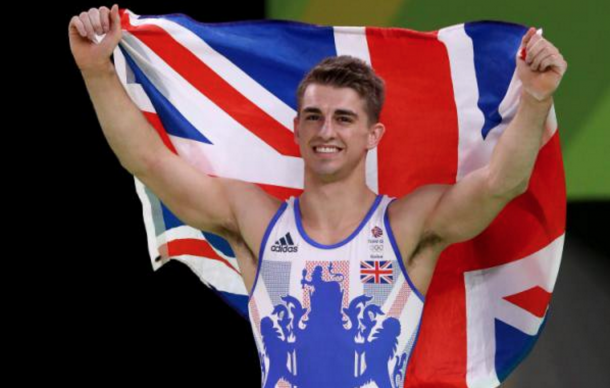 No less than an hour later Whitlock was back, this time on the Pommel Horse, something that Britain have been unbeaten on for a while. With two competitors in the event, GB were the favourites for a medal or two.
One of the other favourites to push the Brits in the event Oleg Verniaiev of Ukraine came off the horse, finished his routine but ended up eighth with a score of 12.400.
Louis Smith made sure of a clean routine by dropping the difficulty of his start value. The Brit shot into the lead with a score of 15.833. Whitlock came in already as an Olympic champion, and Smith was desperate for the Gold.
The problem for Smith was that Whitlock wanted this one too, the pair had been close in the world championships with a very, very small margain between them.
It was going to be the same here as Whitlock posted a score of 15.966, pushing Smith to second. One gymnast still to come, the Brits were assured two medals, but what colour would they be?
Alexander Naddour of America tried to split the Brits but with a score 15.700 it was only good enough for Bronze as Max Whitlock became a two time Olympic champion in one day, putting himself into the history books as a result.