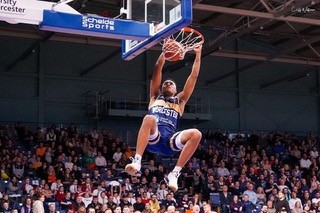 The Glasgow Rocks basketball team have secured the signing of Dutch power forward Julius Van Sauers for the 2020/21 season.
The 25-year-old, who played four years of college ball with Long Island University, played last year as a professional in the British Basketball League with the Worcester Wolves.
A productive time in Worcestershire
In his time at the Wolves, Van Sauers averaged 14.6 minutes and 7.2 points as well as 2.9 rebounds and 0.8 assists.
The 6ft8 native of Amsterdam becomes the fourth signature for the Rocks, after the signings of Englishman Isa Brandon, French guard David Mpondo and Scottish international Fraser Malcolm agreed to another year on his deal.
The Emirates Arena Glasgow outfit will be looking to build upon their success in the truncated 2019/20 where they were sitting top of the tree when the league was halted.
Versatility and hard work
Newly appointed Player-Coach Gareth Murray told the Rocks' media team: "He is a very versatile player, able to face up bigger players and drive or back down smaller players in the post.
"He's a very smart, hard worker always wanting to play team basketball.
"I hope he uses this season to progress his game even further. I look forward to working with him this season."
An exciting chance to grow
Van Sauers told the same outlet: "I am beyond grateful and excited to join the Glasgow Rocks.
"I believe this is a great opportunity for me to continue growing as a player and I am looking forward to compete for a championship with a talented and growing organization."
Glasgow Rocks Owner, Duncan Smillie, added,
"Our roster is coming together well for the new season and Julius looks like a great addition and able to play in a few positions, we look forward to welcoming him to our city and team."